Ed Sheeran Crashes Las Vegas Wedding to Serenade Newlyweds
Posted on: September 11, 2023, 03:52h.
Last updated on: September 11, 2023, 04:48h.
His last-minute concert cancellation ruined the vacations of a sizable chunk of the 40,000 people expecting to see Ed Sheeran play Allegiant Stadium on Saturday.
But two hours before the show was scheduled to begin, Sheeran did make one vacation decidedly better for two other tourists during his latest Las Vegas visit. He popped in on the nuptials of Texas chiropractor Carter Lindenfield and his fiancée, Jordan, at the Little White Wedding Chapel.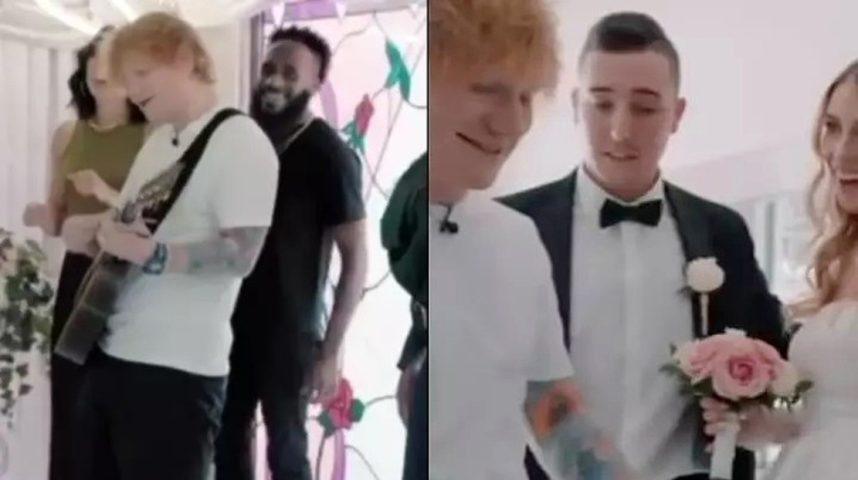 The betrothing couple didn't pay for a wedding package that included an English pop star and four of his backup singers serenading you. But Sheeran's stunt proved prescient, since he would soon be in dire need of some press that showed him making someone in Las Vegas happy instead of disappointed.
"Is this how it feels, to be in love?/This is magical," Sheeran sang while strumming an acoustic guitar. (Magical will be the opening song on Sheeran's seventh album, Autumn Variations, dropping Sept. 29.)
The room erupted into applause as the couple hugged Sheeran before being pronounced husband and wife and sealing their marriage with a kiss. Sheeran then gave the Lindenfields an autograph on their marriage license, stating: "I'm really excited to be your witness."
They also received eight tickets (for them and members of their wedding party) to Sheeran's about-to-be-canceled concert at Allegiant Stadium.
Sheeran posted a video of the event on his Instagram account on Monday, captioning it "Crashed a wedding, this is Magical."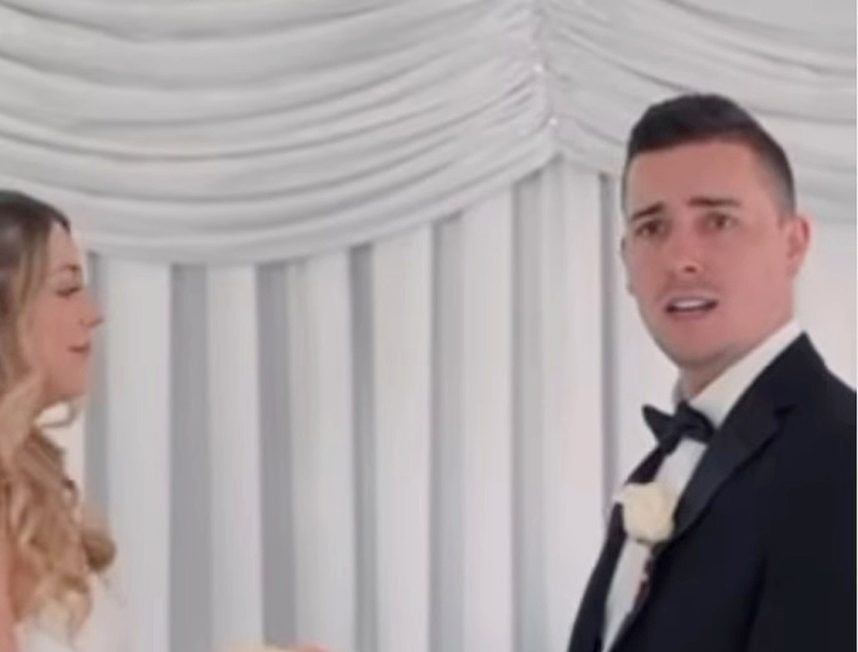 Less than magical, if we're being honest, is the acting job by Carter when Sheeran enters the room in mid-song. The groom resembles someone pretending to be surprised by the surprise party he was secretly informed about weeks beforehand.
It turns out, the couple was approached two weeks earlier by a White Chapel rep asking if it would be OK for "an unspecified celeb" to crash their nuptials as PR stunt.
Initially, they turned the opportunity down and required some convincing. It's possible that the convincing included learning the crasher's identity.
Sheeran Likes Surprises (Usually)
In July, Sheeran randomly handed out drinks at a Nashville karaoke bar and serenaded another newlywed couple with I Want it That Way by the Backstreet Boys. Also that month, he made a surprise appearance at the Wieners Circle, a Chicago hot dog stand famed for cussing at customers.
The surprise at Allegiant Stadium was decidedly less pleasurable for Sheeran. His show was abruptly postponed after rubber tiling below the stage came unstuck, causing two audio towers to shift overnight by a foot each. Engineers could not rebuild the rig in time for the concert to proceed.
Less than 90 minutes before it was scheduled to begin — and after some fans reportedly passed out from being forced to wait in triple-digit heat out — it fell on Sheeran to announce that his concert would need to be rescheduled.
All tickets from Saturday's canceled show will be honored on Saturday, Oct. 28. The Lindenfields have been invited back, and have reportedly accepted the invitation.