East Texas Cockfighting Bust Sees 300 Spectators Flee into Woods
Posted on: November 8, 2023, 07:13h.
Last updated on: November 9, 2023, 11:21h.
Up to 300 people who had gathered to watch and gamble on illegal cockfighting bouts in rural east Texas bolted into the woods as deputies arrived to disrupt the spectacle. That's according to a Facebook post by the San Jacinto County Sheriff's Office.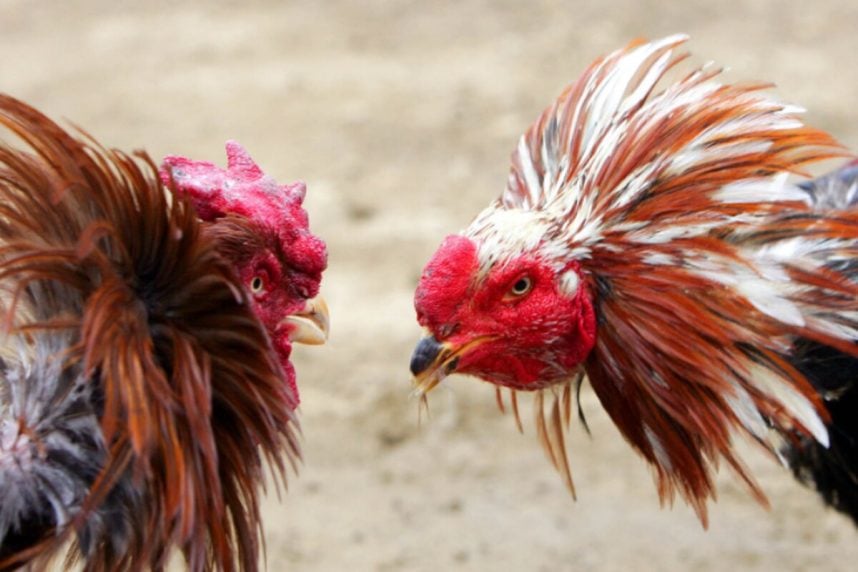 Some 19 of those involved were apprehended by the patrol sergeant and two patrol deputies who attended the scene on October 15. That's after receiving a call about animal cruelty occurring at an address in San Jacinto County.
Those who escaped left around 100 vehicles behind, which resulted in the towing of 75 cars. Some 43 of those are pending forfeiture, the Sheriff's Office said.
Roosters Rescued
Some 96 live gamecocks were rescued from dozens of vehicles, cages, and transport boxes throughout the property. Several dozen dead roosters were also found at the premises.
The cockpit was described as "a large, wooden, permanent structure with a round wooden fighting arena, temporary wooden bleachers, lawn chair seating, and a working kitchen/concession stand, all located under the permanent structure."
Cockfighting bouts typically involve spectators placing bets on birds that then fight to the death, usually with miniature hooked razors known as "gaffs" or "slashers" attached to their talons. These allow the birds to cut, slash, and stab their opponents.
Investigators found numerous gaffs at the scene, as well as vitamins, steroids, and other drugs designed to bolster a rooster's metabolism to make them harder to kill.
Deputies also retrieved several items of gambling paraphernalia, including a dry-erase board that indicated 44 bouts had taken place earlier in the day.
Illegal Blood Sport
In Texas, it's a felony to cause birds to fight one another and to use the property for the purposes of cockfighting. That comes with a possible two years in a state jail and a fine of up to $10K.
Meanwhile, it's a Class A misdemeanor to possess, manufacture, or sell cockfighting paraphernalia, or to train a gamecock with the intent to use it for fighting. It is a Class C misdemeanor to be a spectator at a cockfight.
The blood sport is illegal in all 50 US states, but it is culturally accepted and legal in much of South America. It is therefore popular — but by no means exclusively — among South American immigrant communities in the U.S.
Weapons Seized
Cockfighting is often linked to other criminal activities, including tax evasion, drug abuse, and violence, in addition to illegal gambling. It's common for thousands of dollars to be wagered on a single match.
Police seized slightly more than $22K from the 19 arrestees, and five loaded semi-automatic pistols were seized from vehicles with cock fighting paraphernalia also present.
"The subjects with the larger amounts of cash were found to be the registered owners of vehicles that were seized which also contained cock fighting paraphernalia," San Jacinto County Sheriff Greg Capers said.
Capers added that the investigation was ongoing and that animal cruelty won't be tolerated in San Jacinto County.