Philadelphia Eagles Running Back Kenneth Gainwell to Miss Week 2
Posted on: September 14, 2023, 03:27h.
Last updated on: September 14, 2023, 06:48h.
Philadelphia Eagles running back Kenneth Gainwell is nursing a ribs injury, and he will sit out tonight's Thursday Night Football game against the Minnesota Vikings.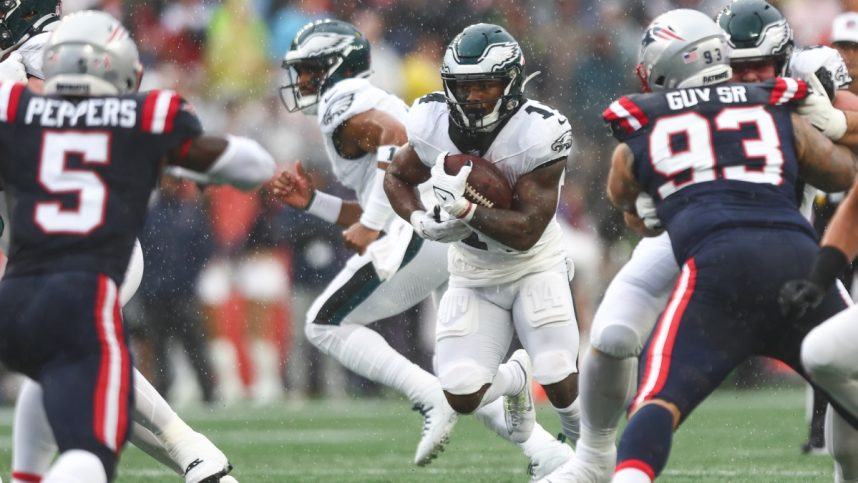 The shorthanded Eagles will also miss two key secondary members in Week 2.
Safety Reed Blankenship suffered a concussion in Week 1 against the New England Patriots, and he's still under concussion protocol. Cornerback James Bradberry, much like Gainwell, also sustained a rib injury in Week 1. Bradberry will sit out Week 2 against the Vikings.
The Eagles have a quick turnaround time, with a game on Thursday to kick off Week 2. If the Eagles played on a Sunday, those three starters — Gainwell, Blankenship, and Bradberry — might be able to suit up with normal rest.
The Eagles anticipate all three starters will return in their next game when they meet the Tampa Bay Bucs on Monday Night Football in Week 3. They will have an additional day — and 11 days in total — to rest their banged-up starters because of a rare scheduling quirk, with a Monday Night Football game following a Thursday Night Football contest.
Six-time Pro Bowl defensive tackle Fletcher Cox also has a rib injury. He's currently listed as questionable, and his availability tonight will be a game-time decision.
Swift Next Man Up
Last season, the Eagles utilized a "running back by committee." They were expected to embark on a similar route in 2023, with Gainwell and D'Andre Swift splitting time in the backfield. However, Gainwell shouldered a heavy workload in Week 1. He rushed 14 times for 54 yards against the Patriots and added four receptions for 20 yards. He had 18 total touches for 74 combined yards in Week 1.
Both Swift and Boston Scott carried the ball only once for three yards against the Patriots. Swift also tallied one reception. Head coach Nick Siriani intended to find more touches for Swift in Week 2 before Gainwell was officially ruled out with his rib injury.
D'Andre will be in that role sometimes where he carries the load for the game, and he'll be in the role sometimes like he was in last game," Sirianni said, adding, "We don't ever want to come out with him only having those many touches."
Swift is the next man up in the rotation and will move into the RB #1 spot. Scott will be elevated to the backup role in Week 2. Rashaad Penny began the season on the practice squad, but the veteran running back was promoted to the regular roster.
Swift, a former second-round pick from Georgia, made a splash during a three-year stint with the Detroit Lions. He scored 18 rushing touchdowns and added seven receiving touchdowns in 40 games during his first three seasons in the NFL. He averaged 4.6 yards per carry and racked up 2,881 total yards from scrimmage with the Lions.
Betting the Eagles on TNF and Beyond
Oddsmakers installed the Eagles as a -7 favorite against the Vikings in their home opener. But late money backed the Vikings, and the line is currently -6.
The points total for Thursday Night Football is 48.5 over/under at popular sportsbooks in Las Vegas, such as the South Point Casino and Circa Casino. The total is currently 49 o/u at Caesars and DraftKings.
The Eagles defeated the Patriots in New England last week, 25-20, and covered a -3.5 point spread. The Vikings were a -4 favorite at home against the Tampa Bay Bucs in Week 1. The Bucs upended the Vikings and won 20-17.
The Vikings (0-1) were a playoff squad last season but entered Week 2 trying to avoid an 0-2 start. Since 1970, less than 10% of all teams that began a season with a 0-2 record had advanced to the playoffs.
The Eagles are +700 odds to win Super Bowl LVIII. They're second cofavorites with the Kansas City Chiefs at +700 on the DraftKings' NFL futures board. The San Francisco 49ers are now the consensus favorite to win the Super Bowl at +650 odds.
The 49ers are +225 odds to win the NFC Championship, and the Eagles are +300 odds to repeat as conference champs.
The Eagles are -105 odds to win the NFC East and just ahead of the Dallas Cowboys at +115 odds. The Washington Commanders also won in Week 1, but they're +1500 odds to win the division.
Most Read