Durango Will Aid Station Casinos in Determining Development Strategy
Posted on: February 9, 2023, 09:12h.
Last updated on: February 9, 2023, 12:21h.
Durango Casino & Resort in Las Vegas remains on schedule to open late this year.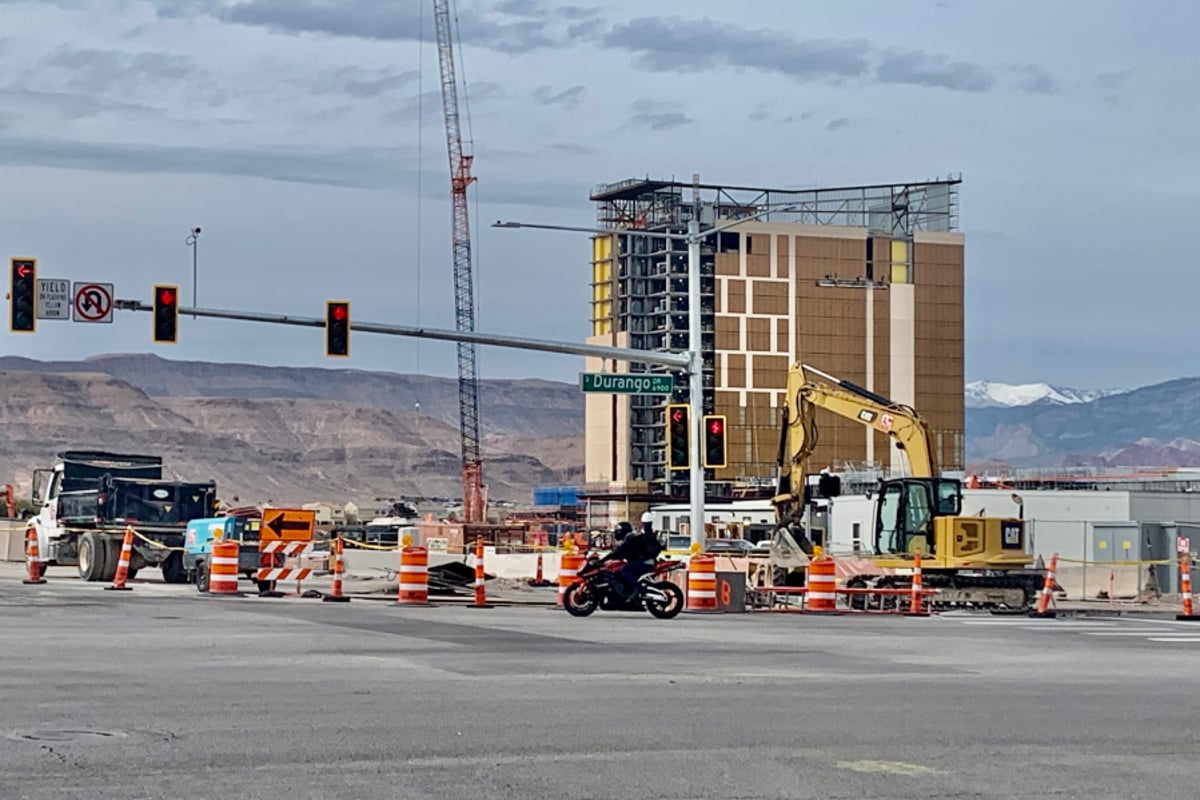 Fresh off record earnings experienced in 2022, Red Rock Resorts (RRR) and Station Casinos are expanding their footprint in the valley with a $750 million investment.
Durango, located just south of the 215 Beltway near Ikea on 50 acres southwest of the Strip, will feature an 83,000-square-foot casino and 200-room hotel. All of the typical resort amenities are included, such as a resort pool with private cabanas and an event lawn, convention and meeting facilities, and four signature restaurants.
Station Casinos and RRR, the latter being the organization's publicly traded arm, discussed the casino's construction status during Red Rock's Q4 and full-year earnings call this week.
"The project is located in the fastest-growing area in the Las Vegas Valley, with a very favorable demographic profile and no unrestricted gaming competitors within a five-mile radius of the site," Stephen Cootey, executive vice president, chief financial officer, and treasurer of RRR, said.
Cootey added that work continues to progress nicely at the casino, and Durango is on track to open before 2024. Cootey said the company is targeting a fourth-quarter 2023 opening.
Durango Proving Ground
Durango will primarily cater to Las Vegas residents. And one way to do that is by offering a culinary feast that appeals to an array of appetites.
In addition to its four signature restaurants, Durango announced this week its "Eat Your Heart Out" food hall. Spanning 25,000 square feet, the "elevated food hall" concept will feature eclectic cuisines from around the world in a lively communal dining experience.
Durango says the food hall will offer everything from burgers and pizza to Hawaiian street food, sushi, and a house-made Chinese noodle bar. At the center of the food hall is DRNK, a full bar highlighted by its frozen cocktail concoctions.
Responding to further expansion plans during the earnings call — specifically, Station's recent revelation that it wants to someday build a 600-room casino resort in Henderson on land it owns — Station owner Frank Fertitta said Durango's success must first be realized.
"We're very confident in Durango, its location, the product that we're building there. I think the market is going to really like what we're doing. But to greenlight the [Henderson] project, we're going to have to prove out Durango," Fertitta explained.
Land Giant
Station has owned the land where Durango is being built since 2000, when it acquired the acreage for about $37 million.
The locals-focused gaming giant is one of the valley's largest landowners. But its portfolio recently shrunk by about 21 acres after the company sold excess land surrounding Durango to a housing developer. Cootey said that will only bring in additional visitation to Durango. Station also recently sold its 35-acre site where Fiesta Henderson stood before its demolition last year.
Following the land sales, Cootey says the organization's strategic landholdings total about 522 acres. Nearly 120 acres, the Station executive explained, are under contract or being actively shopped for divesting.
The remaining acres will "serve as the foundation for the future growth of the company," Cootey summarized. That growth plan will be highly dependent on Durango's success.