Dream's Nightmare: Las Vegas Strip Neighbor Built Over New Resort's Property Line
Posted on: August 28, 2022, 05:34h.
Last updated on: August 30, 2022, 11:40h.
It was a potential nightmare for Dream Las Vegas, one of the next resorts to open on the Las Vegas Strip. Its next-door neighbor, the Pinball Hall of Fame arcade, has already built at least 8 feet over their shared property boundary on the Strip's southern edge.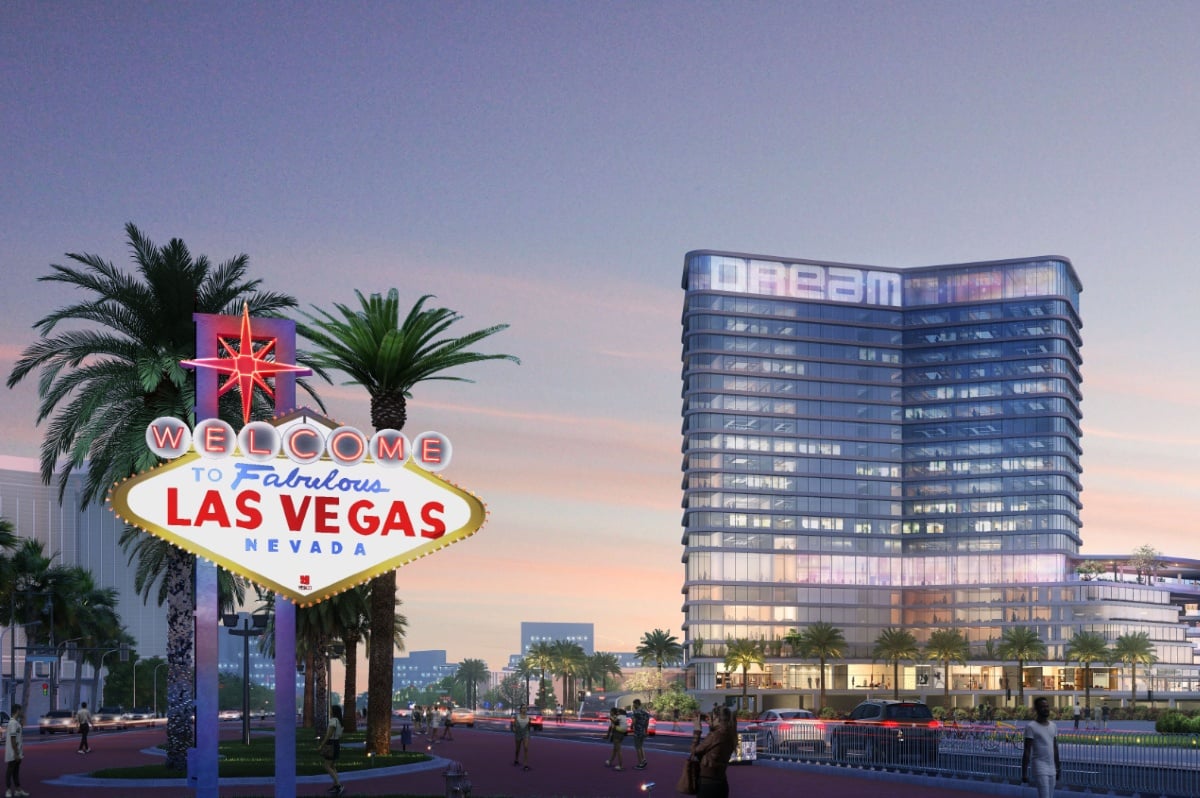 According to a lawsuit filed by the resort's developers in Clark County District Court last fall, the "unlawful occupation" prevented a drainage outlet from being constructed. The lawsuit has since been settled for an undisclosed sum.
Fortunately, the arcade's encroachment was discovered early enough to make adjustments before construction began on Dream's 20-story tower. Dream Las Vegas is expected to open in 2025 with 531 rooms, a 20,000-square-foot casino and a closer next-door neighbor than they originally wanted. Ground was broken on the resort in July.
In 2020, the Dream Hotel Group — a New York City-based operator of four Manhattan luxury properties and hotels in Miami Beach, Hollywood, and Nashville — bought 5.25 acres of undeveloped Las Vegas Boulevard land just south of Russell Road, adjacent to Harry Reid International Airport. The land was purchased in partnership with Southern California firms Shopoff Realty Investments and Contour, a privately owned commercial real estate development group.
Survey Says … Wrong!
Shopoff Realty founder Bill Shopoff told the Las Vegas Review-Journal that he has seen minor encroachments during his 40 years in real estate, but never a building constructed over its property line. How was such a massive mistake allowed to happen?
The Pinball Hall of Fame's attorneys blamed it on a surveying error by a contractor. According to court filings, Las Vegas-based Lochsa Engineering was hired in 2018 to survey the arcade's project site. An affiliate brought in by Lochsa messed up the survey.
Dream's developers notified the arcade of the encroachment last year and after the arcade verified the claim, the settlement was covered by Lochsa's insurance company. As part of the settlement, Dream's developers transferred the land to the Pinball Hall of Fame.
"It was a new one for me," Shopoff told the newspaper.
A Second Surveying SNAFU?
The same surveying error saw a small portion of the Pinball Hall of Fame built on 345 square feet of adjacent land owned by the Clark County Department of Aviation. The encroachment, shown below the purple line in the lower right of the photo, occurs on a small service road in a private aviation area at the airport.
"Yes, we are aware that a portion of the Pinball Hall of Fame encroaches on DOA-owned land," Department of Aviation spokesman Joe Rajchel told the R-J. "As this has had no impact on airport operations, we are working with them on a mutually beneficial solution."