Dominican Republic Begins 'Operation Squid' Corruption Trial, Gambling Regulator Charged
Posted on: March 22, 2023, 08:10h.
Last updated on: March 22, 2023, 06:16h.
Several high-profile government leaders in the Dominican Republic, including the gambling regulator and two former casino directors, were arrested this week on corruption charges in what the government called "Operation Squid." Twenty of these officials appeared in court on Tuesday.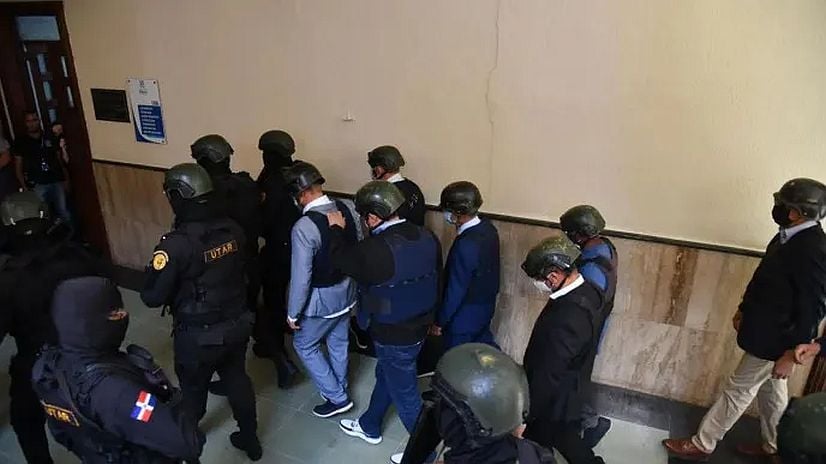 The 20 defendants appeared in a packed courtroom this week. They wore masks, helmets, and other security protection in court. Soldiers escorted them as an added measure to prevent them from being attacked.
These individuals are allegedly the ringleaders in the scheme that embezzled more than $350 million from the government. The group faces preliminary of fraud, falsifying public and private documents, bribery, money laundering and "illegal campaign financing on an unprecedented scale," according to reports from the Attorney General's office.
Judge Kenya Romero ultimately postponed the hearing until next Sunday following a motion by the defendants' lawyers, who want more time to read through the accusations.
The Public Ministry has a file of 2,120 pages and 1,200 pieces of evidence, according to official court statements. Prosecutor Yeni Berenice Reynoso has asked for an 18 months sentence.
The Attorney General released a statement on Monday stating the National Police raided 40 locations Saturday night, leading to the high-ranking officials' arrests.
The scandal began during Danilo Medina's presidency from 2012 to 2020. Medina is facing his own investigation for corruption and unlawful accumulation of wealth.
The current president, Luis Abinader, took office in 2020 and pledged to remove what he called "deep-rooted" public corruption.
Who's Named
In addition to the gambling regulator and two former casino directors, the defendants charged in Operation Squid operation:
Former Minister of Public Works and Communications, Gonzalo Castillo
Administrative Minister of the Presidency, José Ramón Peralta (a close ally of Medina)
Minister of Finance Donald Guerrero
Former Comptroller General of the Republic, Daniel Omar Caamaño
Former director of the State Sugar Council, Luis Miguel Piccirilo
Former director of the National Registry, Claudio Silver Peña
Economist Ángel Lockward
Those named represent just a portion of the people involved that the public prosecutor's office accuses of corruption.
The former directors of Casinos and Gambling, Oscar Chalas Guerrero and Julián Omar Fernández, are also implicated. Prosecutors haven't yet explained their roles.
DR's Political Corruption
Specific political figures in the DR, which has had to deal with unexplained deaths and different levels of controversy for years, have tried to rid the country of political corruption. Several scandals have occurred over the past decade, including Medina and his family.
The Squid case occurred after 16 months of inaction by the Public Ministry in corruption cases. The last one presented was on November 18 of last year. That included Medina's second-in-command of security, General Julio de los Santos Viola, and Juan Carlos Torres Robiou, the former head of the Specialized Tourist Security Corps.
Last year, the Dominican National Lottery faced a scandal after allegations that someone had rigged a draw. Despite what appears to be widespread fraud and government corruption, DR President Luis Abinader has been silent. He gave a speech at the end of February that lasted over two and a half hours but didn't address the corruption or a desire to clean up the government during his dialogue.