Dollars to Donuts, Adelson Online Anti-Gaming Push Is Full of Holes
Posted on: November 29, 2013, 05:30h.
Last updated on: June 13, 2022, 10:06h.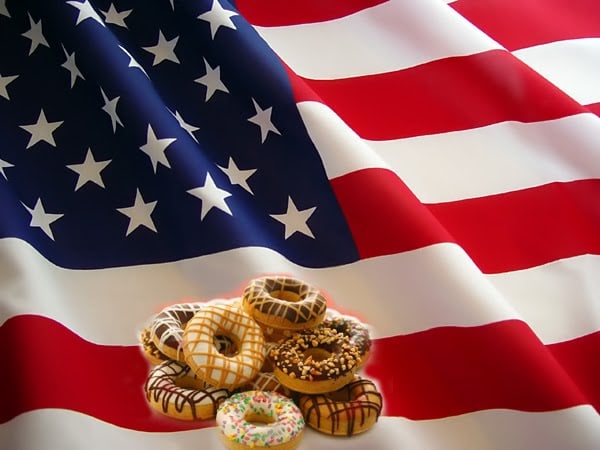 You might think anyone in politics would be thrilled to take Las Vegas Sands CEO Sheldon Adelson's side on just about any topic; after all, his campaign funding could solve all your fundraising needs in a pinch. But apparently Adelson's vitriolic and – many would say – inane and nonsensical campaign against what he perceives as the evils of Internet gambling is not winning him any fans in Congress at all.
The now 80-year-old gazillionaire – who holds the 11th-highest ranking for wealth on the Forbes 400 list, with a $28.5 billion net worth – doesn't care who likes him or agrees with him, however. He says he will pour whatever money is necessary to combat what he decries as "a toxin all good people should resist."
Why So Testy, Sheldon?
Nobody really knows where the casino mogul's vitriol towards online gaming stems from. Logically, it doesn't make sense that it's all related to any fears about detracting from land gaming (his company owns the Venetian and Palazzo in Las Vegas, and several uber-successful land gaming casinos in Macau), as so many of his casino magnate colleagues are not only on board, but also licensed and operating already in Nevada and Delaware, and momentarily in New Jersey. Most land gaming operators seem to see a synergy, not a detraction, between the two, as witnessed by Nevada's first and second online poker operators, Stations Casinos and Caesars Interactive, aka Caesars Entertainment, both of whom have created marketing tie-ins between land and online gaming ventures.
But Adelson apparently won't sleep until he decimates the fledgling legal online gambling industry in America. He claims it will take down society as we know it. Why this would be so when gambling in "real life" not only doesn't bother him, but has made him a king's ransom, is the $64,000 question that no one can answer. The $64 million question is why he has taken on this fight as if his very life depends on it.
No Turning Back Now
American Gaming Association president Goeff Freeman thinks Adelson, no matter how much financial power he wields, is wasting his time.
"The Internet cannot be forced back into the bottle," Freeman said.
Freeman noted, according to AGA statistics, American gamblers alone poured $3 billion last year towards what he termed "rogue offshore operators." The lobbying organization represents many major casino brands, including, ironically, Las Vegas Sands Corporation itself. But sometimes, you have to stand up to even your own clients.
Freeman says the AGA promotes  "pragmatism and strong regulation of online gaming that protects consumers, prevents underage play, ensures the integrity of the games and empowers law enforcement."
Besides Sands, AGA represents the interests of cross-functional industry giants, ranging from slots manufacturers Aristocrat  and Bally Technologies, Inc. to MGM Resorts International, Penn National Gaming and Caesars Entertainment.
Some members of Congress are not afraid to blow Adelson's hot air back in his aging face either. With three Internet gambling bills currently being considered on Capitol Hill, and a fourth by never-say-die legalization promoter Harry Reid (D-Nev), these boys are not afraid to take on the wealthy curmudgeon. Even though two of the bills introduced earlier this year stem from Republicans, it seems this bus has left the station and is just chugging exhaust in Adelson's face anymore. So far, neither of the Republicans involved – Peter King of New York and Joe Barton of Texas – seem to be quaking in their boots over a possible Adelson head-on collision for the 2014 elections.