Crime Sprees Continue at Rapid City, South Dakota Casinos: Suspect in Custody
Posted on: March 21, 2019, 02:31h.
Last updated on: March 21, 2019, 07:07h.
Two casinos in Rapid City South Dakota were each the scene of robberies in the past week — one attempted and one successfully carried out. And it's not the first time the targeted casinos have been hit, either.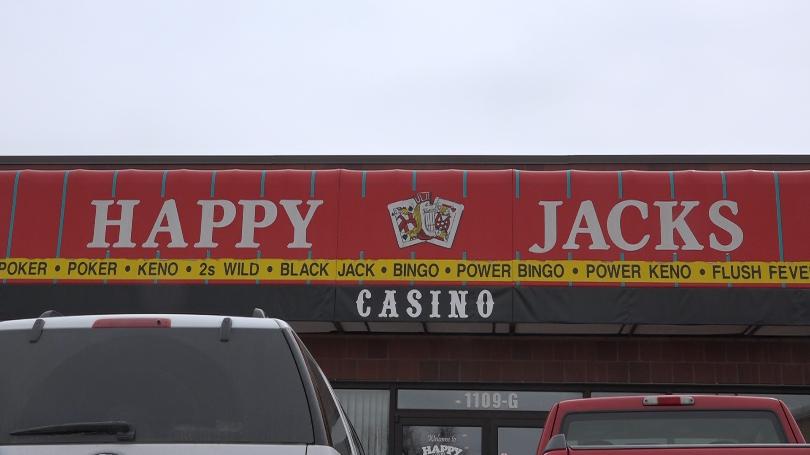 In one case, Quintez Provancial, 27, of Rapid City, allegedly tried to steal money from a cash drawer and attempted to sexually assault a woman in a bathroom at Happy Jacks Casino, which sits in a strip mall on West Omaha Street, at about 12:45 AM on Tuesday.
Based on the victim's description, police were able to apprehend the suspect a short time later. The victim identified Provancial as her attacker. When police searched his clothes, they found her cell phone which she had told officers earlier that he had stolen during their struggle.
Provancial was charged with second-degree robbery, second-degree rape, and false imprisonment. He was being held at the Pennington County jail as we went to press, with his bail set at $50,000 and is scheduled to appear in a local criminal court on April 3.
Then on early Sunday, an unidentified man scooped up money from a cash register at the Joker's Casino, 1320 Mount Rushmore Road, after brandishing a pistol.
That suspect was described as Native American, about 6 feet tall and very thin, and wearing a gray hooded sweatshirt and jeans. Police were still searching for him as of Thursday.
The two casinos are located about seven miles away from each other. Police did not say if the robberies were connected in any way, but they're the latest in a stream of such attacks in Rapid City over the past few years.
Quirky Criminal Connections
South Dakota's second-largest city — after Sioux Falls — Rapid City has a median total household income of $47,300, well below that of the US overall median income of $56,516. The city is home to universities and a major healthcare employer, and sits near the Black Hills of Mount Rushmore fame. But its dingy casinos seem to be an easy target for criminals, with some episodes outlined below:
Happy Jacks Crime Spree, 2011- 2019:
Nov. 14, 17, and 20, 2011 — Armed robbery (Two suspects sentenced to 15-20 years in prison)

March 29, 2016 — Armed robbery (outcome unknown)

Feb. 3, 2017 — Armed robbery (Three suspects convicted and sentenced to 15-25 years for theft of $14,000 using a pellet gun that appeared to be real) 

July 20, 2018 — Armed robbery (outcome unknown)

March 19, 2019 — Armed robbery (suspect in custody, court date is April 3)
The city has a colorful past that began in 1874 when gold was uncovered the old-fashioned way: by settlers and miners.
In 1930, the city's Chamber of Commerce invited notorious bootlegger Al Capone to come live in the area, an invitation which the mobster — often referred to as "Scarface" — declined to accept. Why the chamber thought Capone would be a positive influence is unclear, as by then the infamous St. Valentines Day massacre had already taken place (1929) in Chicago, leading to Capone to being named "Public Enemy #1" by authorities.
By 1931, he'd became the object of federal authorities for something far more compelling to them than murder — tax evasion — which ultimately proved to be his downfall, as he was convicted and sentenced to 11 years in prison.
Inside Job In 2017 Rapid City Robberies
This week's Rapid City incidents are reminiscent of two other robberies which took place in December 2017 at Jackpot Casino Too, 1415 N. Lacrosse St., also in Rapid City.
Two juveniles were charged in one of those robberies — on Dec. 26 — as was an adult casino employee who initially pretended to be a victim.  It was not clear if a fourth suspect involved in a Dec. 7 robbery was ever identified by police.
In January 2018, the employee, Carlos Guerrero, 28, of Rapid City, was arrested on two counts of conspiracy and one of grand theft. In the Dec. 7 incident, police initially reported that a suspect allegedly brandished a knife while standing close to Guerrero, and demanded money. The suspect fled with an undisclosed amount of money.
On Dec. 26, Guerrero was in a back office with the safe open when two male suspects walked into the casino and made their way into that back room, allegedly assaulted Guerrero, and took an undisclosed amount of money from the safe.
But as police continued their investigation of the two 2017 robberies, they said they discovered that Guerrero conspired with the suspects in the Dec. 26 robbery.
It could not be immediately determined what happened to Guerrero's court case, or, what happened to the case involving the juveniles.