Collin Morikawa PGA Championship Win Major Victory for Oddsmakers
Posted on: August 10, 2020, 09:09h.
Last updated on: August 10, 2020, 02:16h.
Collin Morikawa captured his first major victory in just his second start, a dazzling feat that few saw coming — and that means good news for oddsmakers.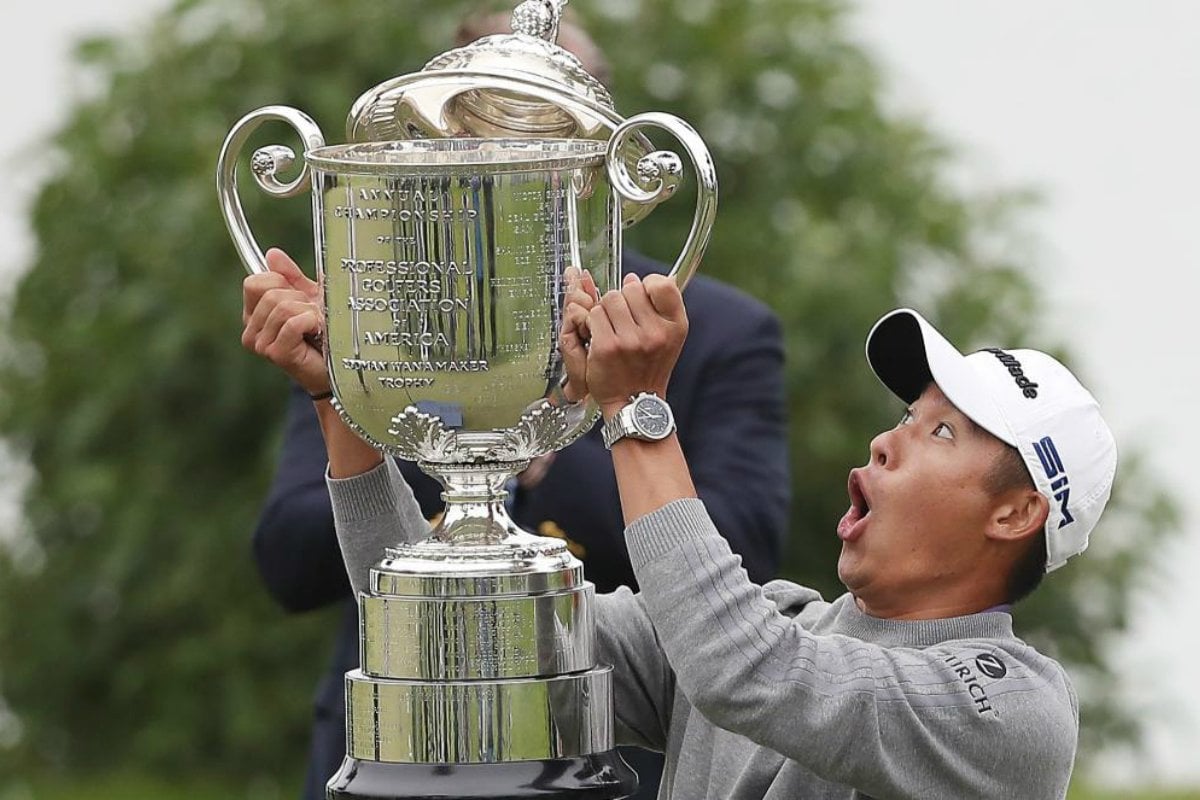 The 23-year-old appeared to be a seasoned veteran Sunday at TPC Harding Park in San Francisco. The former Cal-Berkley standout carded a 6-under 64, an unblemished round that included zero bogeys, four birdies, and what will likely be deemed one of the greatest final-round eagles in the history of the PGA Championship — a 292-yard drive on the par-4 16th that left him with a 7'1″ putt — which he made.
Morikawa was as long as 60/1 back in March to win the PGA. After winning the Workday Charity Open in July at Muirfield Village, his odds were cut to 30/1 ahead of Thursday's first round.
Odds History
March 15: 60/1. Night before:
Round 1: 30/1
Round 2: 40/1
Round 3: 50/1
Round 4: 8/1
Morikawa shot rounds of 69-69-65-64.
Oddsmakers Rejoice
Sportsbooks across the country were certainly rooting for an underdog such as Morikawa on Sunday. Their worst-case scenario was two-time defending champion Brooks Koepka, who demanded the bulk of the pre-tournament betting action in money and tickets.
Heading into Sunday, DraftKings confirmed it took a $350,000 bet on leader Dustin Johnson at 11/4 odds. It would have won $962,500.
The weekend action was on the big names — primarily Johnson and Koepka. Saturday night, Koepka said he liked his chances.
"When I've been in this position before, I've capitalized. I don't know. DJ's only won one. I'm playing good. I don't know, we'll see," Koepka stated.
Morikawa Ready
Koepka might have felt comfortable, but his game became unrattled on Sunday. And a 23-year-old was brimming with confidence.
When I woke up today, I was like, this is meant to be. This is where I feel very comfortable," explained Morikawa, a California native who now resides in Las Vegas. "I'm not scared from it. I think if I was scared from it, the last few holes would have been a little different."
His oozing confidence paid off for a few select bettors who had the foresight on the major rookie (it was his first PGA, and only second major after playing in the 2019 US Open). One bettor at BetMGM placed $4,000 on Morikawa late Saturday night on 11/1 odds that won $44,000.
The US Open is the next major, scheduled for September 17-20 at Winged Foot in New York. FanDuel has Koepka, Johnson, and McIlroy the favorites at 10/1. Next is Jon Rahm (13/1), and then Bryson DeChambeau and Tiger Woods at 14/1.
"It doesn't stop here. I've got a very good taste of what this is like, what a major championship is like," Morikawa declared. "When fans do start coming back, hopefully at some point, it's going to be an adjustment. But this is where I want to be. I love it."