College Football Odds Tighten Following Tua Injury, Wisconsin Loss
Posted on: October 21, 2019, 10:14h.
Last updated on: October 21, 2019, 12:12h.
The college football odds on the national championship winner have tightened following the injury to Alabama quarterback Tua Tagovailoa and Wisconsin's shocking loss to unranked Illinois.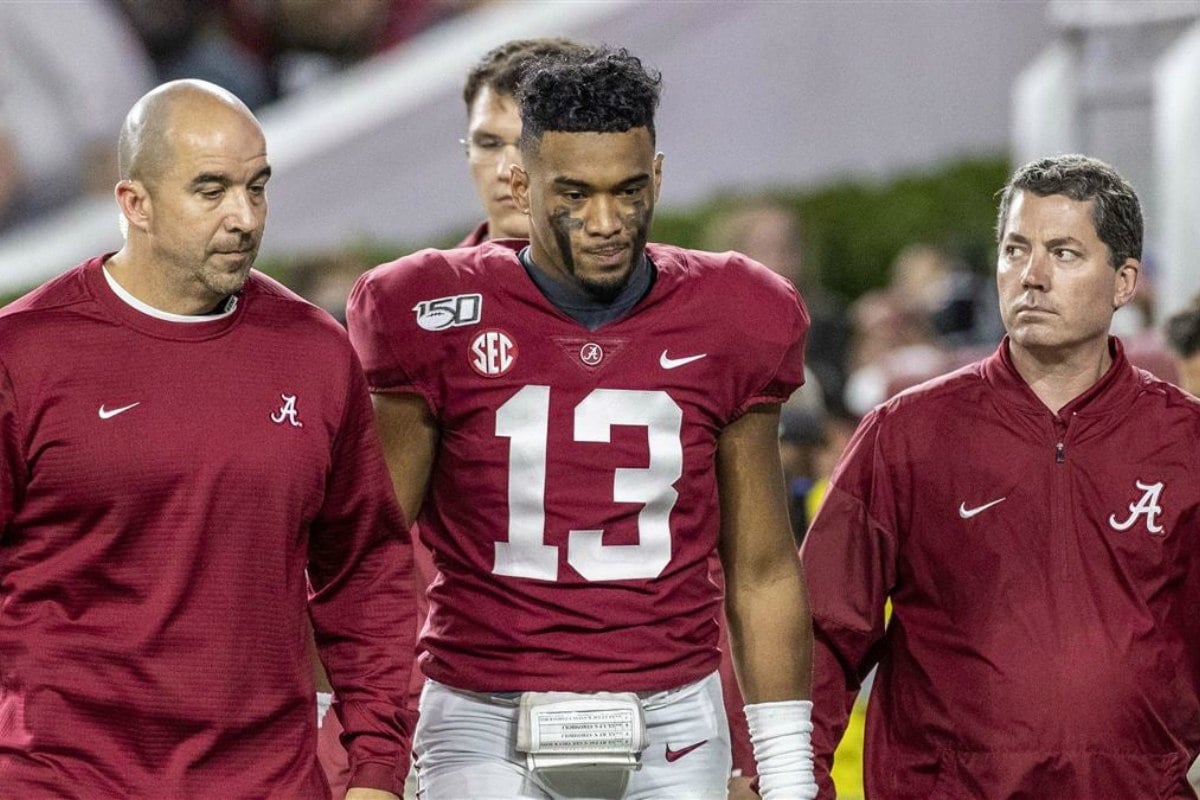 Week 8 of the NCAA football season was headlined by Heisman frontrunner Tagovailoa's injury in the second quarter against unranked Tennessee. The top team in the nation saw its top player exit the game with what was later diagnosed as a high ankle sprain.
"Tua Tagovailoa suffered a high ankle sprain last night against Tennessee," Alabama coach Nick Saban said. "Our physicians performed a successful tight-rope procedure on his right ankle this morning. This is the same injury, but the opposite ankle, that Tua injured last season."
Tua will miss next week's game against Arkansas, but we expect a full and speedy recovery," Saban explained.
The Crimson Tide will host unranked Arkansas Saturday, and then No. 2 LSU in what will certainly have College Football Playoff implications.
Odds Tighten
The uncertainty of Tagovailoa has Las Vegas oddsmakers adjusting their college football odds for the National Championship.
Prior to the Heisman contender's injury, the Westgate SuperBook had Tag and company at 2/1 (+200) to win the championship. Today, that line has lengthened to 11/4 (+275). The change takes the Crimson Tide's implied odds from 33.33 percent to 26.67 percent.
Wisconsin's inexplicable loss to Illinois lengthened the Badgers' title chances from 20/1 to 40/1. Wisconsin fell to No. 13 in the AP poll.
The Big Ten, however, has two other teams very much in the National Championship picture. No. 3 Ohio State jumped No. 4 Clemson after another dominating performance, this time a 52-3 win against Northwestern.
"They didn't do anything different than we expected to see," Northwestern coach Pat Fitzgerald said. "I mean, the plays they ran were the plays we expected to see. That's kind of what makes you really, really mad."
When you're calling plays from the boundary, and they run it, and you don't stop it? Kind of ticks you off a little bit. So, you just tip your hat and wish them well," Fitzgerald explained of the Buckeyes.
Ohio State is at 4/1, behind only Alabama and Clemson (7/2).
Other top ten title contenders include Oklahoma and LSU (9/2), Georgia (16/1), Penn State (25/1), and Oregon and Wisconsin (40/1). After those teams, the odds lengthen greatly to Florida, Notre Dame, Auburn, Utah, Baylor, and Minnesota – all at 100/1.
Big Ten Showdown
No. 6 Penn State welcomed then-No. 17 Michigan to Beaver Stadium to another "White Out" Saturday night. More than 110,000 filled the stadium, many dressed in white, to watch the Nittany Lions escape a strong second half from the Wolverines, 28-21.
With the win, the odds on the 7-0 Lions winning their first national title since 1986 have shortened from 60/1 to 25/1. Penn State will play at Michigan State Saturday, then at No. 17 Minnesota, then host Indiana before traveling to Columbus to face Ohio State.