College Basketball Betting Scandals: Point Shaving at CCNY and NYU
Posted on: May 11, 2023, 12:43h.
Last updated on: May 11, 2023, 01:47h.
Multiple point shaving and betting scandals rocked college basketball between 1945 and 1961 involving the City College of New York (CCNY), Manhattan College, New York University, Long Island University, and Brooklyn College.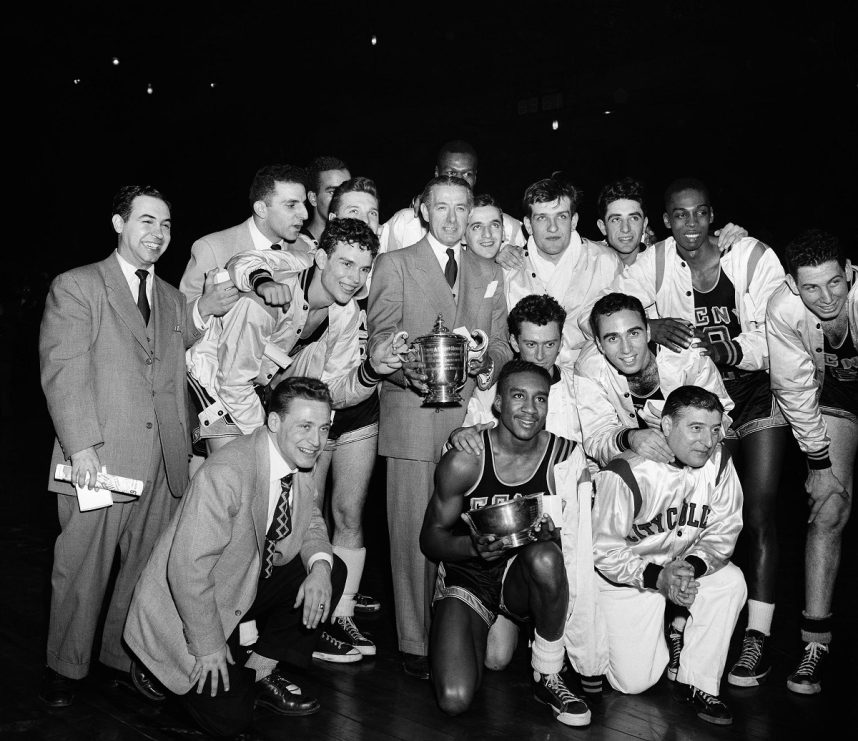 In the last week or so, prominent schools like Alabama, Iowa, and Iowa State were all flagged by the NCAA for various incidents involving sports betting. Due to the rise in legalized sports betting, there are now systems set up to monitor if any student athletes, coaches, or staff are violating any NCAA rules with their participation in gambling.
Gambling has become entwined with modern American culture, so there likely won't be much blowback for Alabama, Iowa, or Iowa State.
However, the opposite occurred for some of the initial schools involved in the first publicized point-shaving scandals over 70 years ago when gambling was taboo and risqué, and gamblers were considered shadowy figures and part of the underworld. CCNY and NYU were ranked among the premier programs in college basketball, but their reputations never fully recovered after their players accepted money to influence the outcome of games.
Introduction of the Point Spread
Sporting events of every era attracted betting action, and college basketball in New York City became a cash cow for bookies and gamblers just before and after World War II.
Charles Kline McNeil gets credit for creating the point spread, although its origins have been the subject of debate. Bookies out of Chicago and Minneapolis are also credited as the originators of the great equalizer in sports betting.
McNeil is a former mathematician who gets the most recognition for creating a universal system to handicap games and generate a point spread. He introduced the point spread in his Connecticut-based bookmaking operation in the 1940s, revolutionizing sports betting.
Prior to the point spread, bettors made wagers on teams based on odds. Games involving two mismatched teams didn't draw much betting action. The introduction of the point spread generated more interest in games, especially with big favorites against huge underdogs.
The point spread also simplified betting action for all parties involved, which coincided with a post-war boom in collegiate sports betting on football and basketball.
The Brooklyn Five
In 1945, a pair of criminals from Brooklyn attempted to bribe five basketball players from Brooklyn College. The starters were offered $1,000 to throw an upcoming game against Akron University that would take place at Boston Garden.
When the Brooklyn College players had second thoughts about losing on purpose, two of them arranged a meeting with the fixers. The players were ambushed in a raid by NYPD detectives.
The police were staking out the home of Henry "The Mustache" Rosen and Harvey Stemmer for their involvement in a fencing ring, but they accidentally stumbled upon a college basketball fixing scandal.
Rosen and Stemmer were gamblers who wanted to profit off of two fixed games. In addition to the Akron game, Brooklyn College players could earn an additional $2,000 to lose against St. Francis.
The game between Brooklyn College and Akron was canceled after the raid. Although the Brooklyn College players were never charged, both Rosen and Stemmer were convicted of conspiracy to cheat and defraud.
After the incident involving the Brooklyn Five, New York State lawmakers were determined to include amateur (or collegiate) athletics in the state's bribery laws that previously only covered horse racing and professional sports.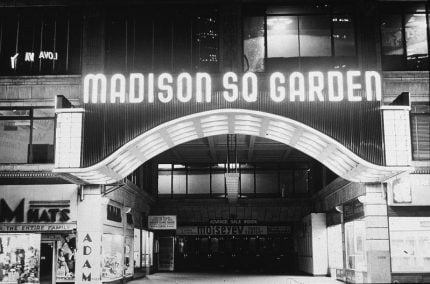 NYC the Mecca of College Hoops in the 1950s
After World War II, college basketball thrived in New York City with the Metropolitan New York Conference and the annual National Invitational Tournament (NIT) hosted at Madison Square Garden.
It might be hard to fathom now, but this was an era before the NBA was even established as the global brand you see today. College basketball was thriving in post-war America and became the biggest game in Gotham thanks to gamblers.
In the pre-television era, if you wanted to bet on a game, you would find bookies located outside a venue or even in the stands. Madison Square Garden often hosted doubleheaders on Thursday nights and weekends during the college basketball season, which were more popular than pro hoops.
It's estimated that there were 4,000 bookmakers operating illegally in New York," wrote author Mathew Goodman. "About $300,000 was bet on each game that was being held at the Garden. Much of it — as everybody knew — from inside the Garden itself."
CCNY, a refuge for working-class students who wanted a top-rate education, would sell out all 18K seats for their games at Madison Square Garden. The fledgling New York Knicks typically attracted 6,000 fans.
College basketball fans and nonbettors showed up to watch CCNY, the best team in NYC, but bettors flocked to Madison Square Garden for the gambling action.
NIT: More Popular Than the NCAA Tourney
Prior to the 1960s, the NIT was considered more important than the NCAA college basketball tournament. Teams participated in the NIT by invitation only, hence its namesake, which was an annual gathering of the premier college basketball teams in America, including the top squad from New York City.
Prior to 1950, the NCAA men's basketball tournament was comprised of the top team from eight regions. The NIT field had a better representation of the best basketball teams in the country. During the heyday of NYC college hoops, the NIT was considered the more prestigious event.
College teams could compete in both the NIT and NCAA tournament if they had a shot at both tournaments. CCNY is the only school to win both tournaments in the same year. The CCNY Beavers won the 1950 NIT and the 1950 NCAA tournament, and were widely known as one of the greatest college basketball teams to ever come out of New York City.
The Rise of CCNY
The 1949-50 squad from CCNY had a unique starting five consisting of three Jewish players and two Black players. Most colleges and universities in America didn't recruit Black players in the pre-civil rights era, but head coach Nat Holman sought to field a team of the best players in New York City regardless of race or religion.
CCNY's top recruit was Ed Warner, a 6-foot-3 forward, from DeWitt Clinton high school in the Bronx. As a sophomore, Warner led CCNY in scoring by averaging 21.7 points per game in the 1949-50 season.
CCNY defeated Bradley University in both the NIT and NCAA tournament. CCNY also made history as the first NCAA champion with two Black players in the starting lineup, which included Warner and guard Floyd Lane.
The 1950 NIT featured 12 teams. CCNY upset the defending NIT champion, San Francisco, in the first round.
CCNY squared off against the two-time defending NCAA champion Kentucky in the second round. Kentucky, along with all of the schools in the SEC, was racially segregated and their players refused to shake hands with CCNY's Black and Jewish starters. CCNY throttled Kentucky with a 39-point blowout, which marked the worst defeat for head coach Adolph Rupp.
CCNY edged out Duquesne in the semifinals, and defeated Bradley, 69-61, in the NIT championship game. Warner earned NIT MVP honors.
CCNY defeated Ohio State, ranked #2 in the country, in the opening round of the NCAA tournament. They knocked off North Carolina State in the semifinals, which set up a rematch against Bradley in the NCAA championship game. CCNY prevailed again, with a 71-68 victory, to become the first and only team to win both the NIT and NCAA tournament in the same season. Irwin Dambrot, the lone senior on CCNY, won MVP honors.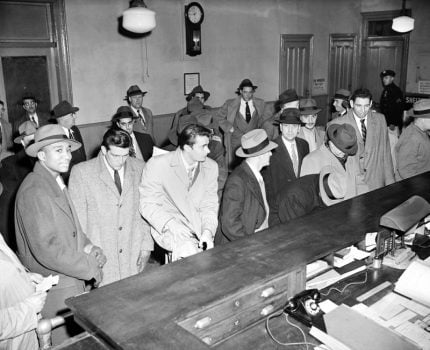 CCNY Players Busted for Point Shaving
Junius Kellogg, a star center from Manhattan College, was approached by gamblers in 1951. Kellogg was offered $1,000 to shave points in an upcoming game against DePaul, but he refused the bribe. He informed his head coach, who in turn contacted the district attorney. Kellogg wore a wire as a part of a sting operation and the police arrested the gamblers who were linked to an organized crime syndicate.
New York district attorney Frank Hogan sought to clean up college athletics and launched a citywide investigation. In February 1951, Hogan arrested seven men who were charged with conspiring to fix games. Three were members of the CCNY basketball team, including Warner, Ed Roman, and Al Roth. The trio accepted a total of $10K to shave points against Arizona, Missouri, and Boston College during the 1950-51 season.
Some of the rigged games occurred during the previous regular season against SMU, Niagara, and UCLA. CCNY's postseason games were played fair and square en route to their dual NCAA and NIT championships in 1950.
After a thorough investigation, the widespread scandal included 32 players from seven different schools. They fixed no less than 86 games in 17 different states.
Four schools from New York City were implicated, including CCNY, Long Island University (LIU), Manhattan College, and NYU. Other schools involved in the 1951 betting scandal included Kentucky, Toledo, and Bradley.
CCNY was quickly banned from playing games at Madison Square Garden. They eventually were demoted from Division I to Division III. LIU shut down every team in its athletics department through 1957. Kentucky canceled its entire men's basketball season in 192-53 wake of the scandal.
The 1951 points betting scandal involving CCNY was so big that it was even mentioned in an episode of "The Sopranos."
NYU Gets Zinged Twice
New York University (NYU), located in Greenwich Village, is best known for its academics and film school. However, NYU was one of the top basketball schools in post-war America as a member of the powerful Metropolitan New York Conference.
The NYU Violets were the NCAA runner-up in 1945 when they lost to Oklahoma A&M in the championship game. They reached the Final Four twice in 1945 and 1960. They also lost in the 1948 NIT championship game against St. Louis.
Players from NYU were implicated in the 1951 point-shaving scandal, yet that didn't deter future players from getting snatched up in another scandal a decade later.
In 1961, NYU was involved in one of the largest busts in collegiate sports. A total of 37 players from 22 schools were implicated in the 1961 betting scandal.
NYU players were in direct contact with well-known mafia figures including Vinny 'The Chin' Gigante and Thomas Eboli from the Genovese Family.
Ray Paprocky admitted to shaving points in four games during the 1960-61 season. One of the games was against Georgetown at Madison Square Garden in 1961. That game featured future NFL commissioner Paul Tagliabue, who was a forward at Georgetown.
I played in a college basketball game that was fixed," said Tagliabue. "We beat the hell out of NYU. It was the biggest victory in my three years of basketball at Georgetown. Turns out that guys at NYU were taking money to shave points."
The Metropolitan New York Conference shut down in 1963 as a result of the 1961 point-shaving scandal. NYU de-emphasized its athletics department and ended its college basketball program. Basketball was reinstated in 1983 with NYU returning as a Division III program.