CNBC's "Billion Dollar Buyer" Features Golden Nugget Owner Tilman Fertitta 
Posted on: March 6, 2016, 12:58h.
Last updated on: March 5, 2016, 01:10h.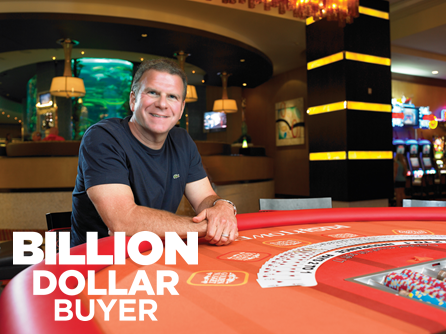 CNBC's Billion Dollar Buyer gives budding companies and businesspeople the opportunity to pitch billionaire hospitality mogul Tilman Fertitta to join his globally recognized Landry's, Inc. empire.
Riding on the bandwagon of venture capital shows such as Shark Tank and Restaurant Startup, the new show hopes to capitalize (see what we did there) on the hopes and dreams of entrepreneurs everywhere.
"In each hour-long episode, Fertitta will spend time with two small businesses, sample their goods, get to know their owners, and assess their compatibility with Landry's," the CNBC website explains. "In the end, he'll decide whether to place a transformative purchase order with one of the companies, both, or neither."
A cousin to two other billionaires, Ultimate Fighting Championship and Station Casinos owners Lorenzo and Frank Fertitta, Tilman is the sole shareholder of Landry's.
Among Landry's laundry list of assets are the Golden Nugget's five casino resorts, Bubba Gump Shrimp Company, McCormick & Schmick's and Morton's steakhouses, and Rainforest Café, to name a few.
"I started out as a young entrepreneur, and I am really eager to connect with a whole new generation of young and promising startups," the 58-year-old Texas native told the Houston Chronicle in January. "I look forward to sharing the lessons I have learned from building a business from the ground up into a global company."
Billion Dollar Buyer is set to premiere on March 22 at 10PM ET/PT.
Another Shark in the Tank
Originally launched as the Consumer News and Business Channel, CNBC rebranded its primetime programming in 2013 to concentrate on reality television featuring a business angle. The network debuted The Profit with investor Marcus Lemonis and acquired the exclusive cable rights to ABC's insanely popular Shark Tank.
Billion Dollar Buyer seems to be somewhat of a mash-up between the two highly successful programs.
While on each episode of The Profit, Lemonis considers investing in a business, the difference is that the companies at hand are struggling or failing enterprises. Fertitta will be contemplating successful but young businesses for possible inclusion under the Landry's umbrella.
It's not too different than the concept behind the up-and-coming entrepreneurs on Shark Tank who pitch their ideas to the sharks, but there's only one investor that might bite on Billion Dollar Buyer.
Who is Tilman Fertitta?
Speaking of sharks, CNBC's newest reality TV star got his start in seafood.
In 1980, Fertitta opened his first Landry's Seafood restaurant in Katy, Texas. He would go on to open additional locations and eventually assume the brand's control in 1986, then later named his corporation after the franchise that got him his start.
Over the next 20 years, Fertitta acquired other hospitality brands as well. In 2005, he entered the gambling industry by buying the Golden Nugget casinos for $140 million and assuming the casinos' $155 million debt.
In yet more amusing irony, the Golden Nugget Las Vegas features a 200,000-gallon shark tank aquarium attraction.
CNBC and Fertitta are indeed the seemingly perfect match.
"First and foremost, I am a businessman, and when approached by CNBC, a top-rated business network, it seemed like an ideal fit," Fertitta said.
Six episodes have been shot so far, and should the show rate well, additional episodes will be produced this summer.