Cleveland Guardians Backtrack Tweet About Bettors Chasing Superstar José Ramírez
Posted on: April 6, 2023, 05:15h.
Last updated on: April 7, 2023, 03:08h.
The social media team for MLB's Cleveland Guardians is backtracking on a tweet that bizarrely claimed that as a youth in the Dominican Republic, the team's best player was regularly chased by angry bettors with "machetes and guns."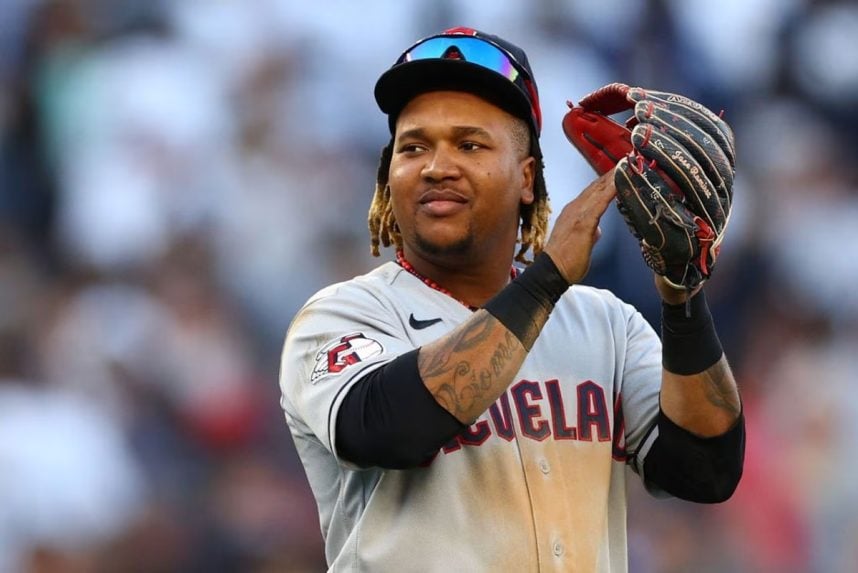 José Ramírez plays third base for the Cleveland Guardians, formerly the Indians, until a renaming in 2021. Ramírez is the face of the franchise, who has spent all 10 years of his MLB career in Cleveland. During that time, Ramírez has been selected to the All-Star game four times.
Ramírez is one of the league's coolest customers, who rarely loses his temper and is seemingly always ready for the big moment. During Cleveland's game this week against the Oakland A's, Cleveland's local play-by-play announcers teased an upcoming feature on the 30-year-old that's set to air Friday night on Bally Sports in the Ohio and Great Lakes market.
Bally Sports Great Lakes broadcasters Matt Underwood and Rick Manning discussed why Ramírez is prepared for every occasion, regardless of the pressure. They said his roots playing in his native Dominican Republic made him into the unfazed player that he is today.
Dominican Past
The Bally Sports announcers said Ramírez's ability to seize the moment in the big leagues is presumably because of the stress he endured playing the game as a teen in the Dominican Republic. Ramírez reportedly told journalist Andre Knott, who is producing the feature for Bally Sports, that bettors in the Dominican Republic regularly made their frustrations known to players who didn't play well.
One of the things that José talked to Andre about is that kind of pressure. He said when he played winter ball in the Dominican, when there are people screaming at you that they will do harm to you if you don't play well, he said, 'You play in the big leagues, that's a walk in the park,'" Manning recounted.
Ramírez referenced to Knott an incident when he was just 13 years old that involved a bettor in the stands who brandished a machete. Players took notice.
"The story goes that one of the leagues he played in with adults — he was only 13 years old — there was a machete behind home plate," Manning said. "That's the type of intimidation that he dealt with as he grew up."
Team Tweet Delete
The Cleveland Guardians' social media team tweeted about the story soon after the on-air discussion between Underwood and Manning but seemingly exaggerated the account.
As a 13-year-old, José Ramírez played in a gambling league with adults to earn money for his family," the since-deleted tweet told its more than 1.1 million followers. "In certain circumstances, bettors would gamble on a player to have a positive outcome. If they didn't come through, they would be chased home by gamblers with machetes and guns."
Awful Announcing, a sports media analysis website, pondered how the team's social media managers reached such a bizarre recount.
"How in the world did a team Twitter account tweet those words in that order?" questioned Awful Announcing writer Andrew Bucholtz.
Titled "Revealed," the Bally Cleveland feature on Ramírez airs Friday evening following the afternoon home opener of the Guardians' 2023 season at Progressive Field.
José Ramírez has three goals, and he wants Cleveland's help in achieving them.

"Revealed: Home with José Ramírez" debuts tomorrow on Bally Sports Great Lakes at 2:30 before our @CleGuardians Live pregame coverage and re-airs immediately following our postgame show.#ForTheLand pic.twitter.com/yZ96mWNLhP

— Bally Sports Cleveland (@BallySportsCLE) April 6, 2023