Casinos Offer Alternatives for Those Escaping Holiday Pressures
Posted on: November 26, 2016, 10:00h.
Last updated on: November 8, 2016, 02:52h.
Casinos provide plenty of alternative recreation for those looking to escape the pressures of the holiday season or avoid it altogether.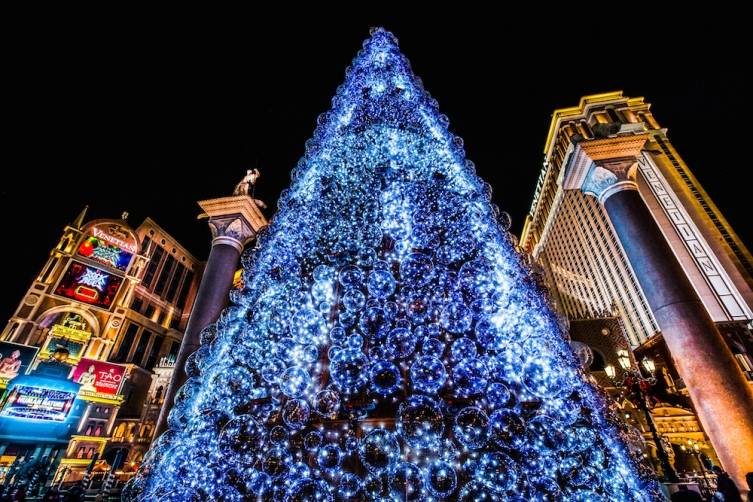 For many Americans, November and December is a joyous time where family and friends come together to celebrate their religious beliefs and good tidings. For others, it's downright stressful, cumbersome, and for some, the worst time of the year.
If you fit the latter, or perhaps just need a reprieve from the ongoing holiday scramble, the three gambling epicenters of the world, Las Vegas, Macau, and Atlantic City, have you covered. With the faint promise of striking it rich and a forthcoming year of wealth in one's future, the casino floor can actually provide solitude this season.
Fa La La Las Vegas
No city on planet Earth is more about having fun than Las Vegas. It tops the list for gambling tourism in the US, but when it comes to December, Sin City isn't exactly analogous with the holidays.
That's why it's perfect for someone looking to escape the eggnog fireside chats and blustery weather. Vegas is always ready for a party, and it certainly doesn't fold to ski towns and more traditional winter destinations.
Every major casino on the Strip goes all out for the holidays and decorates to the nines. But unlike other parts of the country, it's not all about the family.
While Wayne Newton's holiday shows at Bally's, and the Bellagio's Conservatory & Botanical Garden Holiday exhibit will attract families and couples, the top-tier casinos also offer high-roller packages.
Everything is open on Christmas Day in Vegas. The shops, casinos, bars, restaurants, buffets, attractions, you name it. But December 25 can actually be quite busy on the Strip. The best time to hit up Las Vegas is in the weeks leading up to the New Year.
Atlantic to Pacific, AC is Terrific
Vegas' little brother, Atlantic City, also gets in on the holiday cheer each November and December.
For those looking to do AC in style, the Borgata is the place for you. The hottest resort in town, Borgata will charter you and your guests to the casino on its own leased jet from one of 20 US cities.
If gambling isn't on your agenda, Atlantic City offers a variety of other indoor activities that will keep you warm and free of the typically cold conditions outside.
While Atlantic City has the typical holiday shows including Mannheim Steamroller and a Christmas show from Brian Setzer, the town's best restaurants up their game and cater to the non-family man. From whiskey and beer tastings paired with extravagant dinners, to cigar rolling workshops and nightclub entertainment, Atlantic City has a little something for everyone this holiday season.
Merry Macau
For the non-Judeo-Christian truly looking to avoid the typical American holiday experience, Macau is perfect. Less than three percent of Chinese citizen say they're Christian or Jewish, but that doesn't stop Macau from getting into the holiday spirit.
However, it's quite unlike Vegas or Atlantic City, and the gambling and hospitality is every bit as good, if not better. With the average daily high around 68 degrees Fahrenheit in December, Macau is the optimal climate for a winter getaway.
Casino companies have invested billions of dollars in the special gaming zone, and they want to make sure Macau is on travelers' radar. From special four and five-course meals to winter celebration spa and resort packages, Macau is an ideal escape from the hustle and bustle of the American holiday season.
Similar Guides On This Topic