Casino Woodbine Employees Picket After Union Negotiations Stall
Posted on: May 9, 2023, 08:28h.
Last updated on: May 9, 2023, 09:20h.
Nearly 1,000 employees at Casino Woodbine in Toronto have been told not to report to work after labor discussions with their union stalled. Many workers have since decided to picket outside the gaming property that's located at the Woodbine Racetrack, which is home to Canada's oldest and most celebrated annual horse race, the King's Plate.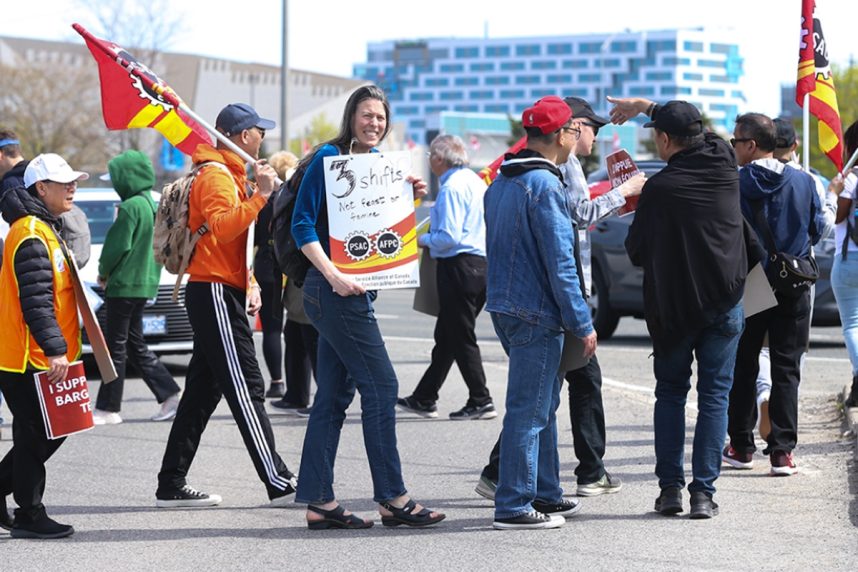 The Public Service Alliance of Canada (PSAC) is one of Canada's largest labor unions. The association represents 945 workers at Casino Woodbine, with employees functioning in a variety of roles, including table game dealers, casino cashiers, and housekeepers.
Union contracts for those workers expired in February. Casino Woodbine owner and operator, One Toronto Gaming, has rejected union demands for part-time workers. One Toronto Gaming was formed in 2018 through a partnership led by Great Canadian Entertainment (GCE) — formerly Great Canadian Gaming Corp. until its rebranding last year — and Canadian conglomerate Brookfield Corporation.
With negotiations ongoing, Casino Woodbine management told employees to stay home until new contracts are determined. The casino remains open, with temporary staffers brought in to operate the property.
You may have heard Casino Woodbine is involved in a labour dispute with PSAC that may cause delays or impact some amenities during your visit.
All Great Canadian Rewards destinations in the GTA continue to operate 24/7. We thank you for your patience & support during these times. pic.twitter.com/ajYZ5wDTAN

— Casino Woodbine (@CasinoWoodbine) May 7, 2023
Part-Time Dispute
Casino Woodbine, as it's currently known, will be no more come this summer. One Toronto Gaming is spending $1 billion to construct a new integrated casino resort adjacent to the Woodbine Racetrack that will bring Las Vegas to Toronto.
The forthcoming resort, to be known as Great Canadian Casino Resort Toronto, will feature a 400-room hotel, a 5,000-seat live entertainment venue, numerous restaurants and bars, and an extensive casino floor with 4,800 slot machines and 145 table games.
Casino Woodbine will continue operating until the larger property is ready to open. One Toronto Gaming reps say the company has agreed to increase wages by 16% for both full- and part-time employees. The company has also agreed to provide a one-time CA$1,000 bonus (US$746) for full-time workers and CA$500 for part-timers.
But union leaders aren't signing the new terms until One Toronto additionally agrees to structure part-time workers' schedules as requested. Union brass says part-time members want to work only three days a week on six- to eight-hour shifts. Casino management has previously scheduled part-time workers for more days but on shorter shifts.
We have 50% of the workforce that's part-time and for the longest time the workers have wanted to have three days, three shifts per week, in order to maintain their standard of living and the employer is not budging," said Theo Lagakos, the president of the local PSAC chapter.
Lagakos says the casino is one of the most profitable in Canada, as made evident by the company's $1 billion investment to build a new resort.
"You figure that the casino basically has a monopoly on the Greater Toronto Area," Lagakos continued. "They could easily give three shifts per week to part-time workers."
Union Stands Firm
Lagakos said the ball is in One Toronto Gaming's court.
It's really up to the employer," he said as to when the nearly 1,000 employees will return to work. "They're the ones who are not coming to the table. We're just going to wait until they decide to change their mind."
While Casino Woodbine remains open 24/7, because of the labor dispute, live dealer table games are only offered from noon to 4 a.m. daily.