Casino Mogul Sheldon Adelson Reportedly Forming Donald Trump Super PAC
Posted on: June 1, 2016, 06:15h.
Last updated on: June 1, 2016, 06:40h.
Gaming tycoon Sheldon Adelson is looking to form a central super PAC (political action committee) to support and fund Republican Party nominee Donald Trump's presidential campaign against the presumed Democratic opponent Hillary Clinton.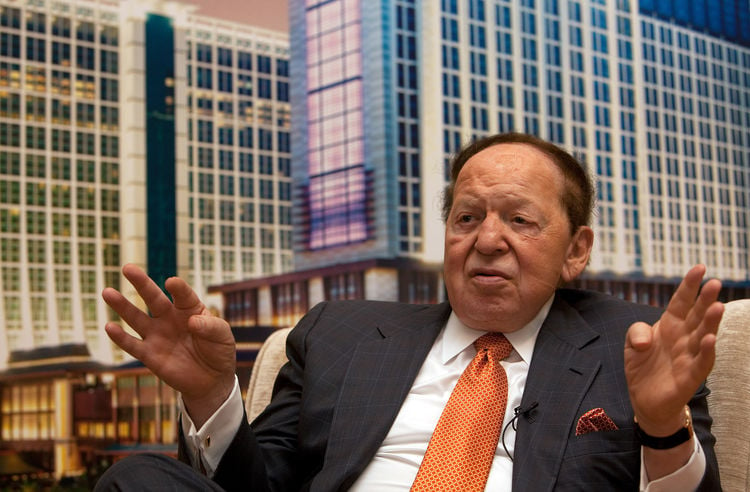 According to Politico, the billionaire casino magnate who owns the Las Vegas Sands empire had his governmental relations executive Andy Abboud meet with former Republican Governors Association (RGA) Executive Director Nick Ayers to discuss the best team for the super PAC and how to move forward.
Phil Cox, another former RGA executive, as well as campaign strategists Josh Holmes and Chip Englander, are also reportedly involved in the super PAC's formation.
"There has been a tremendous outpouring of enthusiasm for Mr. Trump as well as a desire to ensure the resources are in place to defeat Hillary Clinton," Trump spokeswoman Hope Hicks told The Wall Street Journal.
What's So Super?
Federal campaign finance laws severely restrict how much Adelson can donate to his preferred candidate. US citizens are allowed to give up to $2,700 to each candidate, $5,000 to each political action committee, and $33,400 to each national party committee annually.
For a man estimated to be worth $25 to $30 billion, that doesn't cut it. That's where the super political action committee comes in.
Super PACs are free from those individual contribution limits, as long as they don't give money directly to a candidate and also don't coordinate with the candidate on how he or she spends the pac's money.
Should a super PAC meet those two conditions, Adelson can write a check as large as he wishes. During the 2012 presidential election cycle, he gave $100 million to conservative action committees.
Before 2010, corporations, unions, and the ultra-wealthy were banned from having more influence on an election that the common middle-classer by capping donation limits to PACs. A Supreme Court decision (Citizens United v. FEC) in 2010 ruled that under the First Amendment, the government cannot restrict nonprofit organizations and their overall independent political expenditures.
The birth of the super PAC quickly followed the verdict.
So what's the main function of a super PAC? Basically, they are treasure troves for massive political advertising budgets and are responsible for both attack ads and the necessary air time to create impact with them, as well more warm and fuzzy spots hyping the preferred candidate's record.
Though Adelson's yet-to-be-named super PAC will no doubt work for Trump's success, the two sides will talk the political talk and keep their distance, at least publicly.
Trump decried super PACs during the primary process, specifically former Florida Governor Jeb Bush's support system. But that has seemingly changed now that Trump has secured the Republican nomination.
"We can't stop people from supporting Mr. Trump," Hicks said.
Billionaires for Trump
As Casino.org reported in mid-May, Adelson is apparently going all-in on the presidential election in 2016, while also making sure the GOP maintains congressional control. In 2012, the billionaire spread out the love between Mitt Romney and Senate and House campaigns.
While it's expected Adelson will be the primary funder of the Trump super PAC, the committee will look to other Republican heavyweights to get behind the GOP nominee. It will presumably take hundreds of millions of dollars in ads to ward off the expected ambush on Trump funded by the so-called Clinton machine.
The biggest super PAC prize for Adelson would be to somehow find a way to entice the Koch brothers into backing Trump financially. As of June 1, that remains a long shot.
Most Read