Canelo Alvarez Heavily Favored to Take Light Heavyweight Title vs. Sergey Kovalev
Posted on: November 2, 2019, 04:00h.
Last updated on: November 3, 2019, 10:21h.
Canelo Alvarez is expected to pick up a world championship in a fourth weight class on Saturday, when he takes on Sergey Kovalev for the WBO light heavyweight title at the MGM Grand in Las Vegas.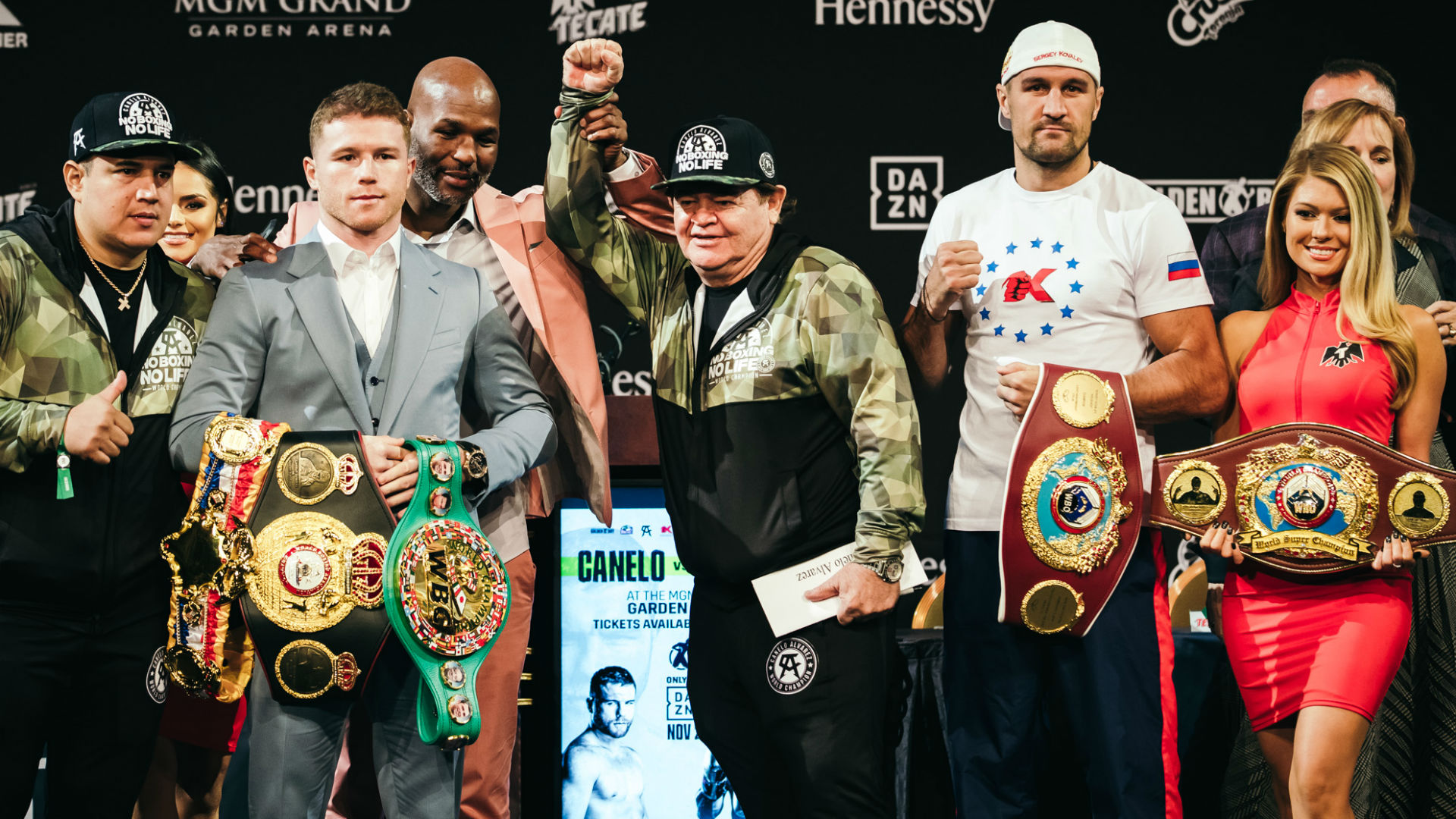 Alvarez, who has titles at middleweight and super middleweight, and previously held light middleweight world titles, is a -435 favorite over Kovalev (+295) in Saturday's fight.
Alvarez Moves Up to Build Legendary Legacy
Alvarez (52-1-2, 35 KOs) had plenty of options for his next fight, as he could have fought any number of contenders at his natural division of middleweight, and may even have been able to negotiate with Gennady "GGG" Golovkin for a third bout.
But in an effort to improve his legacy – and deliver an interesting fight for DAZN, the streaming service with which he signed a 11-fight, $365 million contract in 2018 – Canelo decided to look a little bit outside the box.
Actually, it might be a little more accurate to say he looked above the box, into a weight class that he has never fought at. Fighting at 175 lbs. means that Alvarez will be the noticeably smaller fighter when he steps into the ring with Kovalev (34-3-1, 29 KOs), who is far from a pushover when it comes to his skill set.
Canelo will be giving up two inches in reach and four inches in height in this fight, not to mention some weight once they actually get into the ring.
It is crazy, but I think that in order to make history, we have to do this kind of thing, and we believe in our abilities as a fighter, in that we have the experience, and the strength to win this fight and that is why we are here," Alvarez told ESPN Deportes. "We've trained for [a larger opponent], enduring the pace of a heavier weight than myself. I sparred with larger fighters, heavier fighters, fighters at weights that would allow me to fight at 175."
For Kovalev, the matchup gives him a chance to show that he's more than just another champion that will be largely unknown once his career is over. While his career has certainly been impressive, two losses to Andre Ward back in 2016 and 2017 pretty much ended any hope of him being regarded as one of the world's top fighters.
Kovalev Has Reasons to Believe
Now, a win over Alvarez could give Kovalev the marquee name on his resume that will allow him to leave the sport with the legacy he thinks he deserves.
I always believed I would be back at this level," Kovalev told reporters. "I never thought I would stop my boxing career as a loser. My goal has always been to end my boxing career as a champion, and this time I'll be ready."
While Canelo is a deserving favorite, it's certainly possible that Kovalev could surprise the world. If nothing else, Kovalev's advantages in size, strength, and reach are real, tangible issues that Alvarez will need to overcome. It's likely that the Mexican superstar will find a way to do so and get a late knockout or win by decision. But the potential for Kovalev to finish the fight with one punch should keep things exciting until the very end.