California Tribe Becomes Official Casino Partner of SoFi Stadium and Los Angeles Rams, Chargers
Posted on: December 17, 2019, 08:18h.
Last updated on: December 17, 2019, 12:26h.
A California tribe has secured the rights to be the Official Casino Partner of the Los Angeles Rams and Los Angeles Chargers, as well as the NFL teams' future home, the $5 billion SoFi Stadium in Inglewood.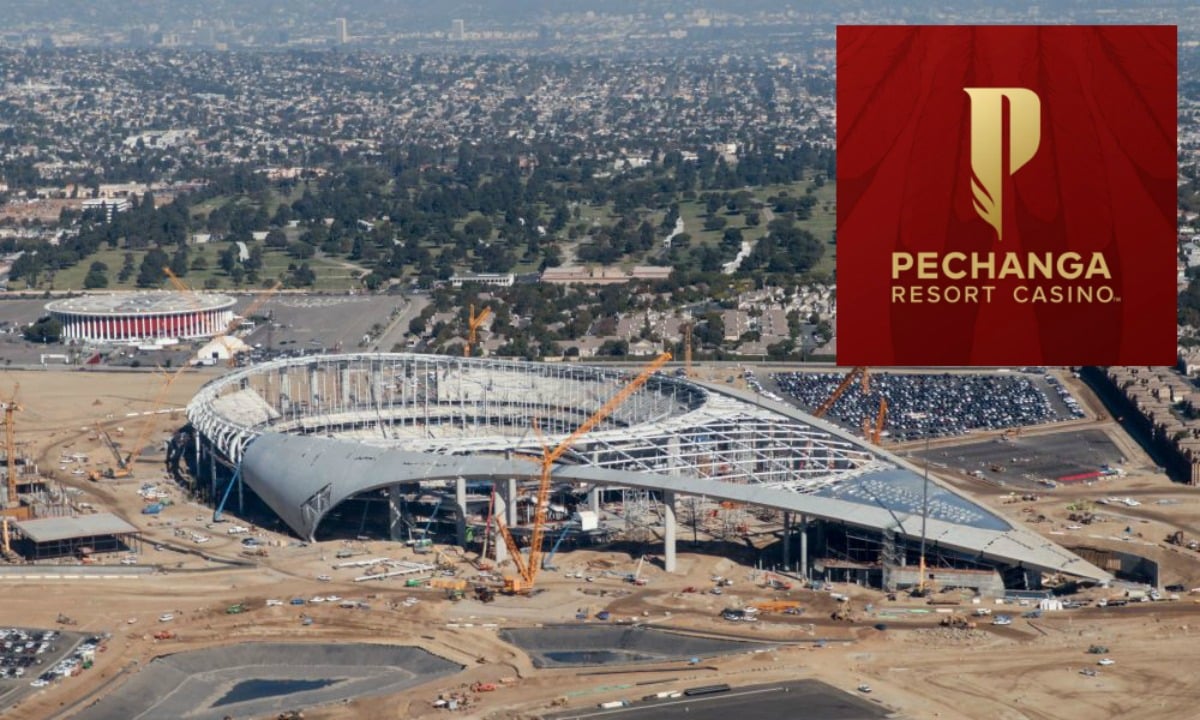 SoFi Stadium announced Tuesday that the Pechanga Resort Casino is the stadium's newest Founding Partner, and will be designated as the 70,000-seat football venue's casino representative. The tribal casino in Southern California is owned and operated by the Pechanga Band of Luiseño Indians.
We are thrilled to partner with the Chargers and the Rams, and to be a part of SoFi Stadium," tribal Chairman Mark Macarro said. "This isn't just a Los Angeles stadium, it's a Southern California stadium, and Southern California has always been and will always be our home."
The Pechanga Resort Casino is located about 100 miles southeast of SoFi Stadium in Temecula. The resort features 1,090 hotel rooms, accompanied by 5,000 slot machines and table games. It opened in 2002.
NFL and Casinos
The NFL altered its advertising policies in 2018 following the US Supreme Court's decision to punt the federal ban on sports betting. The court's decision gave states the right to determine whether they wished to allow such gambling, and today 13 states have legal sportsbooks operational.
With gaming expanding, the NFL eased its marketing regulations to allow NFL teams and stadiums to accept promotional materials from casinos and gaming companies. However, they remain prohibited from advertising sports betting.
NFL franchises and stadiums across the country have reached deals with casino operators.
Caesars Entertainment struck a deal in November 2018 to become the first casino partner of Allegiant Stadium, the future 2020 home of the Las Vegas Raiders. And in January, the NFL named Caesars as the league's Official Casino Sponsor, a deal that allows the casino giant to use such valuable NFL trademarks as the name "Super Bowl." Rival MGM Resorts has a partnership with the New York Jets.
Pechanga isn't the only tribal entity getting in on the pro football game. In September 2018, the Dallas Cowboys made the WinStar Casino in Oklahoma its Official Casino Sponsor. And last August, the Green Bay Packers announced its first Official Casino in its storied 100-year history by partnering with the nearby Oneida Nation Indians and their three casinos near Lambeau Field.
SoFi vs. Allegiant
The Oakland Raiders have played their final game in the Bay Area, as they will move to the Las Vegas Strip for the 2020 season. Their $2 billion home is nearing completion, a domed facility that will accommodate 65,000 fans.
South of Los Angeles, SoFi Stadium is a much larger complex. The stadium will feature a retractable roof, and its 70,000-seat arrangement will be expandable to 100,000. The surrounding area will be an entertainment complex and neighborhood with office space, residential condominiums, hotels, and open-air retail shopping and upscale restaurants.
The area is additionally accompanied by the new Hollywood Park Casino, which is essentially a card club where only player-banked games are permitted, and slots aren't offered.
Similar Guides On This Topic
Latest Casino Stocks:
Retrieving stocks data...
Retrieving stocks data...
Retrieving stocks data...
Retrieving stocks data...
Retrieving stocks data...