Caesars, MGM Push for DACA Immigration Reform Affecting Las Vegas 'Dreamer' Employees
Posted on: September 6, 2017, 11:55h.
Last updated on: September 6, 2017, 11:57h.
Caesars Entertainment and MGM Resorts have urged Congress to move quickly on immigration reform, hoping to ease the fears of casino employees who have been left in limbo by the Trump Administration decision to rescind the Deferred Action for Childhood Arrival (DACA) program .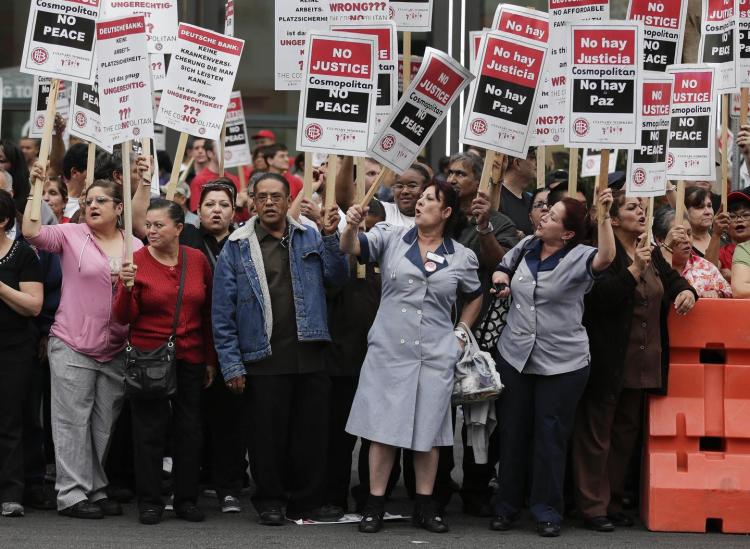 The resolution to phase out DACA was announced early Tuesday by US Attorney General Jeff Sessions, who called the program an "open-ended circumvention of immigration laws [that] was an unconstitutional exercise of authority by the [previous] Executive Branch."
DACA, a federal government program created in 2012 under the Obama Administration, grants those brought to America illegally as children the temporary right to live, study, and work legally in the US.
13,000 'Dreamers' in Nevada
Those protected under DACA, numbering around 800,000 nationwide, are known as "dreamers." There are around 13,000 dreamers in Nevada, many of whom have found jobs in the state's casinos, and they are now facing uncertain futures regarding their legal status which could also affect their employment options.
"Caesars Entertainment has DACA employees, and as is the case for all of our immigrant employees, we support their efforts to become US citizens,'' Richard Broome, executive vice president of public affairs and communications, told the Las Vegas Review-Journal on Tuesday. "The company also continues to support comprehensive immigration reform.''
MGM said in an official statement that Congress should "move quickly" to address the issue, so that "the young people affected have stability for their future.''
With a substantial employment base of immigrants in the Nevada casino industry, properties would be dramatically affected from the standpoint of filling many jobs, including positions such as housekeeping and kitchen and waitstaff, should some of their current base be deported or lose their legal status.
The Department of Homeland Security would conduct an "orderly wind-down" of DACA, Sessions said, while President Trump later tweeted that Congress has six months to come up with a legislative solution to resolve the dreamers' status.
'People are Scared'
"The organizations we work with are inundated," Martha Menendez, an immigration attorney in Las Vegas told the Review-Journal.  "The difficulty is being in that limbo again," she said. "People are scared."
"Dreamers" is a reference to the Development, Relief and Education for Alien Minors (Dream) Act, a bill introduced in 2001 which would have offered illegal immigrants who had arrived as children an opportunity for permanent, legal residency. DACA was introduced as a compromise, after the Dream Act repeatedly failed to pass.
The Culinary Union Local 226, which represents 57,000 Nevada workers, including casino bartenders, as well as cocktail and food servers, branded the decision to rescind DACA "a disgrace."
"This action is shameful and completely stains the Republican Party," said the union's Secretary-Treasurer Geoconda Argüello Kline.
"We call on Republican legislators in the Senate and Congress to support the young immigrants and work with Democrats to pass a clean, stand-alone DREAM Act. We call on our Las Vegas employers on the Las Vegas Strip and in Downtown Las Vegas to stand with your workforce and to not let this immoral decision pass quietly."
Similar Guides On This Topic