Caesars Shuts Down All North American Venues For COVID-19 Outbreak
Posted on: March 18, 2020, 06:20h.
Last updated on: March 18, 2020, 11:24h.
After governors in several states had already issued orders to temporarily close casinos because of the COVID-19 coronavirus, Caesars Entertainment Corp. announced late Tuesday that it would shut down all the properties the company owns in North America.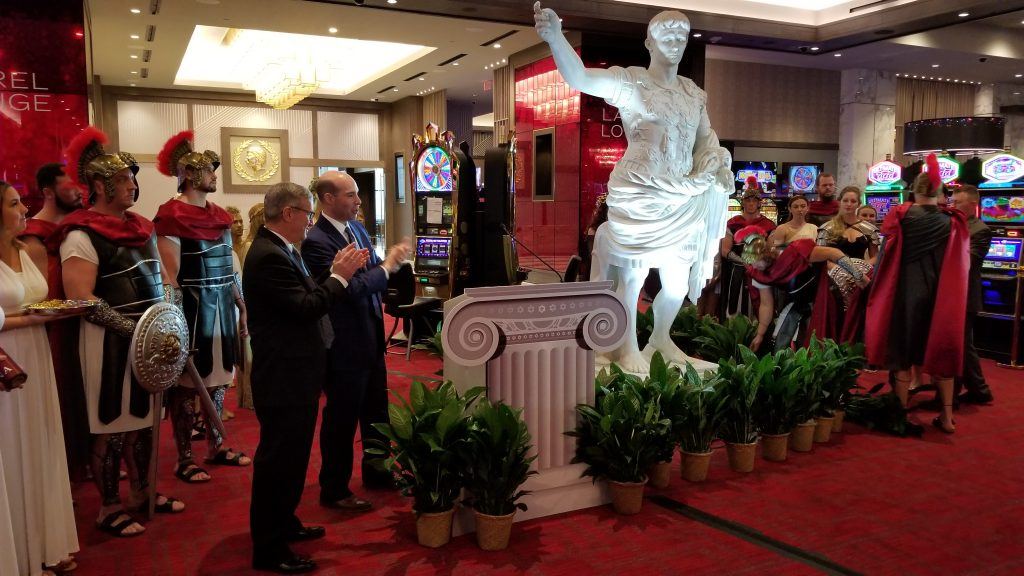 In a statement delivered a couple hours after Gov. Steve Sisolak announced a 30-day shutdown of casinos and other non-essential businesses in Nevada, the Las Vegas-based company said it was developing a way "to ensure a smooth closing process" across its network.
The release did not say whether employees would be paid during the time off. The closure periods vary – for now – on a state-by-state basis.
Caesars said it "looks forward to welcoming back team members and guests" at the proper time.
By Tuesday, governors in Illinois, Indiana, Iowa, Maryland, Mississippi, Missouri, New Jersey, and Pennsylvania – all states where Ceasars has properties – had joined Nevada in closing casinos because of the coronavirus outbreak. Tribes in California and North Carolina also shut down their Caesars venues because of the virus.
It has become clear that we must take this extreme action to help contain the virus and protect the safety and well-being of our team members and guests," said Caesars Entertainment CEO Tony Rodio.
Caesars has 37 US properties in 14 states. Its lone Canadian location is Caesars Windsor, located in the Ontario community across from Detroit.
COVID-19 Pounding Caesars Stock
Like numerous other stocks, Caesars has been battered in a short time. On Tuesday, the stock, which trades at NASDAQ, started at $6.22 when trading started at 9:30 a.m. ET Tuesday. Less than two hours later, the stock had lost nearly half its value, as it hit a 52-week low of $3.23.
The stock did rebound to trade as high as $5.57 in the afternoon before closing at $5.10. However, more volatility is expected Wednesday, when trading resumes for the first time since Sisolak's announcement shuttered America's gaming center.
Pre-market trading had Caesars at $4.06, down more than 20 percent, as of an hour before trading.
Less than a month ago, Caesars had reached its 52-week high at $14.74 per share.
In the statement announcing the shutdown, the company said it has a strong liquidity position. It cited that its cash on hand totaling $2.8 million "is more than sufficient" to meet obligations. However, Caesars is in the process of taking steps to cut back on spending.
Earlier this week, Caesars said it would pull more than $1.1 billion from three lines of credit, fully extending those lines, according to a filing to the US Securities and Exchange Commission.
Eldorado Stock Falling, Too
Caesars is in the process of completing a merger with Reno, Nev.-based Eldorado Resorts. While the new company would retain the Caesars name, Eldorado would hold the majority stake in the $17.3 billion venture.
Like its partner, Eldorado is also getting pummeled on Wall Street.
Pre-market trading on Wednesday had Eldorado's stock at $9 per share, which would set a 52-week low at Wednesday's opening.
On Feb. 20, Eldorado's stock hit $70.74, a five-year high.
At least one Eldorado property appears to remain open on Wednesday. That would be the Isle of Capri Pompano Park in Pompano Beach, Fla.
The Florida casino tweeted Tuesday it would close its poker room for the safety of its guests and employees. The casino is still assessing the COVID-19 outbreak and said online that it plans to follow the guidance of the World Health Organization, the US Centers for Disease Control and Prevention, and other health bodies.