Bryce Harper Agrees to Landmark $330M Deal with Philadelphia, Oddsmakers Boost Phillies World Series Chances
Posted on: March 1, 2019, 10:05h.
Last updated on: March 1, 2019, 10:19h.
Major League Baseball's most prized free agent has finally found a home.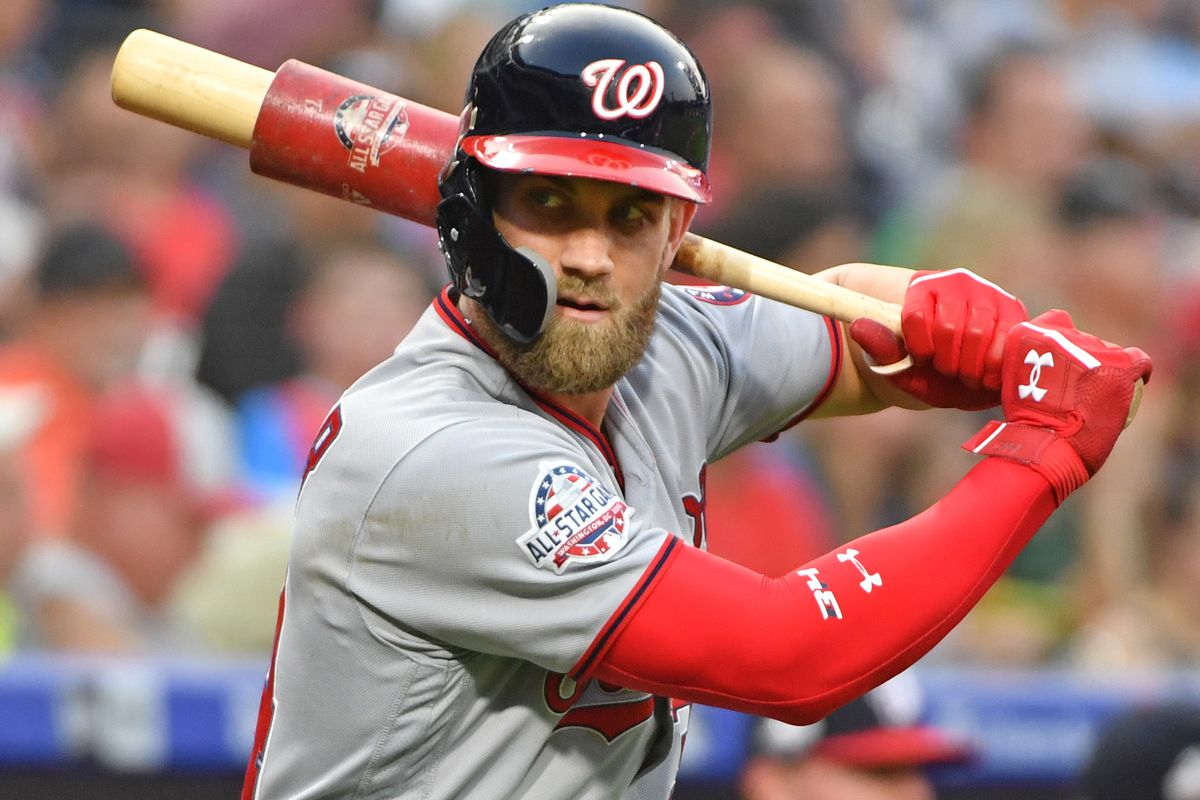 Bryce Harper agreed to a 13-year, $330-million contract with the Philadelphia Phillies on Thursday afternoon, according to numerous media reports. Word of the former Nationals slugger landing the largest contract in North American professional sports history quickly made waves on social media.
Repercussions of this deal won't just be felt on the diamonds at major league parks for years to come. An article on the Phillies Web site said the club has not confirmed the deal, but within minutes of the news breaking, oddsmakers in Vegas and elsewhere made several changes to baseball futures betting lines in response.
Fan Duel's Sportsbook changed the Phillies World Series odds from +1800 Wednesday to +1300 as of 3:45 pm ET Thursday,

Kevin Hennessy, Fan Duel's publicity director, told Casino.org.
Other books acted quickly as well.
"We moved the Phillies win total from 86.5 to 89.5, dropped NL pennant odds from +700 to +500 and World Series odds from +1400 to +1000," tweeted Matt Lindeman, Caesars Entertainment's sports trading manager.
New Wagers and Betting Surge
Fan Duel also created two more Harper-related bets for its baseball betting selections. Hennessy said the book now has an over-under on the number of home runs the slugger will hit in the 2019 regular season, currently at 32.5. Bettors can also put money on whether Harper will hit a homer on opening day.
Phillies fans and others who see Harper's signing as a game changer flocked to Fan Duel's books in New Jersey and West Virginia to put money on their team.
We saw a real uptick in futures betting on the Philadelphia Phillies last night after the Bryce Harper signing announcement," Hennessy told Casino.org on Friday morning.
With the signing, the Phillies became Fan Duel's favorites to win the National League East. Oddmakers posted them at +185 on Thursday. On Wednesday, Philadelphia, the New York Mets and the Washington Nationals – Harper's old team – were the co-favorites at +250.
By Friday morning, the NL East odds dropped to +175 and the World Series odds went down to +1200, Hennessy said. Since the news broke just before 3 pm ET Thursday, 79.5 percent of Fan Duel's World Series future bets, 85.3 percent of NL pennant bets and 87.5 percent of NL East bets have been on Philadelphia.
Dodgers, Giants Lose Out
When the 2018 baseball season ended, the biggest offseason storyline was where prized free agents Harper and Manny Machado would land. It took a few more weeks than many expected, but both ended up getting megadeals.
Last week, Machado signed a 10-year, $300 million contract to play for San Diego.
Harper had several teams interested in signing him, with the Phillies, Los Angeles Dodgers, and San Francisco Giants being the teams most interested in the outfielder. Two days ago, BetOnline.AG had the Dodgers as the -150 favorites to land Harper, with the Phillies pulling +110 odds.
Like other books, BetOnline shifted its odds in wake of the announcement. Previously, Philadelphia was a 12-1 choice to win the World Series. Now, the Phillies are at 7-1, the co-second choice along with the Boston Red Sox. The New York Yankees are currently the favorites at 6-1.
Caesars' Lindeman added via Twitter that Harper's signing caused slight moves in the odds for the Atlanta Braves, the Mets, and Giants. "No move on the Dodgers," he said.
From SI Cover Boy to Multimillionaire
Harper first gained acclaim as a teenage prodigy from Las Vegas, making the cover of Sports Illustrated as a 16-year-old in June 2009. He took the unprecedented step of leaving high school early and getting his GED so he could go to a junior college and become draft eligible a year early.
Washington selected Harper with the first pick in the June 2010 draft, and less than two years later, Harper won the NL Rookie of the Year award as a teenager. His best season came in 2015, when at age 22 he led the NL with 42 home runs, 118 runs scored and a 1.109 OPS and earned the league's Most Valuable Player award.
In seven seasons with the Nationals, Harper batted .279, hit 184 home runs and drove in 521 runs. Now, at age 26, Harper goes 140 miles north to play in what many will to be his prime years, seasons where he should be at his physical peak.
Harper wasn't the only big move the Phillies have made since last season ended as the team has tried to position itself to be a contender after posting six consecutive losing campaigns. Earlier this month, Philadelphia traded for Miami's J.T. Realmuto, considered one of the best catchers in the league. In December, they traded J.P. Crawford, a top prospect, to Seattle for Juan Segura, a solid-hitting shortstop.