Brussels Terror Attacks Overshadow Latest Primary Results
Posted on: March 23, 2016, 01:18h.
Last updated on: March 23, 2016, 01:28h.
The Brussels terror attacks, and not Donald Trump and Hillary Clinton's continued quests to become the respective Republican and Democratic nominees, dominated the news globally throughout most of the day on Tuesday. While the two frontrunners lengthened their delegate leads, the latest primaries were somewhat offset by the horrific incident that took place yesterday in Belgium.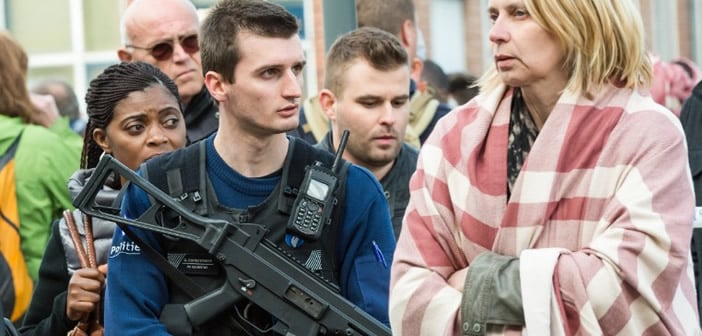 Shortly after 8:00 am local time, two Muslim brothers entered the Zaventem Airport in Brussels, strapped with bombs. The duo, along with a third accomplice who is believed to have survived and is still being sought, detonated themselves in a suicide mission that left at least 13 dead and over 80 injured in the busy airport.
Just over an hour later, another explosion took place, this time at the Maalbeek metro station, just steps from the European Union offices. That bombing left another 20 dead and more than 150 injured.
The Islamic State of Iraq and Syria (ISIS) took responsibility for the terrorist attack, the deadliest on Belgium soil since World War II.
President Obama, in Cuba and attending a baseball game on the day of the latest attacks, said during remarks that lasted under a minute that "we must be together, regardless of nationality or race or faith, in fighting against the scourge of terrorism."
He did not cut short his trip to Cuba, and watched the baseball game as planned, drawing sharp criticism from US citizens and politicians alike.
Candidates Speak Out
Following the attacks, Mrs. Clinton took to the airwaves of nationally televised morning programs, including "CBS This Morning," where she said Belgium was the latest "reminder of how sophisticated the terrorists are." She added in a statement that "terrorists seek to undermine the democratic values that are the foundation of our alliance and way of life, but they will never succeed."
Vermont Senator Bernie Sanders said, "Today's attack is a brutal reminder that the international community must come together to destroy ISIS. This type of barbarism cannot be allowed to continue."
On the GOP side, Donald Trump described the attacks in Brussels as "peanuts" compared to what he said might happen in the homeland. "We have to have stronger borders. Our southern border is Swiss cheese," said Trump, apparently feeling hungry.
Texas Senator Ted Cruz said the attacks aren't isolated incidents and took a shot at Obama by saying "we can never hope to defeat this evil so long as we refuse to even name it," a reference to the president's steadfast refusal throughout his time in office to use the language "radical Islamic terrorism."
Ohio Governor John Kasich also pointed fingers towards Obama. "I'm a little surprised that the president is going to a baseball game . . . We just have to put all of our focus on this," Kasich stated.
Sanders Wins But Loses
It's tough being Bernie Sanders. Not only is he going up against an opponent backed by the most powerful political machine in the US, but even when he wins more states in a given night, Hillary still manages to come out the victor.
On Tuesday, Sanders won both Idaho and Utah, and Clinton took Arizona. He won 35 delegates and she won 41.
Clinton now holds 1,681 delegates to Sanders' 927.
On the Republican side, Trump also continued his winning ways by taking Arizona, though Cruz easily won Utah. The GOP delegate count now stands at Trump (739), Cruz (465), and Kasich (143).
As each primary session concludes, it seems more likely 2016 will be Trump vs. Clinton on the presidential ballot.
But a new CBS/New York Times poll shows both favorites with historically unfavorable ratings. The New York billionaire is seen as unfavorable by 57 percent of registered voters, while Clinton is unfavorable at 52 percent.