Republican Debate Chaotic and Insult-Filled, But Candidates Say They'd Support Donald Trump
Posted on: March 4, 2016, 10:01h.
Last updated on: March 4, 2016, 10:29h.
The 11th Republican debate in Detroit was an unparalleled spectacle not seen before in American politics. The four remaining candidates for the GOP ticket, frontrunner Donald Trump, Senators Ted Cruz (Texas) and Marco Rubio (Florida), and Ohio Governor John Kasich, all exchanged jabs, personal insults, and more sparingly, political differences.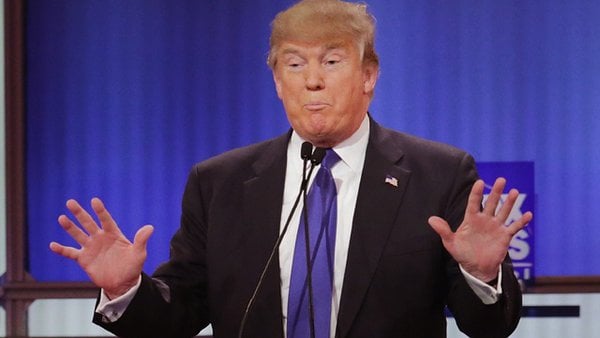 With Trump surging and taking the first 10 of 15 primary states, last night was a no-holds-barred cage fight that left many in shock and awe.
No moment was more unforgettable than when Trump responded to Rubio's claims he made earlier in the week that Donald had "small hands".
"Look at those hands, are they small hands? He referred to my hands, 'If they're small, something else must be small.' I guarantee you there's no problem. I guarantee," Trump said to a stunned audience.
It was just one of many startling exchanges between Trump, Rubio, and Cruz, albeit the most crude. Kasich alone was lauded in post-debate recapping for largely avoiding the personal jabs of back-and-forth rhetoric, opting to focus on actual policy instead.
Trump repeatedly called Rubio "Little Marco," Cruz demanded that Trump "breathe and count to 10," and Rubio reiterated his view that the billionaire New Yorker is a con man.
Family Feud
Trump referencing his prized manhood, though perhaps not the most exclusive piece of real estate he owns, wasn't the most important part of the evening to conservatives, though.
Instead, that moment came near the end of the debate, when Fox News moderator Bret Baier challenged Rubio, Cruz, and Kasich to state whether they would support Trump should he win the nomination.
"I gave my word that I would," Cruz said.
"I will support the Republican nominee," Rubio agreed.
"When you're in the arena, you enter a special circle, and you want to respect the people you're in the arena with. So if he ends up the nominee, sometimes he makes it a little bit hard, I will support whoever is the Republican nominee for president," Kasich added, clearly showing no particular enthusiasm for the Donald's potential.
Though the two-hour affair was politics at its best, the four candidates coming together in unity displays how badly the Republican Party wants to prevent Clinton from becoming the 45th president of the United States.
Mitt Hit or Miss?
There's no question that GOP leaders are concerned about the prospect of making the former casino magnate their 2016 nominee to likely face Democratic opponent Hillary Clinton. On Wednesday, party leaders welcomed 2012 candidate and former Massachusetts Governor Mitt Romney, as he tried to persuade voters to denounce Trump in an oddly timed TV press conference.
"If we Republicans choose Donald Trump as our nominee, the prospects for a safe and prosperous future are greatly diminished," Romney said from his home state of Utah. "I'm far from the first to conclude that Donald Trump lacks the temperament to be president.
"After all, this is an individual who mocked a disabled reporter, who attributed a reporter's questions to her menstrual cycle, who mocked a brilliant rival who happened to be a woman due to her appearance, who bragged about his marital affairs, and who laces his public speeches with vulgarity."
The voters return to the booths tomorrow, with Kansas, Kentucky, Louisiana, and Maine holding their Republican primaries on Saturday. Whether Romney's words were too little too late or might actually bring even more Trump supporters out will be interesting to watch.
And whether in reaction or not, as of Friday morning, Trump dropped out of the Conservative Political Action Conference (CPAC) in Maryland that he was scheduled to appear at on Saturday. Instead, he'll now be stumping for votes in Florida and Kansas on that day, he says.
https://www.youtube.com/watch?v=v_2sGNyvA3k
Most Read