Brooklyn Nets Guard Cam Thomas Sets New NBA Record
Posted on: February 8, 2023, 02:53h.
Last updated on: February 8, 2023, 03:25h.
On the same night that LeBron James broke the NBA's all-time regular-season scoring record, Brooklyn Nets guard Cam Thomas also set a new NBA record.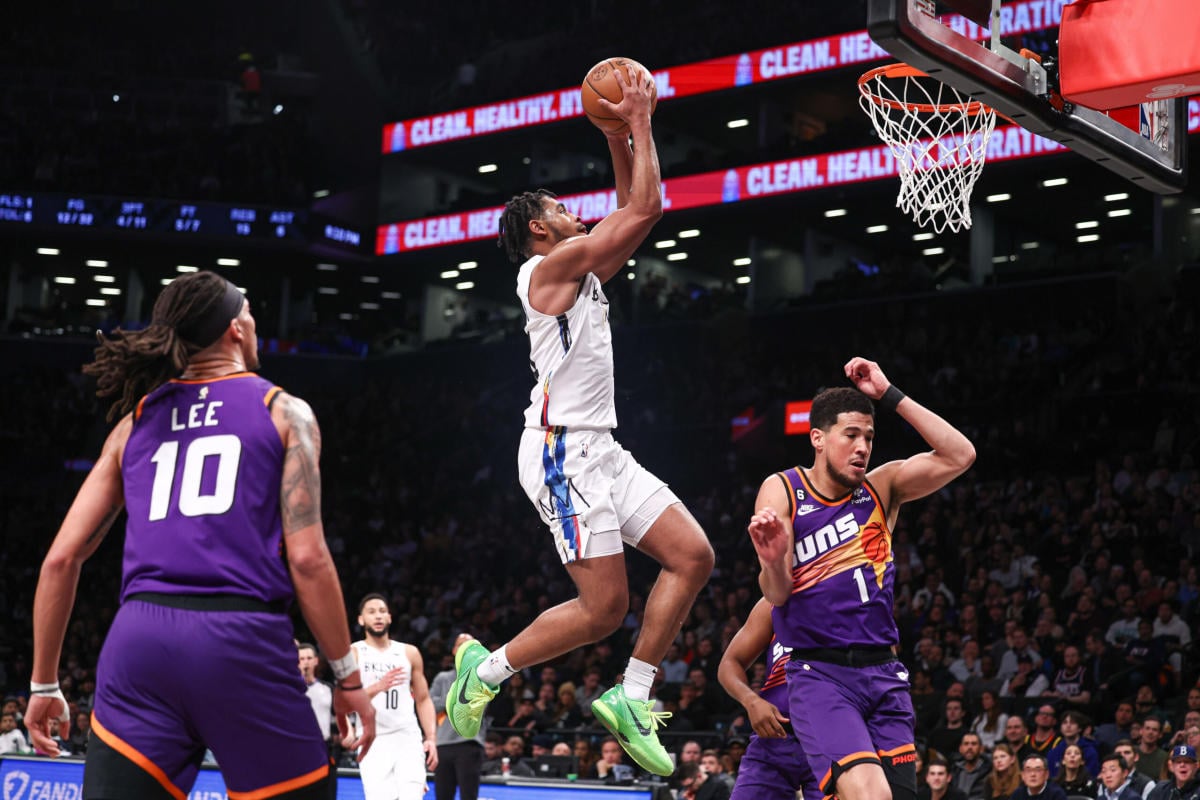 Thomas, a 6-foot-3 shooting guard, became the youngest player in NBA history to score 40 or more points in three consecutive games. He scored 43 points against the Phoenix Suns Tuesday night after exploding for a career-high 47 points on Monday night against the Los Angeles Clippers. He also scored 44 points over the weekend against the Washington Wizards.
Allen Iverson set the initial three-game record when he dropped five-straight 40-point games during his rookie season with the Philadelphia 76ers in 1996-97. Iverson was a couple of months short of his 22nd birthday during his epic scoring binge in April 1997.
Thomas, a second-year player with the Nets, set a new record with three 40-plus scoring games at 21 years and 117 days old.
From Japan to Virginia to Brooklyn
Thomas was born in Japan, where his American mother, Leslie, was living. She grew fond of Asia while stationed overseas during her stint in the US Army. She eventually returned stateside to Virginia, where she grew up, to raise Thomas and his older sister.
Thomas flourished as a star athlete in Chesapeake. He enrolled at Oak Hill Academy, a basketball powerhouse in Mouth of Wilson, Virginia, for his junior and senior years. Thomas was teammates with Cole Anthony, who's currently the point guard for the Orlando Magic.
Thomas averaged 31.5 points per game in his senior season and set the record for most career points in Oak Hill school history. That's an impressive record, considering how many future NBA players played ball at Oak Hill, including Rod Strickland, Jerry Stackhouse, Kevin Durant, Stephen Jackson, Rajon Rondo, and Carmelo Anthony.
LSU offered Thomas a scholarship and he headed to Baton Rouge, Louisiana to play his collegiate ball. He led all freshmen in the NCAA in scoring by averaging 23.1 points per game. After a one-and-done season with LSU, Thomas declared for the 2021 NBA Draft.
The Brooklyn Nets selected Thomas with the #27 pick late in the first round. He averaged 8.5 points per game during his rookie season with the Nets. He had a couple of impressive games last season, but he struggled from 3-point range with a 27% success rate.
Thomas Flourishing After Kyrie Irving Trade
Thomas sought to improve his 3-point shot in the off-season, and the hard work paid off. He's shooting 42.7% from 3-point range this season.
During his first 33 games this season, Thomas averaged 7.0 points per game off the bench, but some nights he only played a couple of minutes. He saw a huge boost in playing time just before and after the Nets traded point guard Kyrie Irving to the Dallas Mavericks.
Irving sat out Saturday's game against the Washington Wizards after he requested a trade on Friday. Thomas erupted for 44 points, five rebounds, and five assists in just 29 minutes off the bench against the Wizards. He shot 16-for-23 from the floor, including 4-for-5 from 3-point range.
On Monday, Thomas scored a career-high 47 points against the Los Angeles Clippers. He knocked down 7-for-11 from 3-point range and shot 10-for-11 from the free-throw line.
On Tuesday, Thomas dropped 43 against the Suns as a starter.
Obviously I'd rather have the win, but it's just good to have my name in history," said Thomas.
"Cam has been hot," said head coach Jacque Vaughn. "He has definitely opened a lot of eyes. That kid is on a heater."
Thomas connected on only three treys against the Suns and earned the bulk of his game-high 43 points the old-fashioned way at the charity stripe. He shot 18-for-20 from the free-throw line.
Thomas technically scored 43-plus points in three consecutive games, and he's now averaging 38.3 points per game in February. He's also shooting 89% from the free-throw line and 48.4% from beyond the arc.
Betting the Post-Irving Nets
The Nets saw their NBA championship odds significantly drop after they traded Irving to the Mavs on Sunday. The Nets are currently +1800 odds to win the title, according to DraftKings.
However, the Nets might not be dead in the water with the surprise emergence of Thomas. The Nets still await the return of All-Star forward Kevin Durant, who has missed multiple weeks with a knee injury and won't return until after the All-Star Break.
The Nets also have guard Spencer Dinwiddie and forward Dorian-Finney Smith – both starters with the Mavs – joining the team this week as part of the Irving trade.
With a 32-22 record, the Nets currently hold down fifth place in the Eastern Conference. They're the fourth team on the futures board at +750 odds to win the Eastern Conference and advance to the NBA Finals.
The Nets occupy third place in the Atlantic Division, trailing the Boston Celtics (38-16) by six games and the Philadelphia 76ers (34-16) by three games. The Celtics are a big favorite to win the Atlantic Division at -1200 odds, followed by the 76ers (+600) and Nets (+4000).
The Nets remain in New York City between now and the All-Star game break, which starts next weekend. They have three upcoming home games against the Chicago Bulls, Philadelphia 76ers, and Miami Heat. They have a quick journey across the East River to play the New York Knicks at Madison Square Garden next Monday.