Brightline Contracts with Rail Unions for High-Speed LA-Las Vegas Train
Posted on: February 21, 2023, 12:35h.
Last updated on: June 29, 2023, 09:59h.
A planned high-speed rail system connecting Las Vegas with LA chugged another step closer to reality Tuesday when Brightline West announced it has entered into an agreement with 24 rail unions. The agreement commits to using unionized labor to operate and maintain the planned $8-$10B system.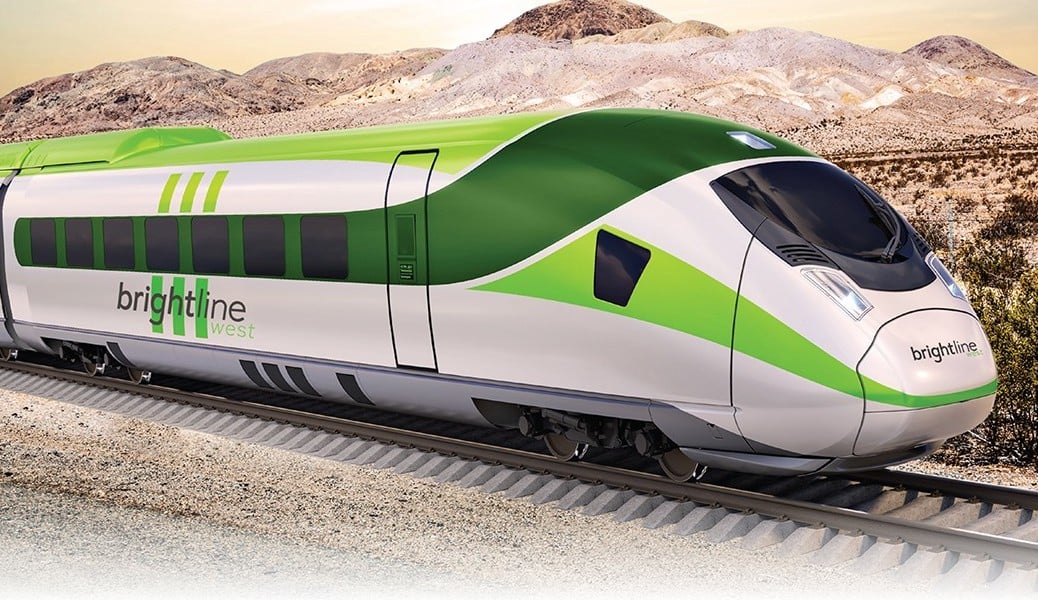 Brightline's deal is with the High-Speed Labor Coalition, which represents 160K union laborers.
The High-Speed Rail Labor Coalition is proud to be in partnership with Brightline West in this historic project," the coalition said in a statement. "Americans want high-speed rail, and Brightline West and the High-Speed Rail Labor Coalition will deliver. Brightline West will be the most elegant travel-by-rail experience you can have in America, and it will be the catalyst for America's renaissance of travel by high-speed rail. The High-Speed Rail Labor Coalition is ready to bring this transformative transportation project to Americans. Let's get to work."
Brightline plans to connect Las Vegas with Rancho Cucamonga, Calif., 220 miles southwest, via 200 mph passenger trains that run mainly within the median of Interstate 15. Brightline projects an average travel time of two hours and 15 minutes.
According to Brightline, its high-speed rail line would eliminate 3 million cars annually from the travel corridor and create 35K construction jobs — in addition to 1,000 permanent jobs once it begins operating.
"Our nation's first high-speed rail system will be operated and maintained by union labor, a statement of the strength of the American workforce," Mike Reininger, CEO of Brightline Holdings, said in a statement. "As the most shovel-ready high-speed rail project in the United States, we are one step closer to leveling the playing field against transit and infrastructure projects around the world, and we are proud to be using America's most skilled workers to get there."
Slow Train Coming
Brightline West could break ground later this year, depending on the Federal Railroad Administration's decision on the project's environmental assessment and funding.
Funding for the project's construction would consist of a mix of federal grants and private activity bonds. So far, the US Department of Transportation approved $1B in private activity bonds, with the actual borrowing up to the states of California and Nevada. In November 2022, Bloomberg reported that Brightline West may soon ask California to issue $200M in private activity bonds. Brightline hopes to secure $2 billion in federal grants.
Planning for a high-speed rail link connecting Las Vegas with Southern California began in 2009 when the Federal Railroad Administration completed a draft environmental plan for a project, which was then known as DesertXpress. Brightline acquired the project in 2018.
One Step Closer
Originally, plans called for a California terminus in Victorville, Calif., a remote desert city 80 miles northwest of LA. In October 2022, Brightline brought its terminus 40 miles closer to LA by purchasing 5 acres for a station in the city of Rancho Cucamonga. From there, passengers will be able to travel the last 40 miles to LA's Union Station via  Metrolink's adjacent San Bernardino line.
In July 2021, Brightline purchased 110 acres for its Las Vegas terminus station at Las Vegas Boulevard between Warm Springs and Blue Diamond roads, only three miles from the southern end of the Las Vegas Strip.
Brightline West is also expected to include a stop at the Southern Nevada Supplemental Airport, Las Vegas' second major airport. Still in the planning stages, SNSA is expected to open by 2037 between Primm and Jean. Nev. The airport would take the stress off the nearing-capacity Harry Reid International Airport by hosting up to 35 million travelers per year. It would be located 30 miles south of the Strip — a trip that can take much longer than 30 minutes on the I-15 during peak travel times.