Bally's Gets on the Strip with Tropicana Las Vegas Deal
Posted on: April 13, 2021, 06:48h.
Last updated on: July 6, 2021, 05:51h.
Bally's Corp. announced Tuesday morning it has agreed to buy the Tropicana Las Vegas from Gaming and Leisure Properties Inc. in a transaction valued at more than $300 million.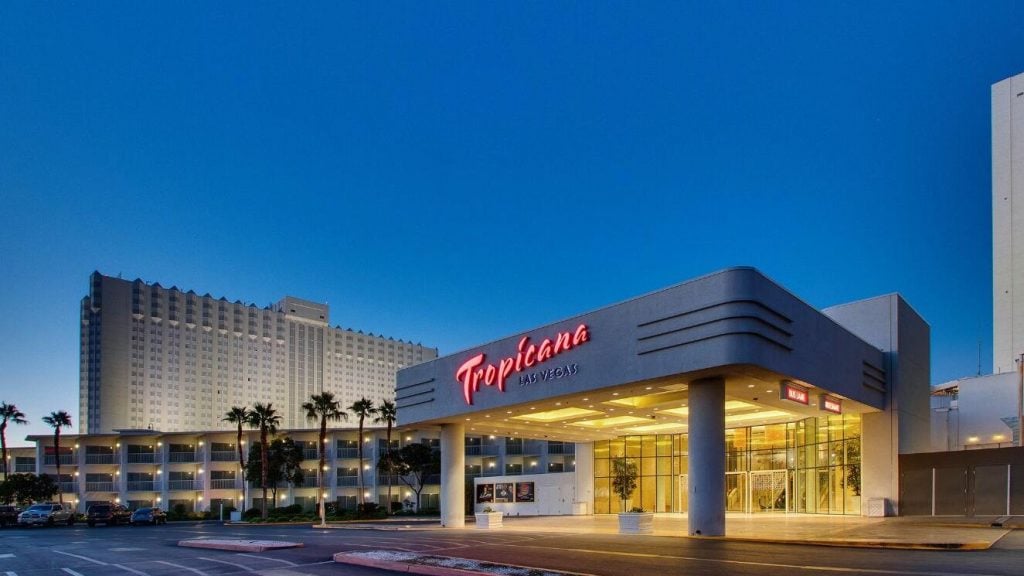 The sale-and-leaseback arrangement for the iconic casino now gives the Rhode Island-based gaming company a presence on the Las Vegas Strip. It's a move Bally's President and CEO George Papanier said was vital.
The Strip is visited by over 40 million players and guests per year, which we believe will significantly enhance Bally's customer base and player database, as well as unlock marketing opportunities to leverage the iconic Bally's brand," Papanier said in a statement.
Under terms of the deal, Bally's bought the property's "non-land assets" for $150 million. Bally's also agreed to lease the land under the Tropicana from GLPI for $10.5 million a year for the next 50 years. That price is subject to increase over the period of the lease.
The two companies will also enter into similar arrangements with Bally's properties in Black Hawk Colo, and Rock Island, Ill. Those annual lease payments will start at $12 million and go up over time.
The total estimated value of the deal is $308 million. Company officials expect it to close early next year.
GLPI CEO: "Complex Transaction" Benefits All
Tuesday's announcement comes nearly a year after GLPI closed its deal with Penn National Gaming to buy the Tropicana. It was anticipated at the time that the publicly traded real estate investment trust would then seek to flip the property.
In January, GLPI followed through with that move. A month later came the official listing price of $384 million, although real estate experts noted that once a buyer upgraded the property, the Tropicana could be worth upwards of $500 million.
A short time after the listing price became public, GLPI CEO Peter Carlino lamented to analysts that while there was serious interest in the Tropicana and its more than 35-acre plot, buyers just didn't have the cash to buy the both the gaming operations and the land.
Two months later, GLPI decided to expand its relationship with Bally's. Last October, the two companies joined forces – when Bally's was then known as Twin River Worldwide Holdings – to acquire Tropicana Evansville from Caesars Entertainment.
In a statement, Carlino called the "complex transaction" a "win-win" for GLPI and Bally's.
"We are also excited to have secured rights of first refusal on potential future assets," Carlino said. "Furthermore, our conversion of the Tropicana into an income producing ground lease solidifies the value creation that we hoped for in originally structuring the transaction with Penn National."
Per the GLPI statement, the potential future assets related to a right of first refusal to fund purchase or development costs for any project in Michigan, Maryland, New York, and Virginia over the next seven years.
Bally's Still on a Growth Spurt
Tuesday's transaction is the latest in a 15-month stretch of aggressive growth for Bally's.
Since January 2020, Bally's has purchased the real money casinos from Affinity Gaming, Caesars Entertainment, and Delaware North. It's also established an online gaming presence, as well as acquired naming rights to the regional sports networks owned by Sinclair Networks.
Bally's already has a license in Nevada after closing on the MontBleu Resort Casino and Spa.