Baker Mayfield Rips Giants Picking QB Daniel Jones in Article and DraftKings Creates Prop Bet Out from the Fracas
Posted on: August 20, 2019, 04:30h.
Last updated on: August 20, 2019, 05:53h.
Cleveland Browns quarterback Baker Mayfield has never been known to hold back, and in a recent interview with GQ, he unloaded on New York Giants rookie Daniel Jones.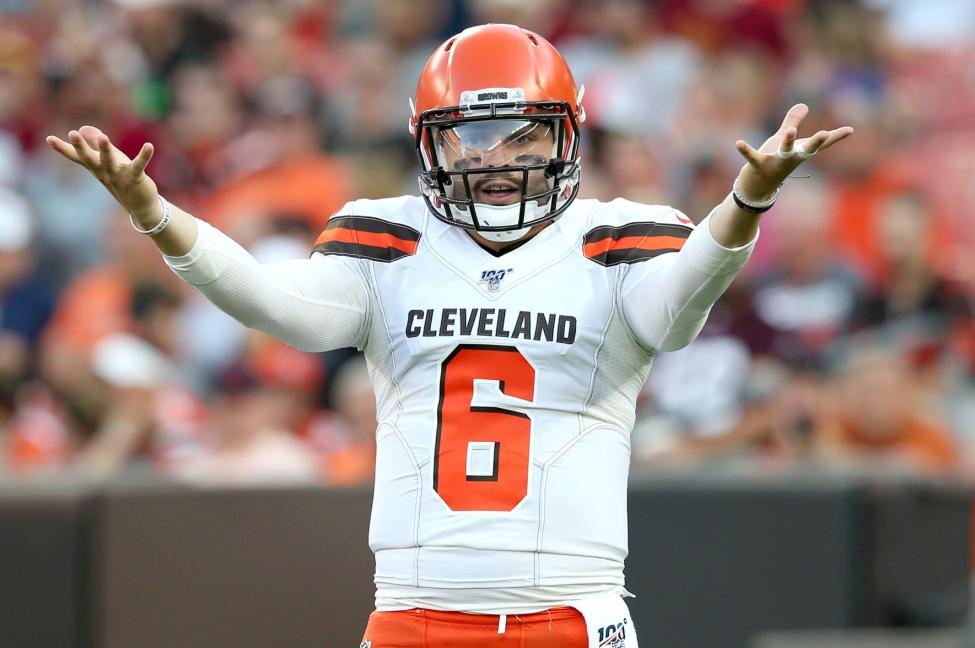 According to the GQ feature, Mayfield, who is entering his second year with the Browns, was sitting with writer Clay Skipper at a Cleveland steakhouse when he caught an ESPN report about the Giants on a nearby television.
I cannot believe the Giants took Daniel Jones," Skipper quoted Mayfield as saying. "Blows my mind."
Jones, who played quarterback at Duke, was a somewhat surprising pick in the No. 6 spot in the NFL Draft last April. Consider this reaction to the pick right after it was made.
https://twitter.com/espn/status/1121588936298647552
Mayfield, who set a rookie record for passing touchdowns last season and is a key reason why there's optimism in Cleveland about the Browns for the first time in a long time, continued: "Some people overthink it," he said. "That's where people go wrong. They forget you've gotta win."
The 2017 Heisman Trophy winner tried playing damage control after the story was published. But by that point, it was all the craze on social media. Jones, for his part, simply replied that he thought Mayfield was a great player and that he liked watching him play the game.
DraftKings Chimes In
It wasn't long after the Mayfield-Jones mind-blowing controversy began that one sportsbook decided to get into the fray. DraftKings posted a prop bet in honor of the occasion on Tuesday afternoon.
DraftKings offered +2500 odds on Jones throwing for more touchdown passes than Mayfield this season. That means a $100 bet would net $2,500. There were no odds posted on Mayfield beating Jones.
Odds are, Jones is probably a longer shot than that, for this year at least. According to the Giants depth chart, Jones is currently the second-string quarterback behind veteran Eli Manning. While it's possible Jones could overtake Manning for the starting spot at some point this season, it appears the only way he'll start the season under center is if Manning gets hurt in the next couple weeks.
In other DraftKings odds, Mayfield at +1600 is the book's seventh choice as the NFL Most Valuable Player. The book also has an over/under on his passing yards for the season, currently set at 4,325.5, and his passing touchdowns, currently 31.5. Both over/unders have -110 odds for all selections.
Jones, meanwhile, has odds of +20000 for MVP and +2000 for NFL Offensive Rookie of the Year.
Bettors Believe in Browns
Mayfield guided the Browns to five wins in the final seven games of the season, and after acquiring standout wide receiver Odell Beckham Jr. from the Giants, Cleveland now finds itself as a trendy pick to reach its first Super Bowl. They're one of five teams at the Westgate SuperBook to have more than $1 million in Super Bowl futures bets in Las Vegas.
The Browns are currently the seventh choice on the board at DraftKings, with +1600 odds. They're the fourth choice to win the AFC Championship with +750 odds. At +130, they're also favored to win the AFC North Division.
The last time the franchise won its division came 30 years ago. The Browns last playoff appearance came in 2002.