Avelo Airlines, Breeze Airways Expand Nonstop Service to Las Vegas
Posted on: September 8, 2023, 12:15h.
Last updated on: September 8, 2023, 02:22h.
Avelo Airlines and Breeze Airways, two budget-friendly airlines that cater to customers seeking to utilize smaller airports than major hubs, are expanding their operations at Las Vegas' Harry Reid International Airport.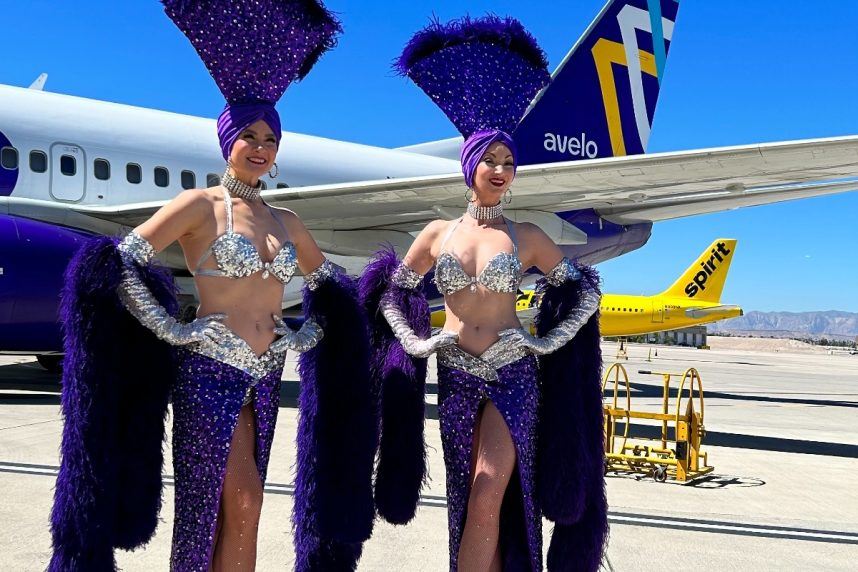 Founded only in 2021 by former Las Vegas aviation executive Andrew Levy, a co-founder and longtime president of Allegiant Air, Avelo is based in Houston. The company has serviced Las Vegas since October 2021.
Almost two years since its debut flight to Southern Nevada, Avelo held a ceremony on Thursday with Las Vegas' iconic showgirls to announce additional routes to the world's casino capital.
Avello Airlines this week inaugurated nonstop flights to four additional destinations to and from Las Vegas — Bend/Redmond, OR, Sonoma/Santa Rosa, CA, Brownsville, TX, and Eureka/Arcata, CA. Nonstop service with Dubuque, IA, and Portland/Salem, OR, is expected to start on Sept. 13 and Oct. 5, 2023, respectively.
Calling the additional service through Las Vegas "a winning bet," Levy said the expanded routes will help increase tourism to Southern Nevada while creating new jobs. Avelo Airlines has marked Las Vegas as its sixth US base and has hired 50 Las Vegas-based crewmembers and pilots.
"Vegas has something for everyone, and Avelo's affordability, convenience, and reliability will make getting to this popular destination easier than ever. The new flights, destinations, and jobs our new base enables hits the jackpot for Las Vegas, Avelo, and, most importantly, our customers," Levy said at Harry Reid International on Thursday.
Las Vegas Added Service
Along with Avelo, Breeze Airways (formerly Moxy) began its additional nonstop service to Las Vegas this week. The Utah-based budget airliner announced such plans in June.
Breeze aircraft begin servicing Las Vegas from Raleigh-Durham, NC, with thrice-weekly flights. The airline also added a daily one-stop flight to Tampa.
The added routes will only further grow traffic through Reid, known as McCarran International, until its 2021 rebranding to honor the late longtime US senator who fought for Silver State interests for decades during his time in DC.
July 2023 was nearly a record for passenger counts through Las Vegas' primary commercial air hub. Reid facilitated nearly 4.94 million arriving and departing passengers, second behind only October 2022 and May 2023.
Foreign Focus
While the domestic route additions were welcomed by Clark County Aviation Department officials, tourism execs at the Las Vegas Convention and Visitors Authority (LVCVA) are working to increase international flights.
LVCVA Chair Steve Hill said a deal was finalized to bring nonstop service from Tokyo to Las Vegas before COVID-19 hit. The pandemic put those plans on hold, but Hill said last month those talks have since resumed.
Japan's efforts to bring commercial casino resorts to the Land of the Rising Sun continue to suffer setbacks. MGM Resorts' Osaka undertaking, a multibillion-dollar integrated resort project, announced this week that its opening has been pushed back again, this time until 2030.