College Football Week 6: Auburn Visits Florida in Battle of Undefeated Top 10 SEC Teams
Posted on: October 5, 2019, 02:00h.
Last updated on: October 4, 2019, 11:12h.
The No. 7 Auburn Tigers will travel to Gainesville to take on the No. 10 Florida Gators in a battle of two SEC teams that are both standing on 5-0 records and beginning to dream of making a run to the College Football Playoff.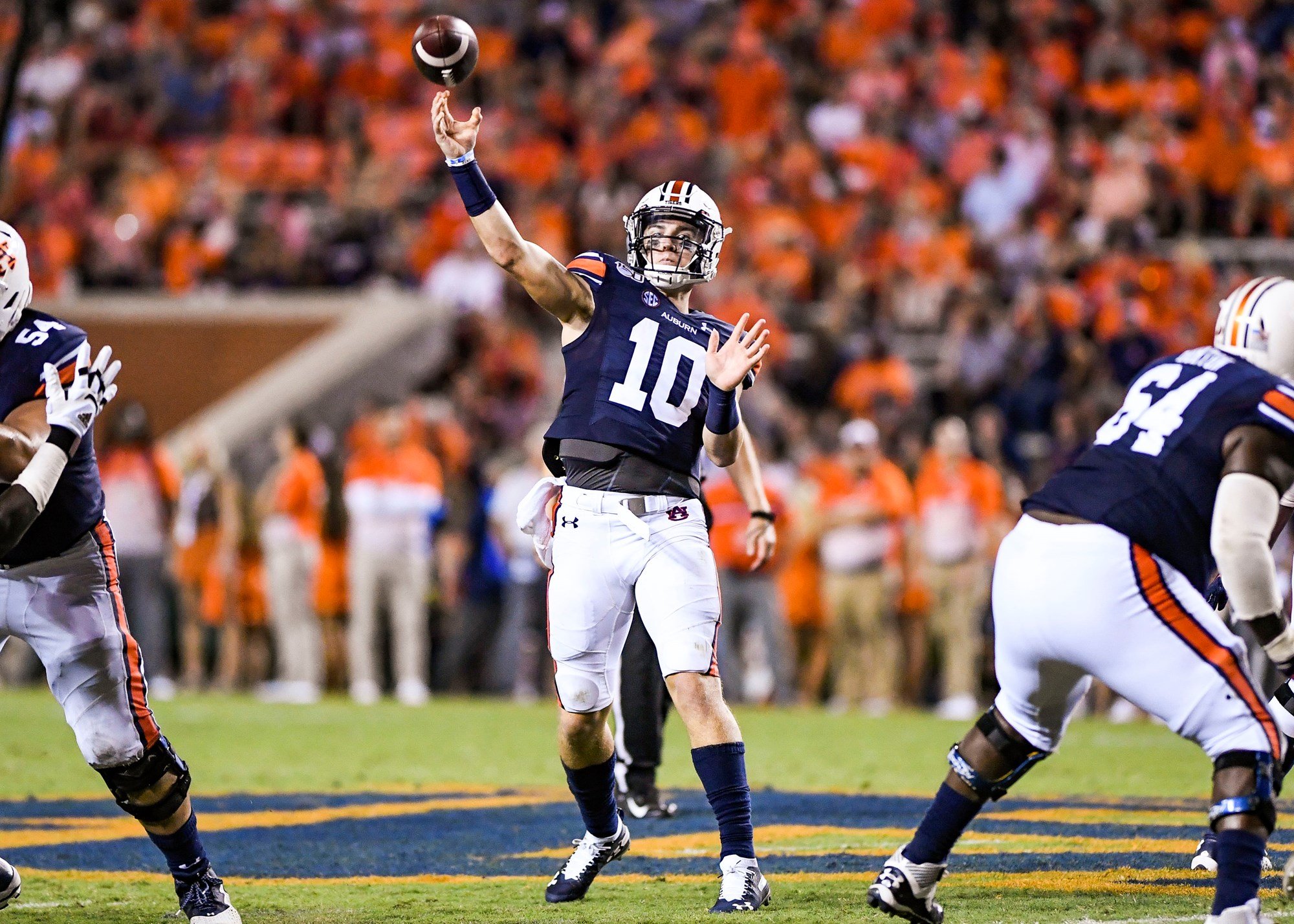 Auburn comes into the game as a 2.5-point road favorite over Florida, according to odds published by DraftKings Sportsbook.
Auburn, Florida Face Tough SEC Schedules
Both teams know that this game is hardly the end of the road when it comes to making a playoff run. Each has looming battles with top-five schools Georgia and LSU, with Auburn also having No. 1 Alabama on its schedule. That makes winning on Saturday an absolute necessity when it comes to staying alive in the race to make an SEC title game, let alone compete for a national championship.
That's a challenge that Florida head coach Dan Mullen says his team is looking forward to.
We don't shy away from it," Mullen said, via FoxSports.com. "It's hard to keep yourself at peak intensity for every single week in a long season. This is one of those weeks you don't really need to do that. If we do, we're in a lot of trouble. I told our guys if they need me to give a 'rah rah' to get us going, then they're pretty messed up in the head right now. This is what you come here for: to play in these games."
The game includes a matchup between quarterbacks without much experience. Auburn's Bo Nix is off to a tremendous start as a freshman, while Florida's Kyle Trask has been forced to take over after three-year started Feleipe Franks was sidelined with a broken right ankle last month in a game vs. Kentucky.
Two Big Ten Matchups Highlight Week 6
Two other games in Week 6 also feature Top 25 teams facing off against each other, and both of them are taking place inside the Big Ten Conference.
The No. 19 Michigan Wolverines are looking to recover from a devastating 35-14 loss to Wisconsin, and come into Saturday as 3.5-point favorites over the No. 14 Iowa Hawkeyes (4-0). Michigan has disappointed so far after coming into the season as one of the favorites to win the Big Ten, and will need to maintain its composure if it wants to avoid a second straight loss this weekend.
"I think in that situation, you've got to pick yourself up off the floor immediately," Michigan special teams coordinator Chris Partridge told reporters on Wednesday. "You've got to look in the mirror and you've got to say, 'What can we do better? What can we all do better?' From myself to every player."
Also critical is a matchup between No. 4 Ohio State (5-0) and No. 25 Michigan State (4-1). The Buckeyes will play host for the game, and are a prohibitive 19.5-point favorite. If Ohio State does run into trouble, it will likely be against a stout Michigan State defense that has the experience to pose trouble for any offensive unit.
"They're not super complicated, but they have answers to everything that you do," Ohio State coach Ryan Day said at a press conference. "So the minute you run a play, they're on top of it, and they've got it defended the next play. These are guys who have played in this system for a while, and there are coaches who have coached in this system for a while, so it's a tremendous challenge."