Arsenal Now Favorite with Some Sportsbooks to Win Premier League
Posted on: January 2, 2023, 06:26h.
Last updated on: January 2, 2023, 06:50h.
Arsenal extended their lead at the top of the English Premier League on New Year's Eve. They did so with a rampant 4-2 win at Brighton, a club that has been something of a bogey team for the Gunners in recent years.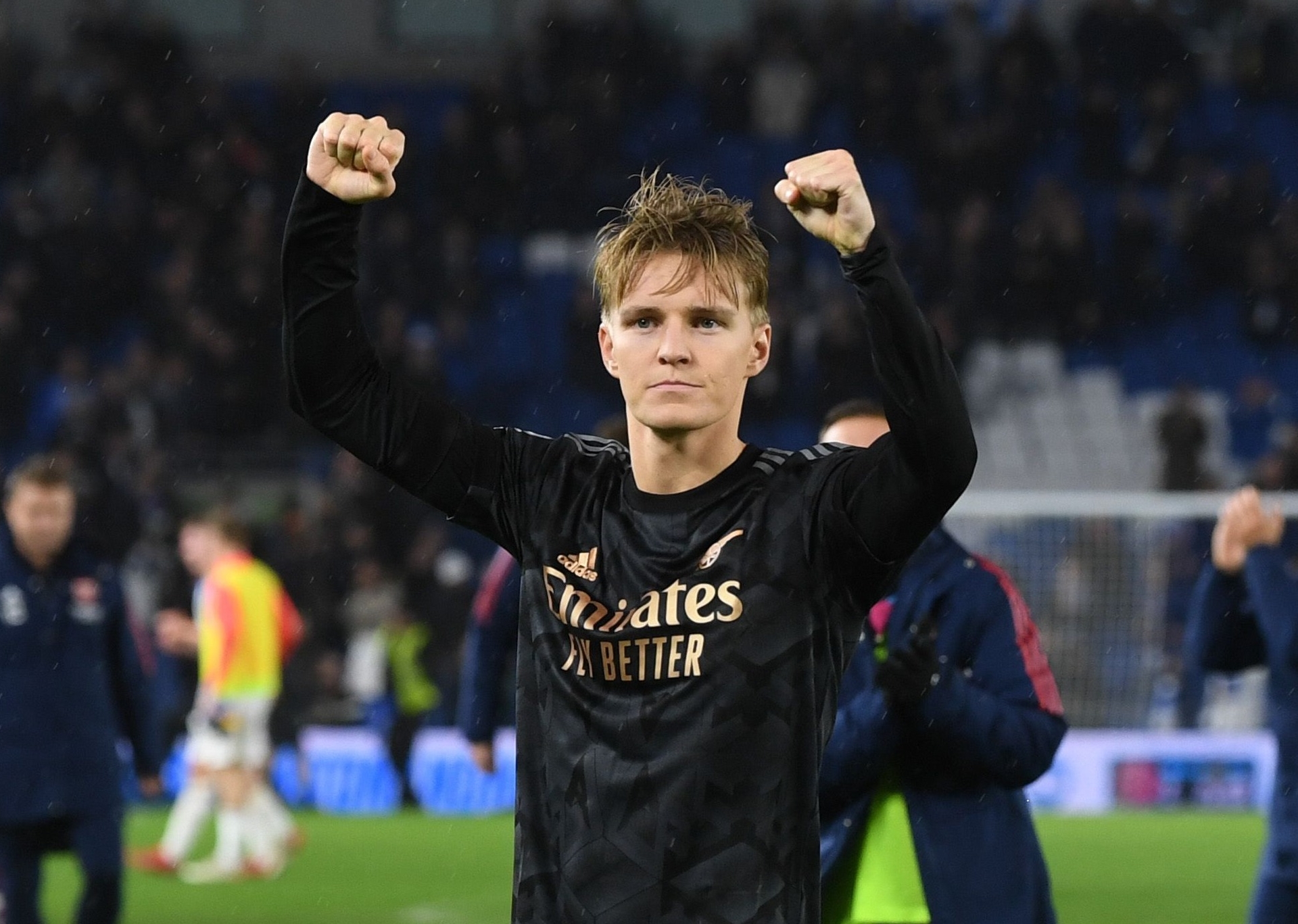 But not for the 2022-23 version of Arsenal, apparently. And the bookies are beginning to smell the coffee.
Brighton's nickname is "the Seagulls" because the seabird is ubiquitous and noisy in the resort city on England's south coast.
But the nickname has never been more apt. The Brighton team swarm and press and peck like gulls attacking your fish and chips on the city's famous promenade. Brighton makes a pest of themselves. Unlike seagulls, though, they are also technically very good at soccer.
But Arsenal swatted them away as though they'd been gifted a massive seagull swat for Christmas. This was a game the Gunners were supposed to find difficult. But it was a breeze. Like all the other "tests" they breezed past so far this season.
Needle Moves
Martin Ødegaard had no business nutmegging Louis Dunk like that in the penalty box as three defenders closed in on him midway through the first half. The silky-footed Arsenal captain is staking a claim for EPL player of the season, notching up a goal and an outrageous assist at the Amex Stadium.
Thomas Partey was imperious in the number six position, winning back the ball high up the pitch, turning, spinning, beating his man, playing progressive passes to set up attacks.
The front three of Bukayo Saka, Martinelli, and Eddie Nketiah were all firing, registering a goal each. And with two goals in two games, the latter is proving to be an acceptable deputy for the talismanic Gabriel Jesus, who was injured playing for Brazil in the World Cup.
Two hours earlier, Manchester City dropped two points by contriving to draw at home to Everton. City are arguably the best team in the world. But for the first 16 games of this season, they haven't even been the best team in England.  
And Arsenal's two post-World Cup victories – six points to City's four – has moved the needle in the betting markets.
The Gunners are now around 5/4 – an implied probability of 44.4% – to win the league with most bookmakers. City are 8/11, or 57.9%.
But some bookmakers, such as Matchbook and SBK, have made Arsenal slender favorites at 7/5.
Are City Less Brilliant?
And why not? It's January and they're seven points clear. And so far this season, they have proved themselves to be the team least likely to drop points.
Man City have the Norwegian "fotball" goal machine that is Erling Haaland, and they have more depth to their squad, and more experience, and the so-called "winning DNA."
But is there a sense that City aren't quite as good as they have been over the past few seasons? Could Haaland be too much of a focus? Is he sucking the lifeblood from everyone else in the team? Does Pep's system need a false nine rather than an out-and-out striker to be optimal?
Don't panic. These questions and more will be answered in the coming months.
Meanwhile, Arsenal need Partey, Martin Ødegaard, and Saka to stay as healthy as possible. This January, the Gunners need to acquire a goal-scoring winger who can play on both flanks to give Saka and Martinelli an occasional week off. It looks like Ukrainian wonderkid Mykhailo Mudryk may be that player.
Whoever your money's on of the top two, it will be a tantalizing bet. And that's why the EPL is currently the most exciting and competitive soccer league in the world.