Aristocrat Leisure Hits Jackpot, Gaming and Slot Manufacturer Earnings Soar 53 Percent
Posted on: May 25, 2017, 05:00h.
Last updated on: May 25, 2017, 04:04h.
Earnings for Aristocrat Leisure aren't taking a leisurely stroll on the Australian Securities Exchange, but instead racing towards record profits for the Sydney-based gambling machine manufacturer.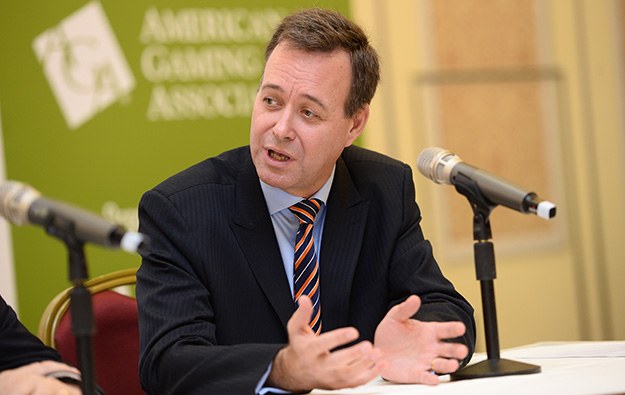 Aristocrat revealed this week through its half-year fiscal financial report that its net profits for the six months ending March 31 totaled AUD$249.6 million ($187.4 million). That calculates to a 53 percent growth compared to the same period in 2015-2016.
New Aristocrat Leisure CEO Trevor Croker, a longtime employee who took the position in March, gave credit to the employees who develop and manufacture the gaming machines. "The key part is having the best game design talent," the executive told the Australian Financial Review.
Shares of Aristocrat soared during Thursday trading to new highs. The stock closed up almost four percent to $15.70. Though it's headquartered in Australia, Aristocrat has offices on every livable continent, including six locations in the US.
Australian for Cha-Ching
Aristocrat Leisure manufactures everything from traditional themed slot machines, to innovate technological progressive formats, to video gaming platforms geared towards millennials.
With profits on the rise, the Australian company has its eyes set on new, formerly untapped markets. One focus is the South Korean gambler, a demographic that is traveling to foreign casinos to gamble.
At the Global Gaming Expo earlier this month, Aristocrat revealed a South Korean-centered gaming machine based on the country's mythology. Citizens in South Korea are barred from stepping foot inside all but one of the country's 18 foreigner-only casinos.
Aristocrat's reasoning for the new product is that South Koreans are beginning to more frequently venture into casinos in Vietnam, Singapore, and China's Macau. Aristocrat is also looking to Japan, as the country readies to end its commercial gambling prohibition.
The gaming manufacturer says it invested over $13.2 million into design and development over the last six months, and will maintain that spending level moving forward.
Aristocrat provides games for numerous casinos around the world. Casinos that recently opened in the Philippines, Malaysia, and South Africa all have units supplied by the Aussie manufacturer.
Leisure Suit Fail
The headlines haven't all been good in recent months for Aristocrat. It was just last fall that the gaming company was sued for allegedly manufacturing "deceptive" machines.
A disgruntled problem gambler charged Aristocrat, along with the Crown Casino in Melbourne, of using psychologically manipulative schemes to convince players they're on the verge of striking it rich.
Attorneys for Shonica Guy, the alleged victim in the case, claimed Aristocrat game Dolphin Treasure disguises losses as wins through the use of misleading sounds and images.
Aristocrat was never found guilty of any wrongdoing, but Guy, along with powerful Australian Senator Nick Xenophon, initiated a campaign called "Pokie-Leaks." The movement sought confidential information from gaming manufacturer employees who possessed knowledge of deceptive gaming practices and how the industry targets vulnerable players.
Australia has the highest gambling rate in the world. The average Aussie bettor loses around $2,300 annually on gambling.
Latest Casino Stocks:
Retrieving stocks data...
Retrieving stocks data...
Retrieving stocks data...
Retrieving stocks data...
Retrieving stocks data...