Another Resort Fees Lawsuit Filed, Advertised Casino Room Rates Questioned
Posted on: July 25, 2019, 11:05h.
Last updated on: July 25, 2019, 11:37h.
Resort fees, those pesky add-on charges that aren't necessarily advertised to customers during the booking process and are commonplace in Las Vegas, are again being challenged in court.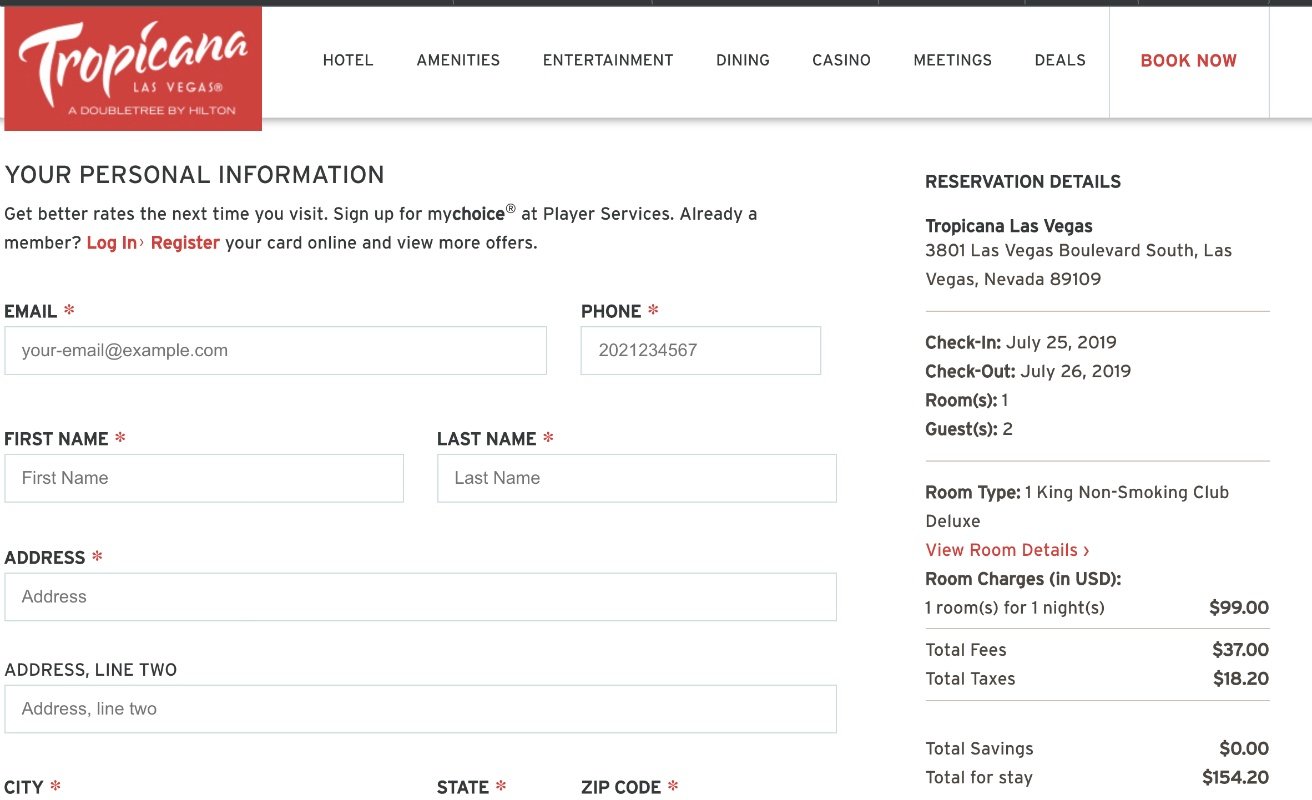 Nebraska Attorney General Doug Peterson filed the lawsuit this week alleging that hotels and casinos regularly hide the true price of an occupancy from guests. He named the Hilton Hotels Corporation as the defendant, which is one of the largest hotel companies in the world with approximately 5,700 properties and around 923,000 occupancies in 113 countries and territories.
Peterson used the Tropicana Las Vegas casino resort and its DoubleTree by Hilton hotel as an example in his lawsuit.
Hilton conceals the true total price of hotel rooms by advertising one rate, then charging mandatory 'resort fees,' 'daily mandatory charges,' or 'urban destination fees' on top of the advertised price. At least 78 Hilton properties in the United States currently charge these hidden fees, which range from $15 to as much as $45 per room per night, and consumers only find out about these fees after they begin to book a room," Peterson contends.
Tropicana Las Vegas says on its webpage that booking direct comes with "no hidden fees." But after choosing a room the price escalated for a one-night stay from $99 to $154.20 due to the $37 resort fee plus additional taxes.
The lawsuit follows District of Columbia Attorney General Karl Racine's resort fees lawsuit filed earlier this month against Marriott.
Hidden Charges
Peterson details the booking process at Tropicana Las Vegas in his claim. He screenshots an advertised rate of $95 per night.
"Unbeknownst to the consumer at this stage of the booking process, the room rate for the Tropicana Las Vegas was deceptively low because this hotel charges an additional $37 per night resort fee that is added onto the room rate. Neither the amount nor the existence of this resort fee is disclosed on this search results page," the lawsuit reads.
He points out that the Hampton Inn in Las Vegas, which is just below the Tropicana on the Hilton search page, is actually the more affordable option at $97 a night because it doesn't charge a mandatory resort fee.
Tropicana Las Vegas says its $37 per day resort fee includes internet access, fitness center use, valet or self-parking, a buy one, get one cocktail, discounted show tickets, local and toll-free calls, and two daily bottles of water.
"With today's lawsuit … I ask the court to order Hilton to make necessary and meaningful changes to its business practices – but most importantly, to be transparent about its prices," Peterson stated.
Last Resort (Fee)?
There's a growing sentiment of anger among consumers – especially in Las Vegas – that resort fees need to be a thing of the past. Some believe the hidden charges that are no longer so secret are keeping visitors away, or leading tourists to other accommodation options such as Airbnb.
However, Marriott CEO Arne Sorenson says the charges actually provide value to customers. He also believes the fees are "well disclosed" by his company.
Others don't agree.
"The hotel groups that don't use drip pricing are disadvantaged, because their properties look artificially more expensive than the other hotels that are participating in this anti-consumer behavior and are artificially making their pricing look low," lodging analyst Robert Cole told Travel Weekly. "If you are doing the right thing for the consumer, you are at a structural disadvantage to those who are being hostile to the consumer, and that's a problem."
Similar Guides On This Topic
Most Read

Latest Casino Stocks:
Retrieving stocks data...
Retrieving stocks data...
Retrieving stocks data...
Retrieving stocks data...
Retrieving stocks data...