Allegiant Stadium Continues South Strip Development Spree, Boutique Casino Planned
Posted on: February 19, 2020, 09:40h.
Last updated on: February 19, 2020, 11:23h.
Allegiant Stadium, the $2 billion home of the NFL's Las Vegas Raiders, continues to spur development projects on the southern end of the Strip. The latest is a boutique, luxury hotel featuring a small casino from New York City-based Dream Hotel Group.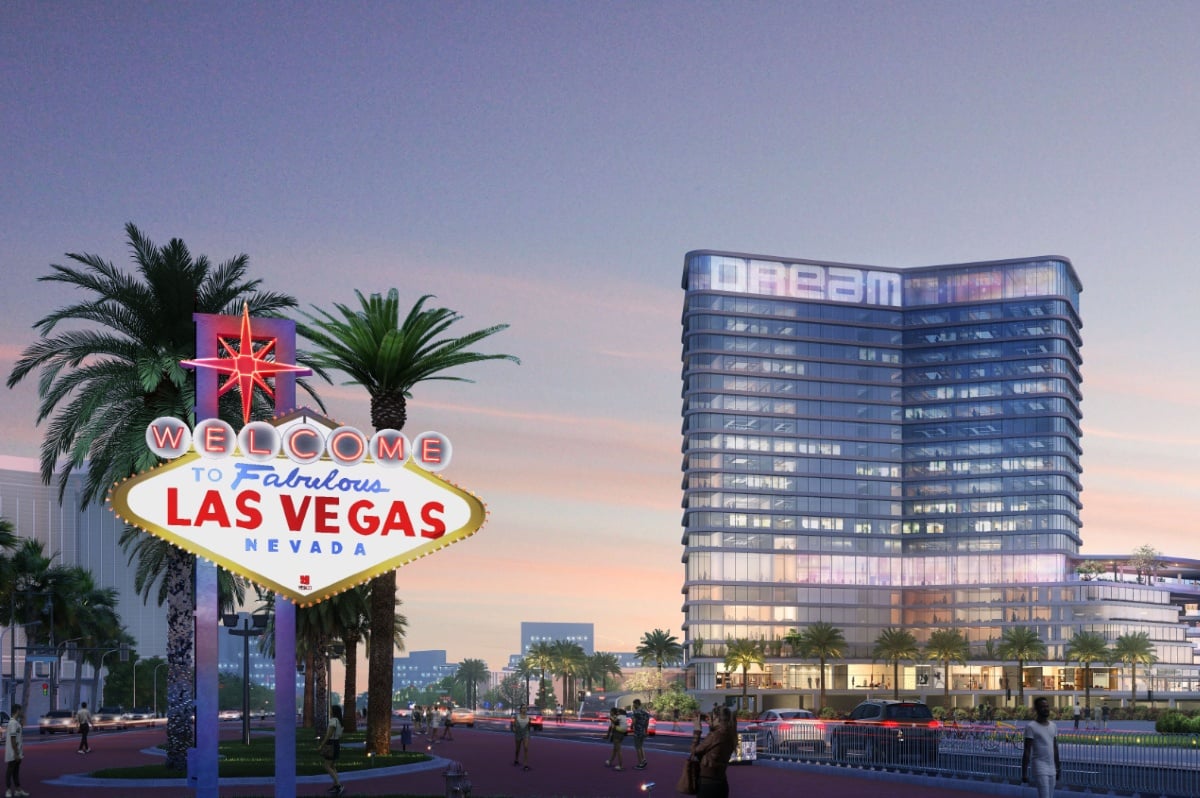 Dream and development partners Contour and Shopoff Realty closed recently on a 5.25-acre plot of land at Las Vegas Boulevard and Russell Road for $21 million. The property butts up against McCarran International Airport, and is just north of the "Welcome to Fabulous Las Vegas" sign.
Dream Las Vegas will be a 21-story hotel featuring 450 luxury guestrooms, seven dining and nightlife venues – one being a rooftop pool deck – 12,000-square-foot convention center, spa, and small casino floor. The projected price tag is $300 million.
Construction is set to begin in early 2021, and the hotel is scheduled to open in 2023. Dream has 16 hotels in operation, including in New York, Los Angeles, Miami, and Nashville. Its Las Vegas project will be its debut into gaming.
Strip Extension
The southern end of the Strip is benefiting from the Raiders stadium, as crowds of football fans will occupy the area on Saturdays and Sundays for UNLV and NFL games, plus expected marquee events such as the Super Bowl, College Football Playoff, international soccer matches, and March Madness.
We're thrilled about the location," Dream Hotel Group CEO Jay Stein said. "To have football in any city is super important."
Dream is one of several substantial investments on the Strip's southern end. Nearly a year ago, Israeli hotelier Asher Gabay announced plans to raze the 8 Motel adjacent from Mandalay Bay and replace it with a 34-story, 620-room resort called Astral.
Surrounding Gabay's plot is 38.5 acres of land that is currently up for auction. A total of 12 parcels are on the selling block. The bidding deadline is April 30.
Additionally, the long-delayed high-speed Virgin Trains concept, which would connect Southern California with Las Vegas in an hour's commute, announced plans this week to build its Las Vegas station south of the Strip between Eldorado Lane and Robindale Road.
Walk in the Desert
As the crow flies, Dream Las Vegas is six-tenths of a mile from Allegiant Stadium. But in order to attract stadium goers who think they might walk, the hotel might need to persuade Clark County officials to alter their game day road plans.
The county plans to close Hacienda Avenue from the Strip to the stadium during events, allowing pedestrians to cross the interstate. But, as of now, Russell Road is scheduled to remain open for vehicular traffic.
For Dream Las Vegas guests, the walk to the stadium across Russell measures roughly 0.7 miles. From Dream to Allegiant via Hacienda, the walk lengthens to 1.25 miles.
The Las Vegas Stadium Authority expects an estimated 20,000 people will walk from Strip resorts to the stadium on a regular basis. A permanent pedestrian bridge across I-15 was previously considered, but a suitable location could not be identified.
Similar Guides On This Topic