All 9 Vegas Strip Speakeasies and How to Get Into Each One
Posted on: August 28, 2023, 04:14h.
Last updated on: August 28, 2023, 04:35h.
Speakeasies were, historically, hidden bars and clubs established during Prohibition to illegally pedal booze and the experience of feeling naughty in a relatively safe environment.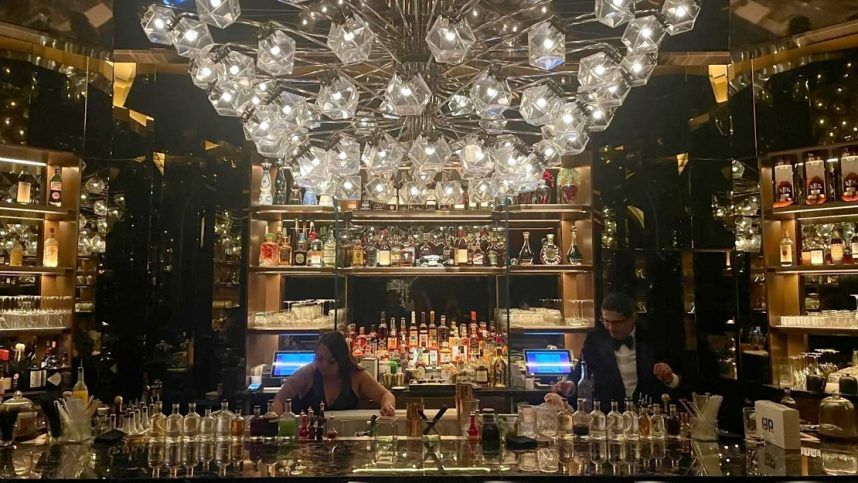 Today, the nine hidden speakeasies that have exploded onto the Las Vegas Strip are pretty much theme-park rides designed to replicate that experience, with exclusivity substituting for illicitness/naughtiness as their raison d'être.
They're also the latest rage. Here are all nine, in no particular order other than the newest first….
1. The Vault, Bellagio
Opening Monday, August 28, the newest Strip speakeasy requires not only knowing how to find it, but obtaining a difficult-to-secure reservation.
If you clear both roadblocks, you will find an exclusive wonderland designed by Alessandro Munge (of Toronto's Studio Munge) where $135 classic cocktails are meant to be enjoyed on velvety banquettes, if that happens to be your idea of a wonderland.
Said cocktails — old fashioneds, sidecars, and daiquiris — are mixed with bottles of rare alcohol, including 1960s Bacardi, 1930s Remy Martin cognac, and 1960s Ricard vermouth.
Each Vault visit begins with a complimentary aperitif and elevated bar snacks, including fried spaghetti, cheese bites, and stuffed olives.
How to Get In: The Vault is located through an unmarked door near the Bellagio's casino cage, in a small space that once housed an office for casino hosts. A reservation can only be made by sending a direct Instagram message to @thevaultbellagio, but the experience is limited to 50 patrons at a time, so good luck!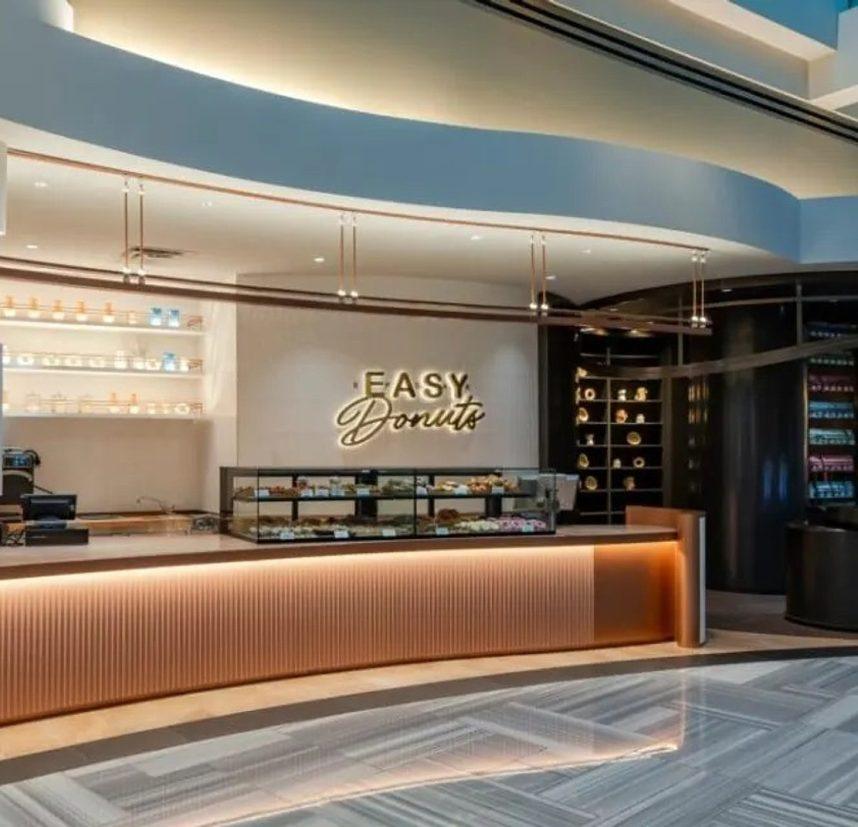 2. Easy's Cocktail Lounge, Aria
Encased in secret velvet loveseat plushness is a low-lit bar and lounge seating 42, also designed by Munge, that serves donuts and caviar (starting at $130 for 30 grams of Siberian Supreme) and cocktails by mixologist Eric Hobbie that include the Heart of the Ocean ($50).
This one mixes tequila, orgeat, lime, blueberry, and a black sea salt foam inside a bowl of San Diego seashells.
It's served on a slab of boardwalk with a dry ice fog mixed with coconut oil to smell like suntan lotion.
How to Get In: Easy's is located behind a fake wall by the cappuccino machine at the Easy Donuts stand in the Poper Eats food hall. (Just look for the velvet rope.) Reservations, via www.easyvegas.com, are a good idea, but not necessary.
3. Barbershop Cuts & Cocktails, Cosmopolitan
The most famous of three speakeasies at this newly MGM-purchased property, Barbershop Cuts & Cocktails was the scene of a much-publicized hissy fit thrown a few weeks ago by Maroon 5 singer Adam Levine.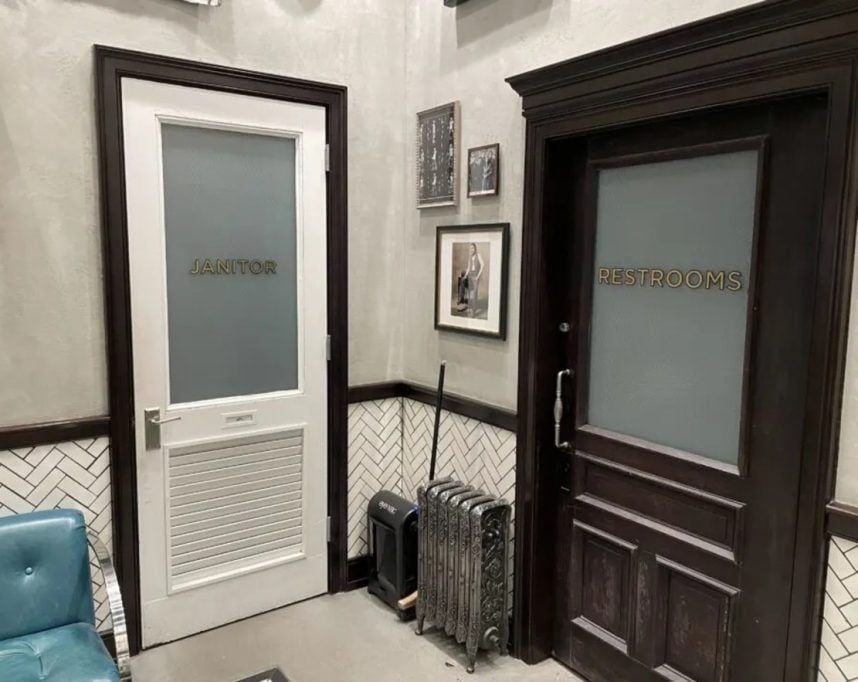 In the front is a working hair salon offering $75 cuts. Hiding in the back is a 130-person capacity lounge featuring nightly, sometimes star-studded entertainment.
"Spiked juice" drinks, starting at $18, are served on a vintage 1800's mahogany bar from Kentucky, along with shooters starting at $16.

How to Get In: Find and open the door marked "Janitor" in the back of the barbershop. You'll find a small closet with a metallic second door that opens into the speakeasy. Reservations aren't required by day. By night, request them here.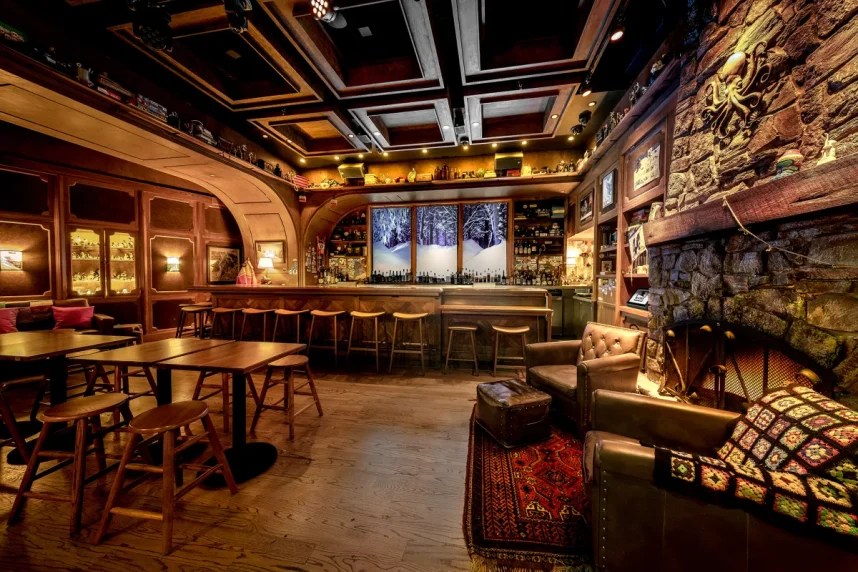 4. Ski Lodge,
Cosmopolitan
This speakeasy is part of the Cosmo's Superfrico eatery, which occupies the former dinner club space known as Rose, Rabbit, Lie. Inside, it's a fake ski lodge with a view of fake snow falling behind fake windows behind a real bar.
James Beard Award-winning mixologist Leo Robitschek developed the bar menu, which offers seasonal pours and several "izakaya" drinks featuring Japanese spirits.

How to Get In: Go to Superfrico on Level 2 of the resort's Chelsea Tower. Someone will ask your destination and guide you inside, if it's not at capacity.
5. Ghost Donkey, Cosmopolitan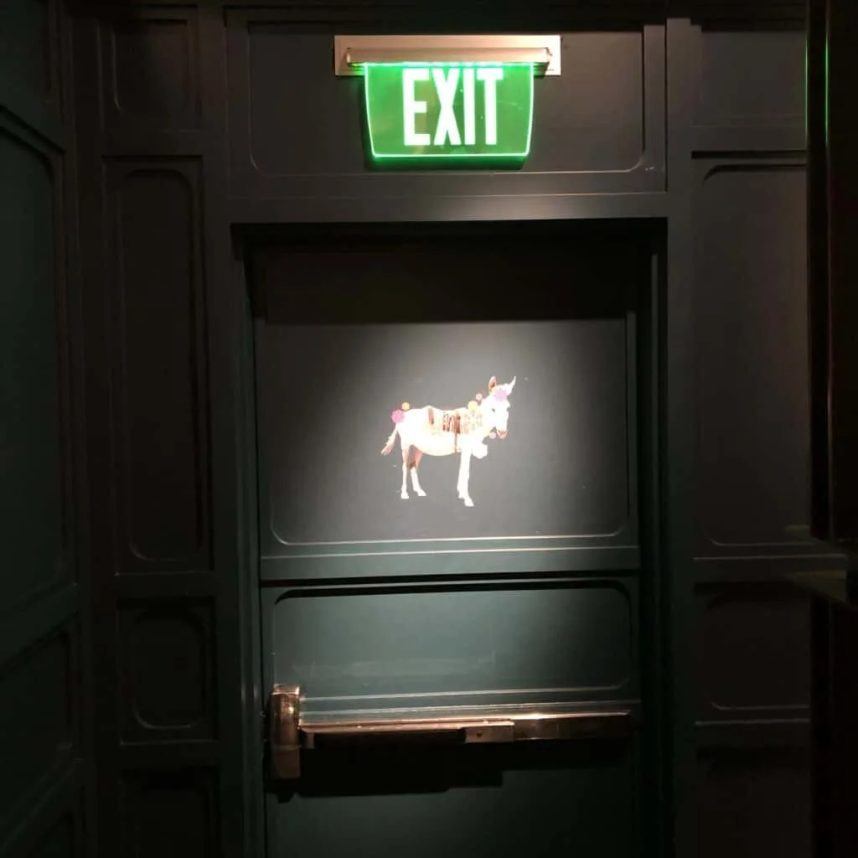 Rounding out the secret troika at the Cosmo — by the way, they hate it when you call them "the Cosmo" — is this tequila and mezcal bar. Decked out in glowing red string lights and donkey artwork, it seats only 10 at the bar, and only 15 more in the lounge, in a space not much larger than your hotel room.
The menu features traditional Mexican spirits with a modern flair, including the Mushroom Margarita ($17),  which boasts fungus-infused Joven mezcal, as well as nachos with eclectic toppings such as wild mushrooms, tripe, and black truffle.
How to Get In: Go to the Block 16 Urban Food Hall on the second floor near the Chandelier Bar. Look for the door with the donkey drawing. Walk-ins only, no reservations.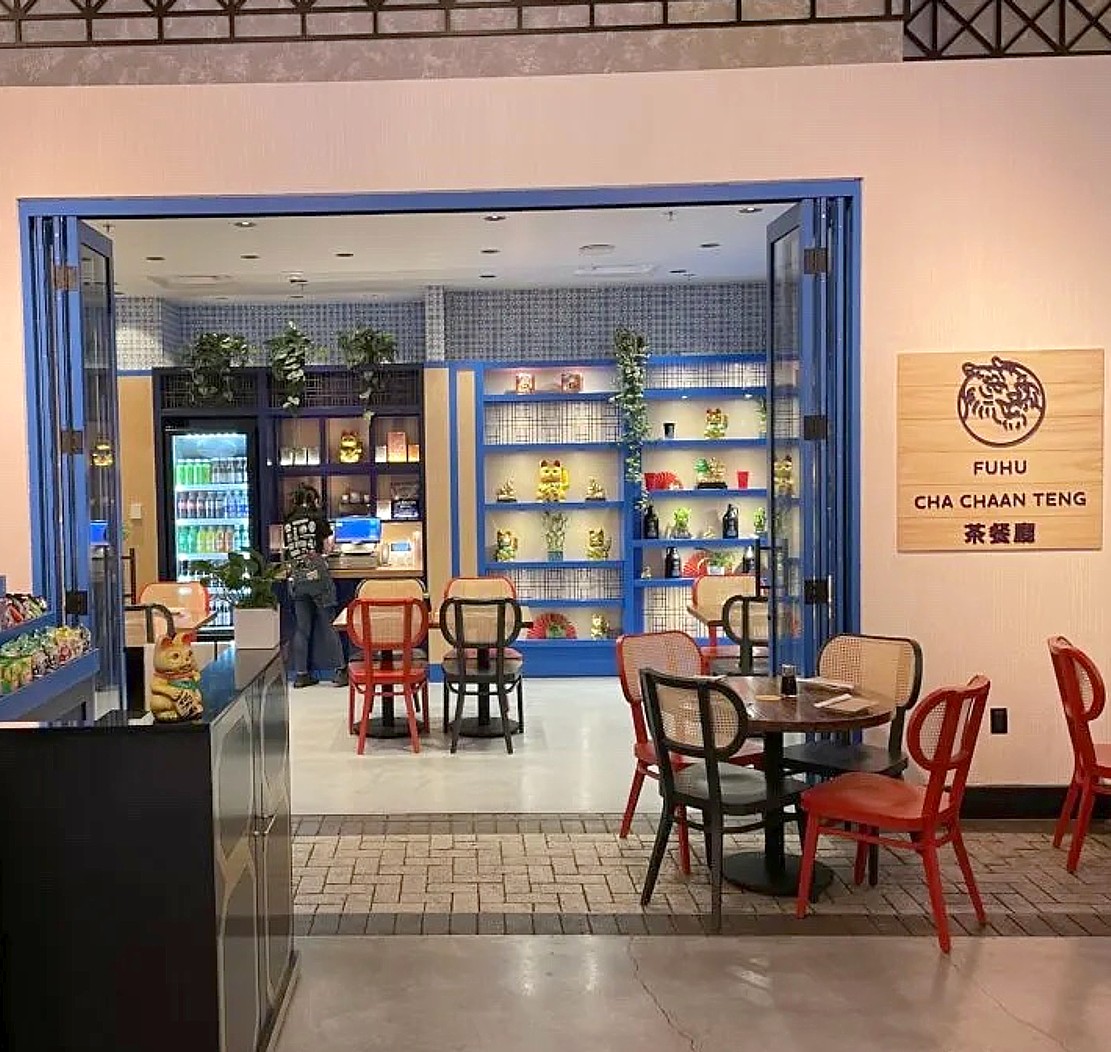 6. Here Kitty Kitty Vice Den, Resorts World
This speakeasy is decked out like an opium den, with Japanese décor and $20 cocktails, including the Black Moon Rising ($20), which mixes Suntory Toki whiskey with white port, lemon juice, blackberries, and an egg white.
How to Get In: Go to Famous Foods Street Eats food hall. Find the Fuhu Cha Chaan Teng noodle shop and check in at the desk. A password is sometimes necessary but the staff usually coaches you until you guess it, unless the room is at its 50-person capacity. Make a reservation here.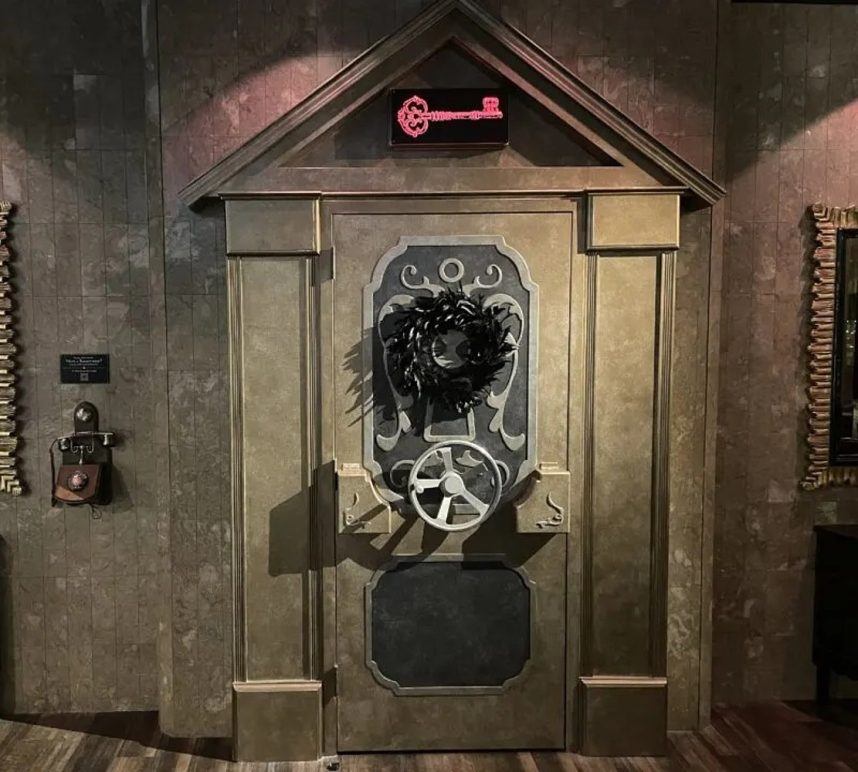 7. The Lock, Horseshoe
The signature drink at this speakeasy, with room for about 25 revelers, is a $22 cocktail custom-concocted for you after filling out a questionnaire about your interests, tastes, preferred vacation destination, and your zodiac sign.
But the thing you will probably remember most is the odyssey to enter. It's basically the opposite of an escape room, where you need to solve puzzles to get in.
How to Get In: Take the escalator along the casino's back wall down to Jack Binion's Steakhouse. The bar is at the bottom of the escalator, behind a fake vault door marked by an illuminated key. You'll need a reservation, which can be made here.
Once you arrive, use the old-timey phone to the door's left. Someone on the other end will give you clues to solve that yield passcodes for you to punch into the vault door and a second one behind it. When you give up, as most people end up doing, they'll just buzz you in anyway.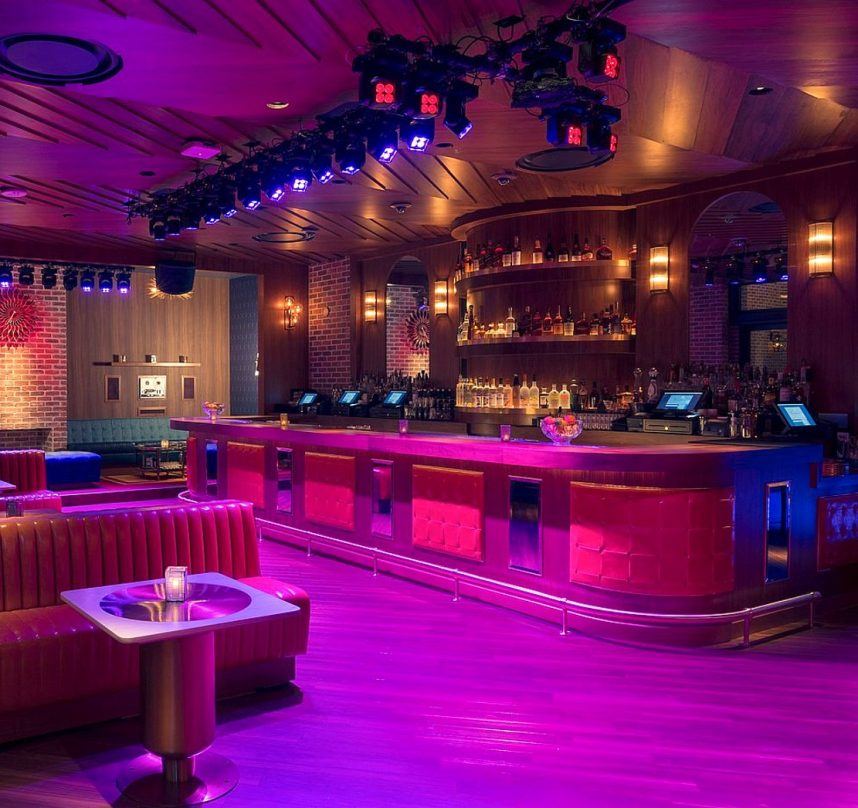 8. Vinyl Parlor, Park MGM

This speakeasy is located inside an 11,000-square-foot nightclub called On the Record. It holds about 25 people.
Past the karaoke rooms, the band stage, and the double-decker bus repurposed as a cocktail bar, is a secret bar hidden where guest "startenders," — celebrated mixologists from other cities — shake and stir the drinks on weekends, creating cocktails and mocktails inspired by the room's vinyl collection.
How to Get In: Find On the Record, which is hidden behind a record store entrance off the main casino floor. Then find and push a hidden door lined with cassette tapes.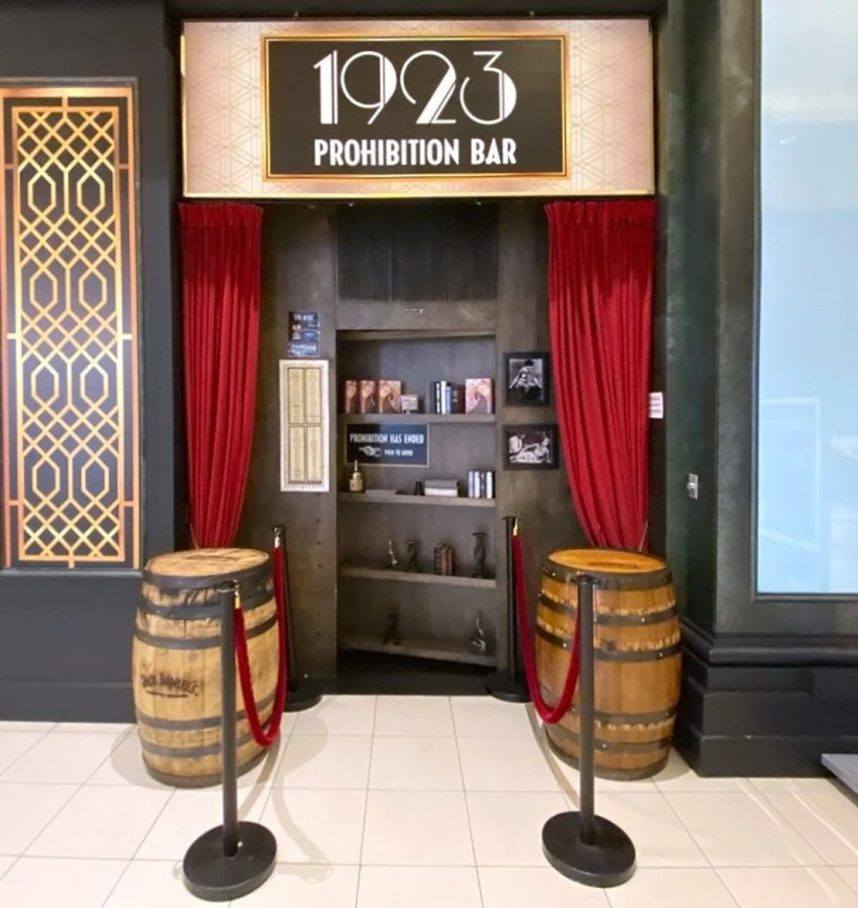 9. 1923 Prohibition Bar, Mandalay Bay
Fans of the "Yellowstone" series and its prequels, especially "1923," will dig the Old West vibe and bourbon-forward cocktails. Please don't shoot the piano player.
How to Get In: Enter the walkway between Mandalay Bay and the Luxor. Push on the bookcase located next to the 5 Degrees Ice Bar. Reserve a table here.