Las Vegas Strip Getting $50M New Nightclub
Posted on: February 14, 2023, 04:36h.
Last updated on: February 15, 2023, 11:42h.
The Bottled Blonde chain of pizzerias and beer gardens — headquartered in Scottsdale, where it was founded in 2014 — is making its Las Vegas debut.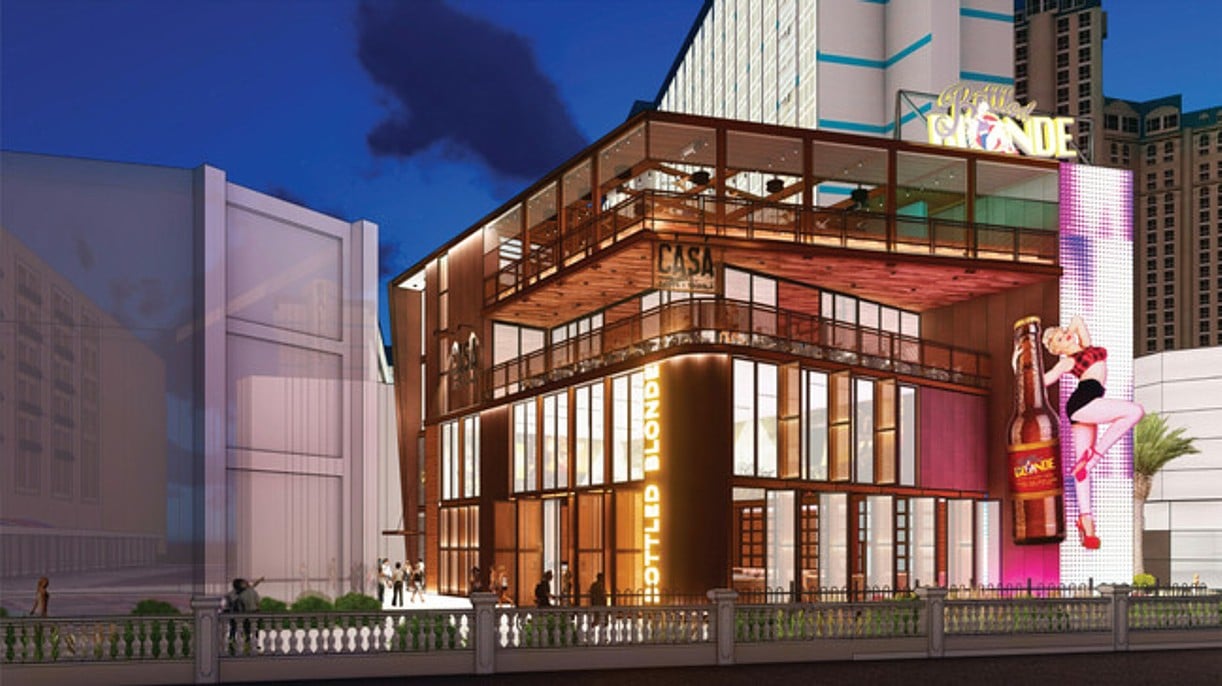 Its standalone building will open in the Grand Bazaar Shops, next to Horseshoe Las Vegas (formerly Bally's), sometime in the fourth quarter of 2024.
Bottled Blonde Las Vegas will divide 25K square feet of space over three floors and an open-air rooftop lounge featuring unobstructed views of the Bellagio fountains. Several Strip-facing buildings will be demolished to accommodate its construction, costing a cool $50M.
From AZ to LV
The chain's new-to-Vegas owner, the Arizona-based Evening Entertainment Group, has deep pockets. It owns 25 bars and restaurants across the US, and the Dallas Morning News called Bottled Blonde the "highest-grossing standalone bar in Texas."
The chain — whose name is a not-so-subtle double entendre referring to blonde ale and bleached blondes — already operates in Dallas, Houston, Ft. Worth, and Miami. A new location is also under construction in Nashville.
Evening Entertainment Group is developing the new Vegas location with Creation, a Phoenix-based real estate development and alternative investment firm.
Blondes Have More Fun
All Bottled Blondes have a menu dominated by chicken wings, salads, and pizzas, but it's the late-night club atmosphere that seems to draw most customers in.
"This project has been a long time coming, and we couldn't be more excited to bring the Bottled Blonde experience front and center to the Las Vegas Strip," Evening Entertainment Group co-owner Les Corieri said in a news release.
When asked about the Las Vegas nightlife realm's already stiff competition, Corieri told the Las Vegas Review-Journal: "Our visibility is much better than most people," pointing out that the southeast corner of Las Vegas Boulevard and Flamingo Road offers access to the highest pedestrian traffic count in the US.
Bottled Blonde won't be the only new kid on this busy block, though. Its next-door neighbor will be Blake Shelton and the Ryman Group's Ole Red country barbecue and live music joint, which is hoping to open before the Formula 1 Las Vegas Grand Prix on November 18.
Most Read