'Alienstock' Outcome Forecast by Online Sportsbooks, Event Alienated Most Worldly Beings
Posted on: September 23, 2019, 03:50h.
Last updated on: September 23, 2019, 04:39h.
Last weekend's Alienstock was a bust by nearly all accounts. The much-hyped desert event near the Area 51 military base drew just 3,000 people and saw its second day of concerts cancelled.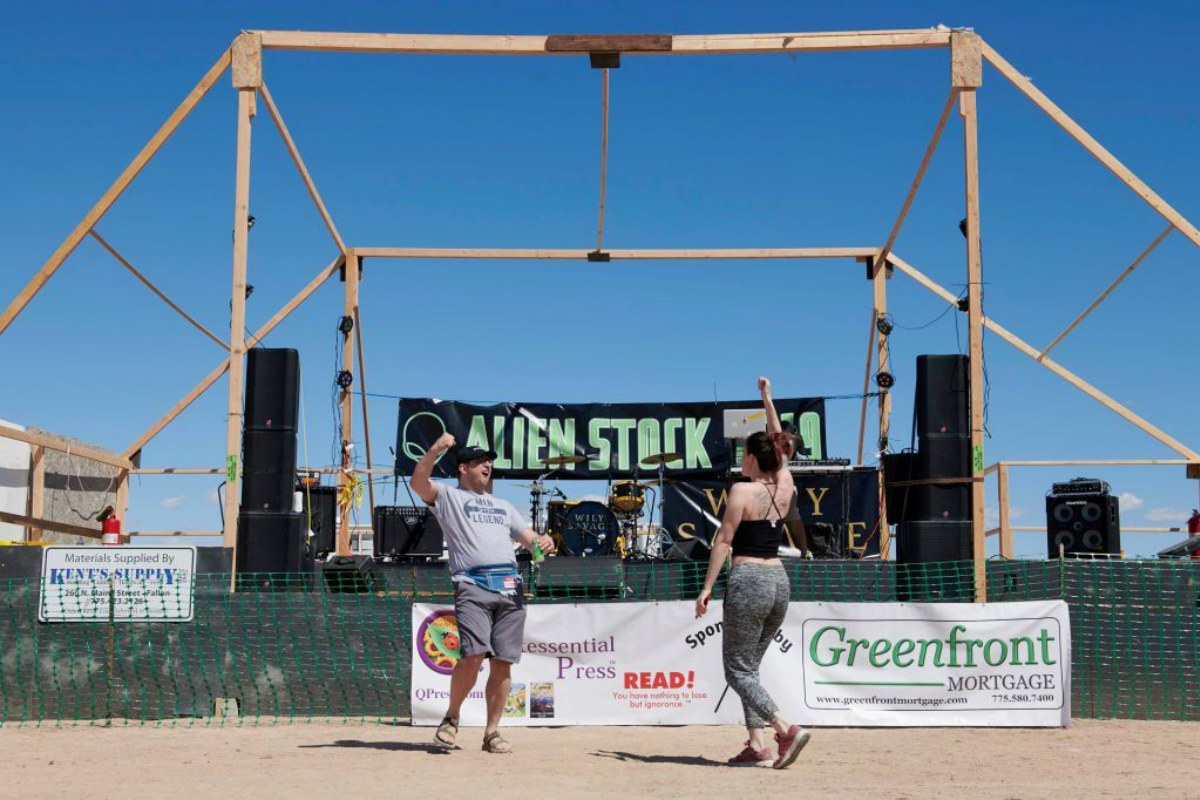 It began as a joke – a Facebook event created by Matty Roberts titled, "Storm Area 51, They Can't Stop All of Us." It ended largely as a joke, too. The plan originally called for a massive crowd of people to run onto the base at once, thereby making it impossible to stop all of them. The Area 51 base has long been rumored to house alien technology captured by the government, or potentially alien life forms that survived a crash.
Roberts later backed out of what transitioned into a music festival at the Little A'Le'Inn motel in Rachel, a desolate town home to less than 50 residents. Little A'Le'Inn owner Connie West pressed on, despite admitting she had no idea whether 5,000 or 25,000 people would show up.
Online sportsbooks had a better idea. Oddsmakers took action on an over/under on the number of attendees at 10,500. The under easily won.
The house correctly predicted the odds of President Donald Trump tweeting about the happening, with "Yes" +500 the long underdog, and "No" the heavy favorite at -1000. Trump didn't comment via the social media platform on the Area 51 chaos.
Alienstock Outcome
The US military warned potential Area 51 stormers that any effort to infiltrate the Army base wouldn't end well for those trespassers.
Prior to the two-day event, the Defense Visual Information Distribution Service (DVIDS) – a media source for US service members – tweeted, "The last thing #millennials will see if they attempt the #area51 raid," accompanied by a photo of soldiers standing in front of a stealth fighter jet.
The DVIDS later apologized for the tweet, saying it "was inappropriate."
Oddsmakers took bets on whether a raid on the highly secretive military compound would occur ("No" was the favorite at -350). Wagers were also accepted on the number of individuals who would be arrested – the over/under at 8.5.
The "over" prevailed, as at least nine arrests were made, seven of which were misdemeanors. Two others, however, spent three days in jail after the self-proclaimed YouTubers were arrested nearly three miles inside the "no trespassing" area. The Dutch residents were each fined $2,280.
Others who simply went to Area 51's gates for photos said they were greeted by friendly guards. "They were having just as much fun as us," attendee Matthew Carswell told TIME.
Biggest Loser
Perhaps the person who emerged from Alienstock most harmed was West herself. While she told KTNV that the festival was far from a bust, she revealed she lost considerable money on the event.
She said she mortgaged her house and took out a loan against her family's business to produce the concert.
West could face additional financial repercussions from the state. Nevada officials said they spent $250,000 in planning for the forecast huge crowds and threat to Area 51.
Lincoln County Sherriff Kerry Lee told Gizmodo, "I'm not happy about it because you're looking at a county that does not have a lot of financial resources. The county could still be spending upwards of a quarter of a million dollars and that's not including the salaries of 300-plus first responders that are coming here."