2016 Iowa Caucus Ends with Cruz Over Trump, as Clinton Squeaks By Sanders
Posted on: February 2, 2016, 01:27h.
Last updated on: February 2, 2016, 01:30h.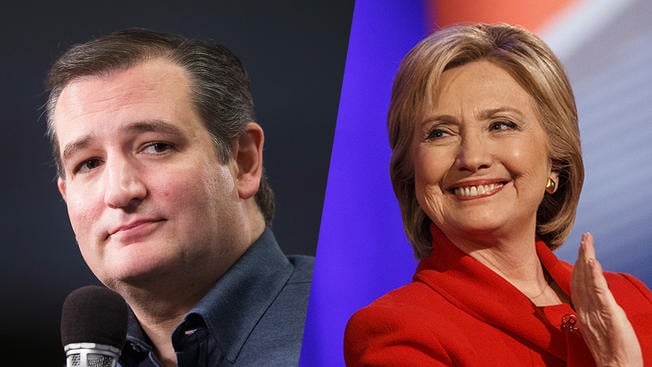 The 2016 Iowa Caucus brought out 15 candidates from the Republican and Democratic parties to the Hawkeye State for nearly a year of meet-and-greets, town halls, debates, and political ads, which totaled more than $70 million.
Iowans finally took the stage Monday night and made their voices heard.
Texas Senator Ted Cruz won the GOP caucus over billionaire frontrunner Donald Trump, while former Secretary of State Hillary Clinton narrowly bested Vermont Senator Bernie Sanders by an historically close margin.
Cruz received 27.7 percent of the vote for an allotment of eight total delegates. Donald Trump disappointed with just 24.3 percent (seven delegates), and Florida Senator Marco Rubio surprised many with 23.1 percent (seven delegates). Rubio's showing was more than six percentage points higher than his Real Clear Politics polling average entering Monday night.
Retired neurosurgeon Ben Carson (3), Kentucky Senator Rand Paul (1), and former Florida Governor Jeb Bush (1) received the remaining delegates.
On the Democratic side, Clinton received 49.9 percent to Sanders' 49.6 percent, the two candidates nearly splitting the delegates 22-21 respectively. Since Democrats do their caucus differently than Republicans, in that they don't record individual votes but instead elect delegates, it's impossible to definitively say who won the popular vote.
Surprising Results
According to the majority of cable news pundits, it was a disappointing night for Trump, and to a slightly lesser degree, for Clinton as well.
Trump held a commanding lead in Iowa for months. He entered Monday's caucus with a 28.6 polling average to Cruz's 23.9 and Rubio's 16.9. It's hard to determine whether Trump's no-show at the final debate hurt his campaign, but it seems pollsters may have overestimated the enthusiasm among his supporters.
The former casino owner's more than three-point loss to Cruz and slim win over Rubio is definitely a setback to the overall message of his campaign.
"We're going to win so much you're going to beg me, you're going to say, 'Mr. President, we're so tired of winning we can't take it anymore,'" Trump said earlier this month. A runner-up finish would seem to hamper and contradict that ideal, though the New Yorker was gracious late Monday in congratulating Cruz for his first-place finish.
Rubio finished third, but he portrayed it as a substantial victory, and perhaps rightfully so, considering pre-Caucus predictions. "They told me that I needed to wait my turn, that I needed to wait in line. But tonight here in Iowa, the people of this great state have sent a very clear message," the senator declared.
Cruz gave by far the lengthiest speech on Monday from either party, speaking for well over 30 minutes.
"The next president of the United States will not be chosen by the media, will not be chosen by the Washington establishment," he announced, also thanking his parents who stood with him on the stage.
Clinton and Sanders, whose race was still too close to call as of Tuesday morning, both hinted at victory.
"Thank you Iowa … I'll keep standing up for you, keep fighting for you. Let's go win that nomination," Clinton told supporters.
Sanders went directly at his opponent by explaining, "Nine months ago, we came to this beautiful state, we had no political organization, we had no money, we had no name recognition and we were taking on the most powerful political organization in the United States of America."
Candidates Bust
As expected, two candidates have already suspended their campaigns following the Caucus results. After receiving less than one percent of the Caucus, former Maryland Governor Martin O'Malley (D) waved the white flag. Former Arkansas Governor Mike Huckabee (R) did the same after failing to win any delegates on the Republican side.
The remaining candidates now move on to New Hampshire, but it's largely thought to be a three-horse race on the GOP side between Cruz, Trump, and Rubio. Across the aisle, it's officially a Clinton-Sanders showdown, as the Democratic Party is reportedly rushing to schedule additional debates between the two contenders.