First MSG Sphere Show in Las Vegas Announced
Posted on: April 11, 2023, 11:28h.
Last updated on: April 11, 2023, 02:23h.
The first tickets sold for the MSG Sphere in Las Vegas won't be for the kickoff of U2's residency. Those dates remain to be announced. They will, instead, be for "Postcard from Earth," a "multi-sensory storytelling" production set to play several times per day, and which will go on sale Wednesday, April 12.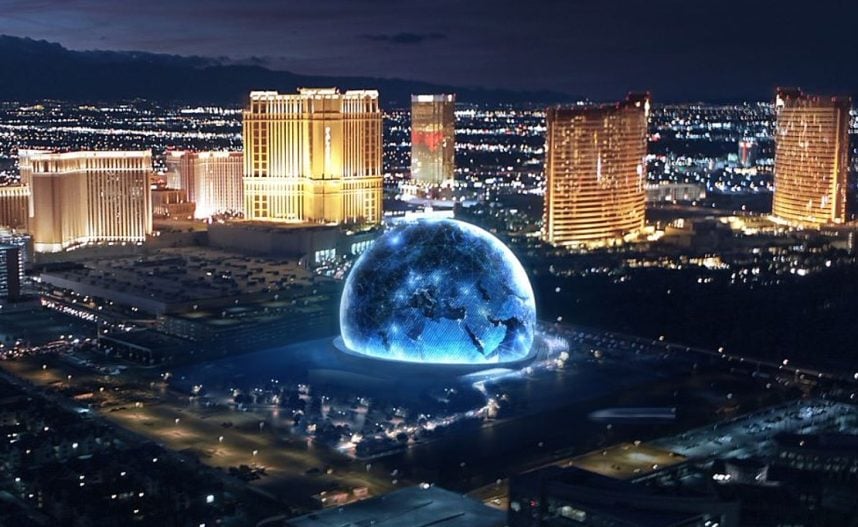 "Postcard from Earth" is the first of several of what Madison Square Garden Entertainment (MSGE) refers to as "Sphere Experiences." These would be productions tailor-produced by Hollywood A-listers to take full advantage of the venue's 160K square-foot, 16K-by-16K wraparound LED screen, custom spatial audio system, and 4D capabilities enabled through haptic seats and environmental effects.
Specifics about "Postcard from Earth" are scant. An MSGE press release on Tuesday revealed only that it is still in production, that it will debut in October, and that it will offer "a unique perspective on the magnificent beauty of life on Earth." The Las Vegas Review-Journal reported the film will be directed by Daron Aronofsky, whose The Whale won an Oscar last month for Best Actor Brendan Fraser.
"We are redefining the future of entertainment through Sphere," James L. Dolan, MSGE's executive chair and CEO, said in the statement. "Sphere provides a new medium for directors, artists, and brands to create experiences that cannot be seen or told anywhere else, and Sphere Experiences are just one of the ways we will use the venue's technologies to engage the senses and transport audiences to places both real and imagined. 'Postcard from Earth' will set a new bar for multi-sensory storytelling possibilities, and we look forward to having audiences experience it at Sphere this fall."
Not Just a Concert Venue
Recent internet reports have speculated that the Sphere is having trouble booking A-list music acts for residencies for two reasons:
 Most acts don't want visuals overshadowing their music
Acts don't want to spend millions producing visuals for the MSGE Sphere that can't be reused at other concert venues
So, basically, MSGE wants everyone, especially its current and potential investors, to know its new $1.88B concert venue is more than just a concert venue, and that it will generate consistent revenue between concert gigs. According to its press release, Sphere Experiences will run multiple times per day throughout the year.
Tickets for the first screenings of "Postcard from Earth," starting at $49, go on sale at 10 a.m. PT on Wednesday, April 12 through thespherevegas.com.
Most Read