10 Things You're More Likely to Walk Away with in Las Vegas than Gambling Wins
Posted on: August 20, 2019, 01:00h.
Last updated on: August 19, 2019, 01:53h.
Given Las Vegas' ever-increasing resort fees and parking rates, it might seem like the only way you can afford a stay in Sin City anymore is to hit it big on the casino floor. Of course, the odds aren't in your favor there, and knowing this, many a tourist may be tempted to take matters into their own hands and walk away with at least something tangible.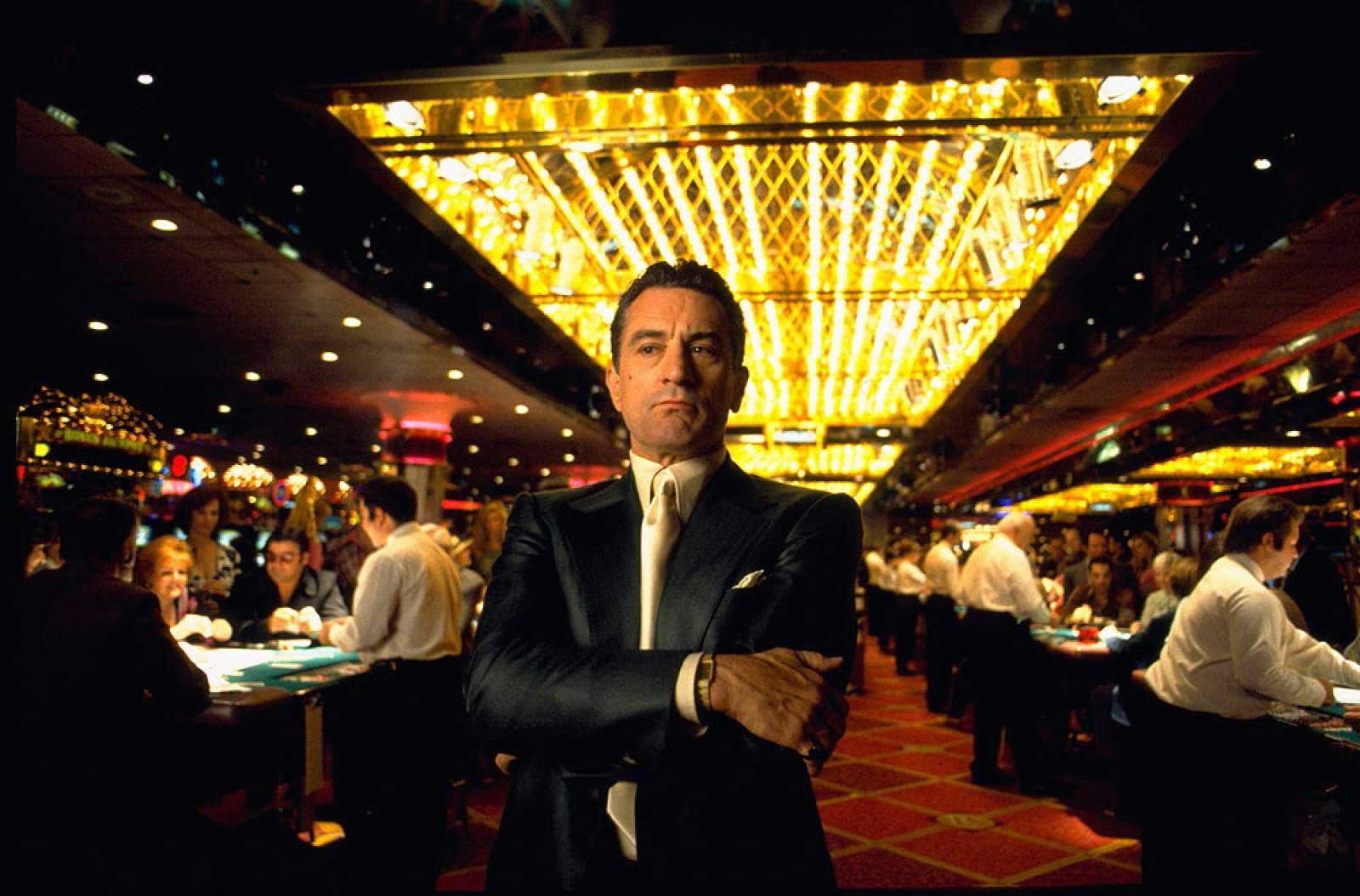 Just be careful what you wish for, because some of those "wins" may get you in a heap of trouble. Following, we outline some takeaways you probably should leave put, as well as some Las Vegas memories you may — or may not — want to create while you're in Sin City.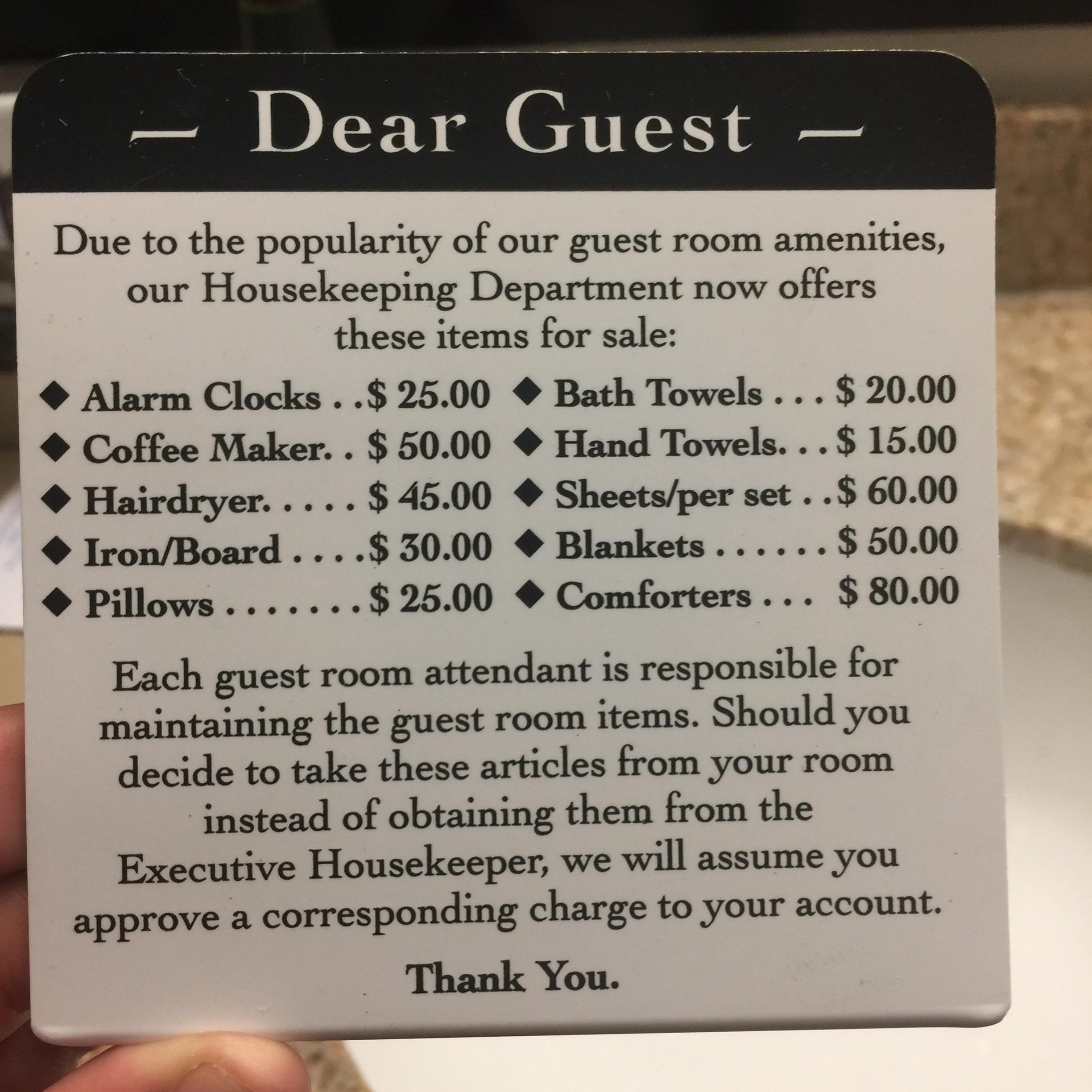 1) Towels: Depending on who you ask, taking a hotel towel home with you — or even from the pool area to your own hotel room — is a crime, or a charge on your credit card. A 2018 story in Trip Savvy notes that some hotels even let you know you'll be charged if you don't leave items like bathrobes and towels in your room on departure.
According to Nevada's petit (French for "small") larceny theft statute,  it's technically considered theft, though we don't think anyone is doing hard time in Ely over taking one.
2) STDs: As of April 2019, Nevada became the #1 state in the nation in which to contract syphilis, an STD that has stood the test of time (with the first recorded epidemic noted in France in the late 15th century, although it surely dates way back many millenia before that).
The 1,006 reported cases in 2018 in Clark County (in which Las Vegas sits) represented a disturbing jump of 153 percent in just the last five years, according to the Centers for Disease Control (CDC).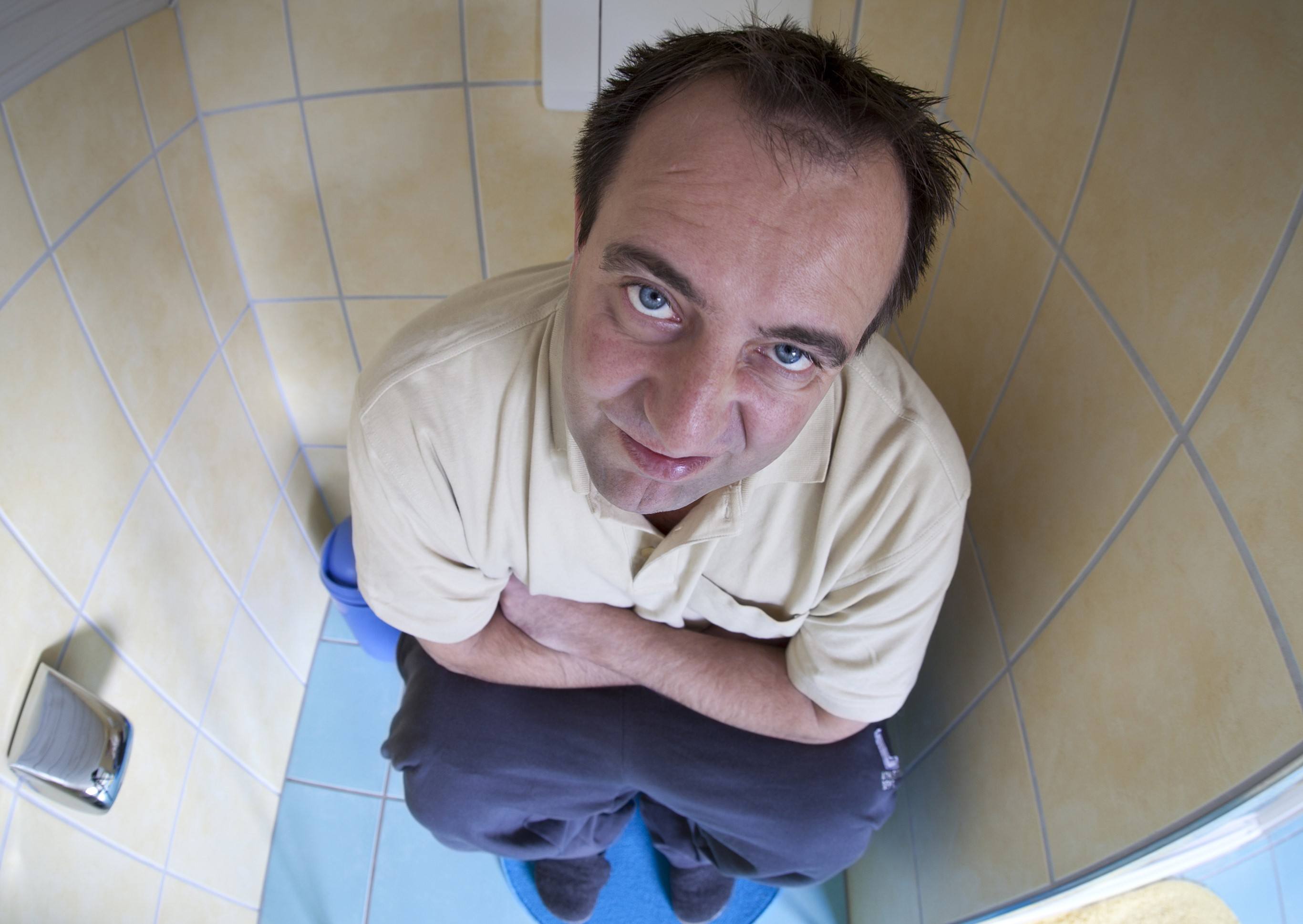 Anyone can contract the STD from someone who has it, and visitors from around the globe — combined with fairly brisk interaction between customers and illegal hookers in Clark County, where prostitution remains against the law — cannot be helping.
According to Prostitution in the Digital Age: Selling Sex from the Suite to the Street, Nevada's regulated brothels outside of Clark County (where ladies are required to insist on condom use) cannot compete with their unregulated in-town competition, which sees 66 percent more annual revenue than its legal counterpart.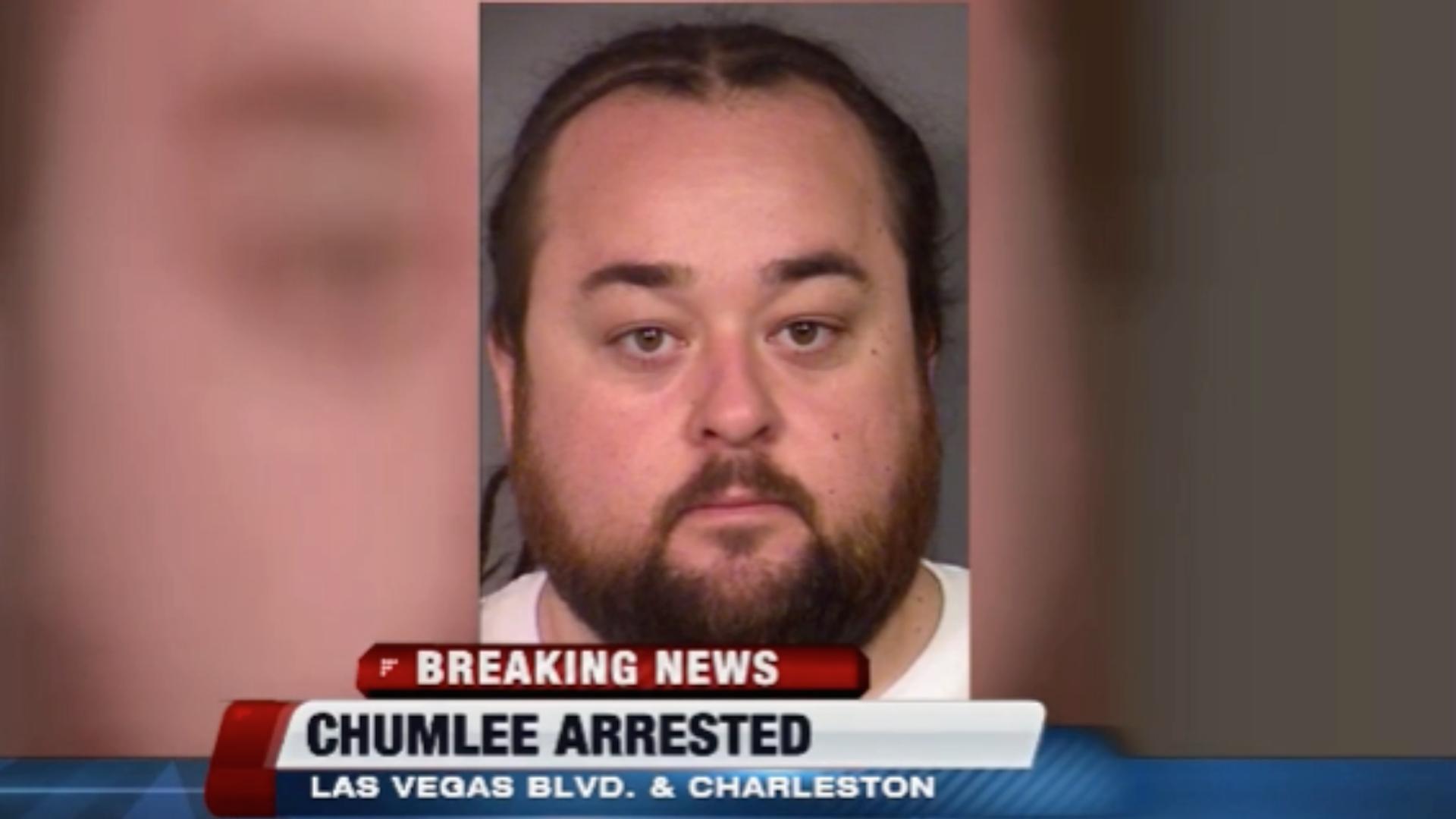 3) Arrest warrant: Even if you're not a towel thief or a john busted in a vice sting, there are plenty of ways to have a one-on-one meetup with Clark County's Metro cops while in Las Vegas as a tourist.
According to 8ballbailbonds.com, two of the most likely ways to get cuffed include illegal drug use and domestic violence. Don't believe that "What Happens Here, Stays Here" when it comes to a physical fight if it's loud or violent enough for security or police to get involved.
Fail to follow this adviso, and you may find yourself checking in to the less-than-chic Clark County Detention Center (CCDC) for a free night of a cot and a few hots at minimum, so use your head.
And note that even though recreational marijuana was legalized in 2017 in Nevada, it is still federally illegal and therefore not technically allowed inside of any casino. While tourists routinely report that police enforcement of this fact is lax-to-nonexistent if you're outside on the Strip, you will not likely be so lucky if you choose to light up a joint at the craps table.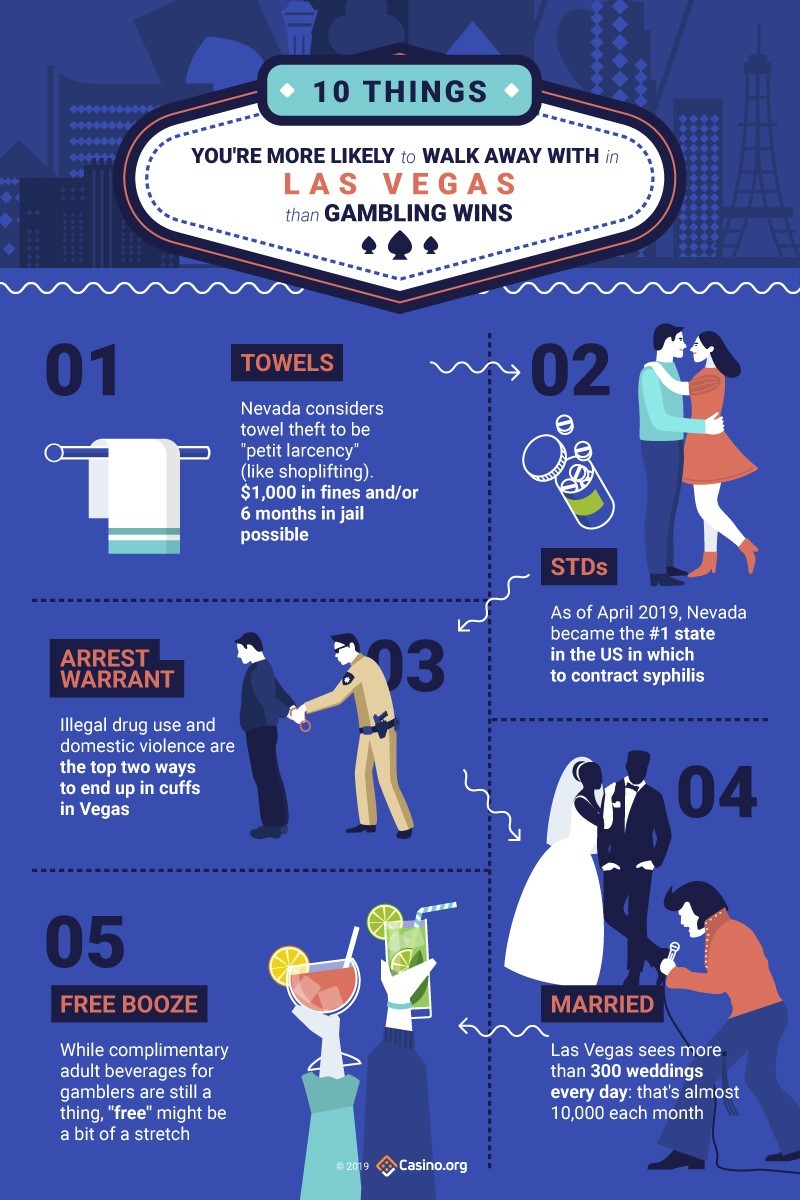 4) Marriage certificate: More than 300 wedding ceremonies are performed every day in Sin City, or close to 10,000 every month: that's some 120,000 couples who are tying the knot every year in Las Vegas, according to Nevada document retrieval service drrsvcs.com. For just $200, you too can grab a Clark County marriage license and be united until death — or a change of heart — do you part in as little as 30 minutes for the whole shebang, including the ceremony. Okay, it won't exactly be a Kardashian-eque affair at that price, but it will be legal.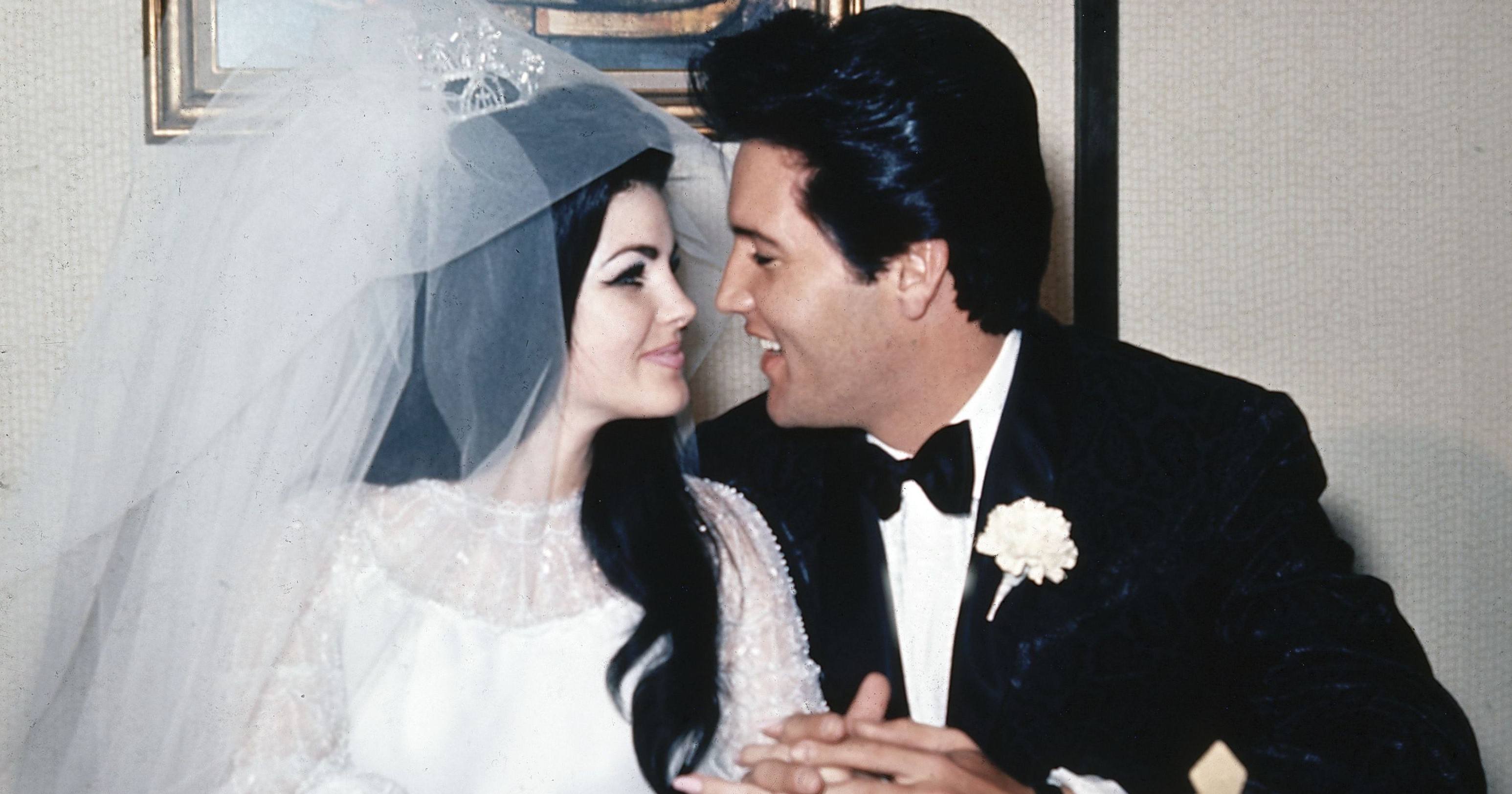 Clark County's Marriage License Bureau has unusually hospitable hours, too: it stays open 'til midnight seven days a week, and 24 hours a day on high-traffic marriage days like Valentine's Day and New Year's Eve.
It appears Nevadans aren't quite as impetuous as tourists to race to the altar, however: Bureau records indicate that 90 percent of those seeking wedded bliss in Las Vegas come from somewhere else.
5) Free drinks: The major gaming operators may have started charging for parking at their casinos, but complimentary adult beverages for gamblers are still a thing. That being said, "free" might be a bit of a stretch: the suits know you're likely going to drop at least 10x the cost of that cocktail in a slot machine, not to mention it will probably loosen you up to gamble even more than you had originally planned.
If you're a table game player, keep an eye out for the cocktail waitress: they typically make a broad swath for each round, so you may not see her again for a while. And remember, you're still expected to tip at least a buck or two per drink.
It won't be long before the penny-wise, pound-foolish casino execs decide to limit free drinks to only high-limit (or excessive low-limit) players, so enjoy this perk while it lasts. In fact, some Vegas casinos are already monitoring play via inserted player cards in slot machines and only doling out booze when you hit certain pre-set algorithms.
Yep, it looks like old Vegas is going the way of the dodo bird, faster than you can say "What happened to those Benjamins I got out of the ATM 15 minutes ago?"
6) Extreme sunburn: One of the things Sin City tourists are generally least prepared for is the intensity of the desert sun.
According to a story in the Las Vegas Sun, the city " … receives about 3,817 hours of sunshine per year. The mildest months for sun exposure are January and November, and the heaviest are June and July. The sun is strongest between 10 a.m. and 2 p.m. Regardless of the time, sunscreen should be reapplied every 2 hours."
If you take the "sun percentage" — the percentage of total time between sunrise and sunset in which sunlight makes it all the way to the ground — Las Vegas is neck-in-neck with only Phoenix, Arizona for the #1 spot in the US. Add to that those 3,817 average sunny hours (out of a total possible 4,380 daylight hours), and it means you're exposed to desert sun a possible 342 days out of the year.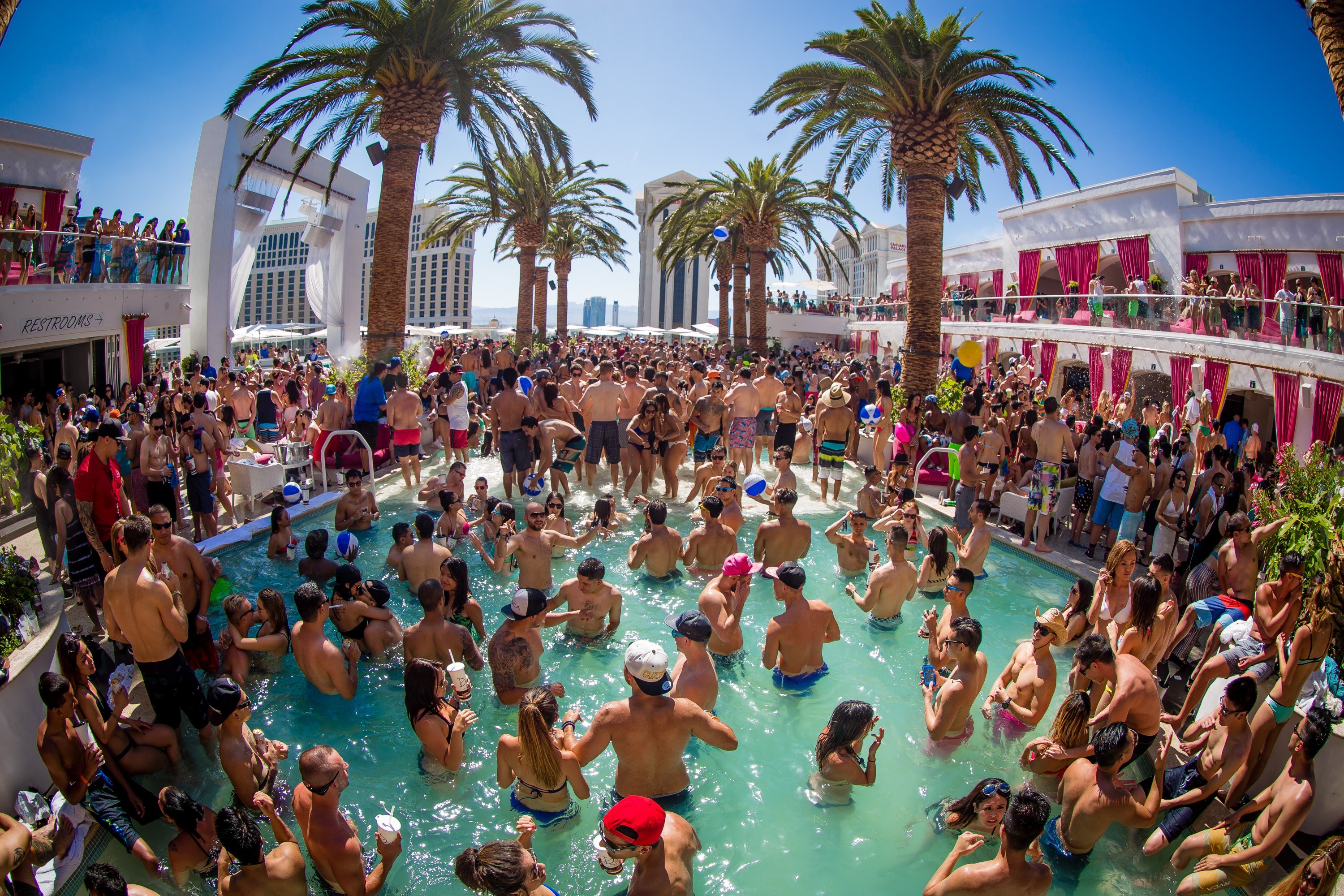 But let's just simplify this for you if math isn't your strong suit: you're going to burn faster and more intensely in the Las Vegas heat than you will almost anywhere else in America. And if you come to town in February pale as a ghost from an Iowa winter, you're probably not going to be prepared with the 70 sunblock, hats, and cover up clothing you really need to protect yourself.
Not to mention, you're going to fall asleep after three cocktails by the pool and roast like a Thanksgiving turkey for way, way, way too long. And while yes, fairer-complected peeps are certainly more in danger, don't think darker skin is immune to sunburn: it simply takes it a little longer to get there and the damage may be less obvious, making you more oblivious.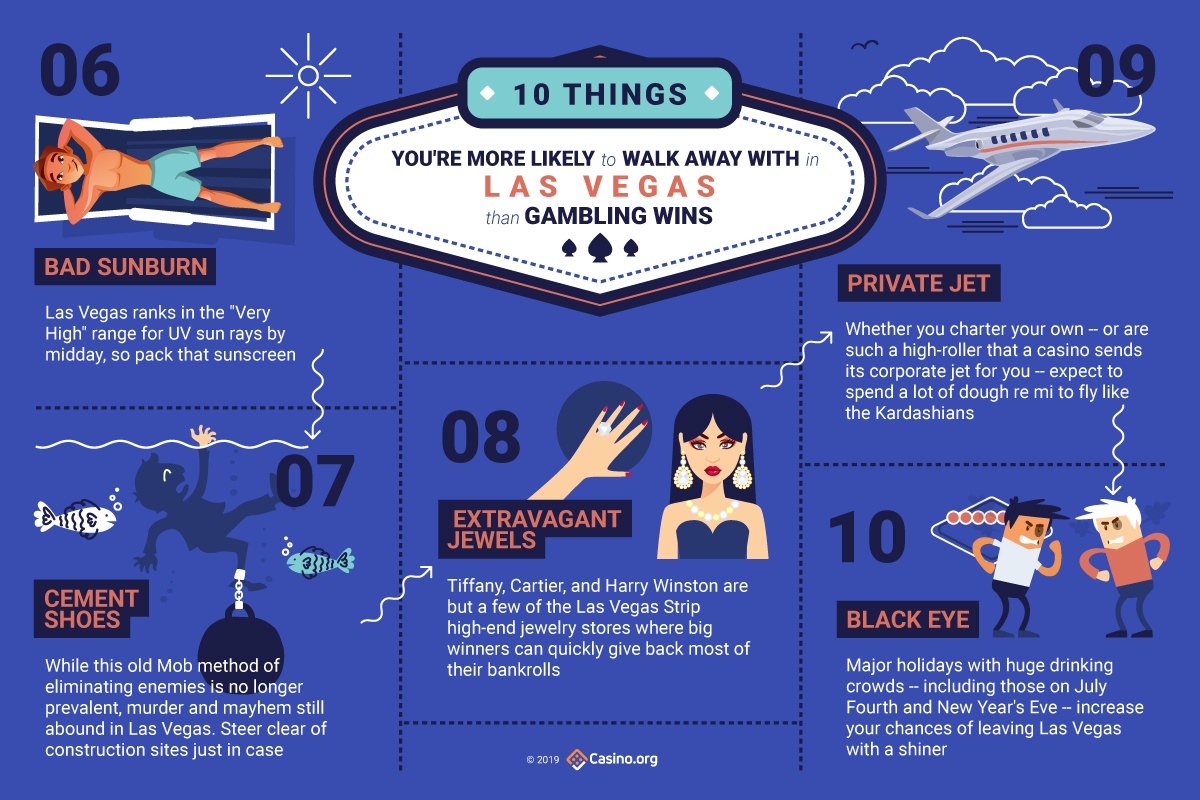 7) Cement shoes: Long before it became a new strain of cannabis, "Cement shoes" stood for murder and mayhem. The latter two are back in Las Vegas, with more killings than Sin City has seen since before the "new" Vegas was born with Steve Wynn's ground-breaking Mirage (which opened the year before) in 1990. And while — unlike days of old — they may not be the back-alley mob hit jobs that almost invariably revolved around not paying back debts (or being a casino cheater), 2017's 171 homicides — plus the 58 mass shooting deaths at the October 1 country music festival that year — were record-setting, and not the kind that any city wants.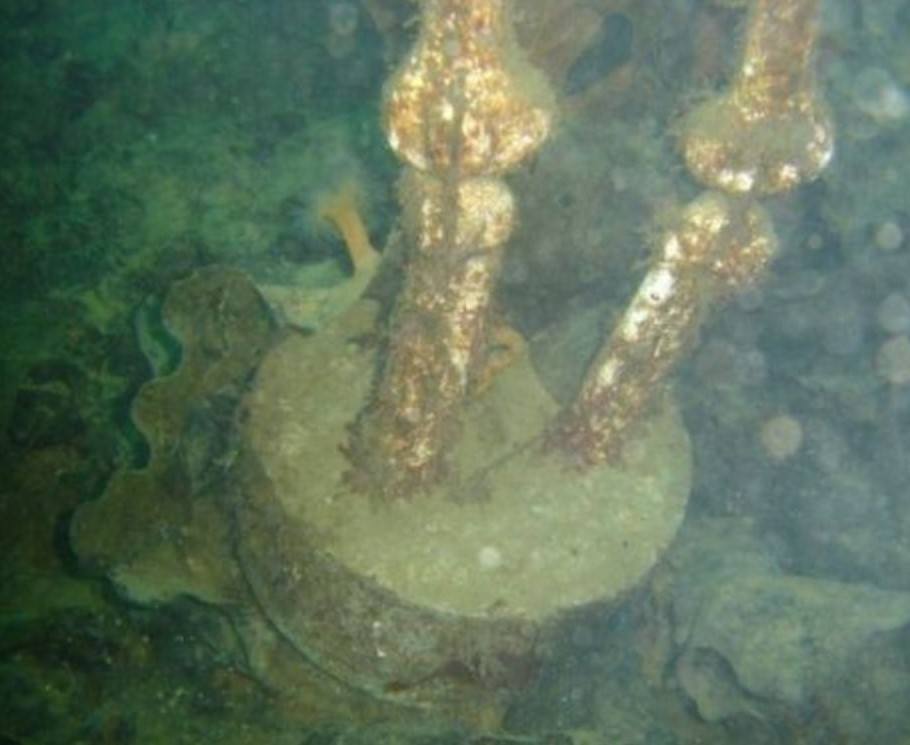 That trend continued through at least the first half of 2018, per a story on KTNV TV in Las Vegas. Through June 11, 2018, of some 65 murders (per Las Vegas Metro Police Department), 45 involved shootings. Those weren't all of tourists, of course: Vegas has more than its share of resident domestic violence and random interaction deaths by violence.
But where are your worst odds for ending up dead from a gunshot?
Las Vegas Strip zip codes 89109 and 89119 are the key ones for hotels, and both do show up for murder statistics in a Metro report on the subject, although with no specific breakdown for how many of those involved tourists or took place inside of actual hotel rooms.
Given the massive security forces and ubiquitous surveillance in many of the better Strip casinos, you're probably safer than in most airports. But use common sense: don't fan your hundies while walking from one casino to another, or wear your most expensive jewelry at 3 a.m. after a night of debauched drinking when your senses may not be at their sharpest.
In Nevada, it's legal for anyone to carry a gun without a permit as long as it's visible, although casinos and any private establishment can request that you not do so inside. With a permit, concealed weapons are also legal, but agreements vary from state-to-state on which have reciprocal rights, so make sure you know you're legally licensed before packing concealed heat in Las Vegas.
According to a story in Business Insider in late 2018, while gun violence still ranks far below more common killers like heart disease, cancer, car accidents, or even booze, we all have a one-in-315 lifetime chance of dying by a bullet in America.
8) 10-carat diamond: In a town that draws high rollers — and shovels out the occasional outrageously large win to even a Joe Average tourist — you'd expect to find plenty of stores that offer over-the-top diamonds and baubles, and you won't be disappointed.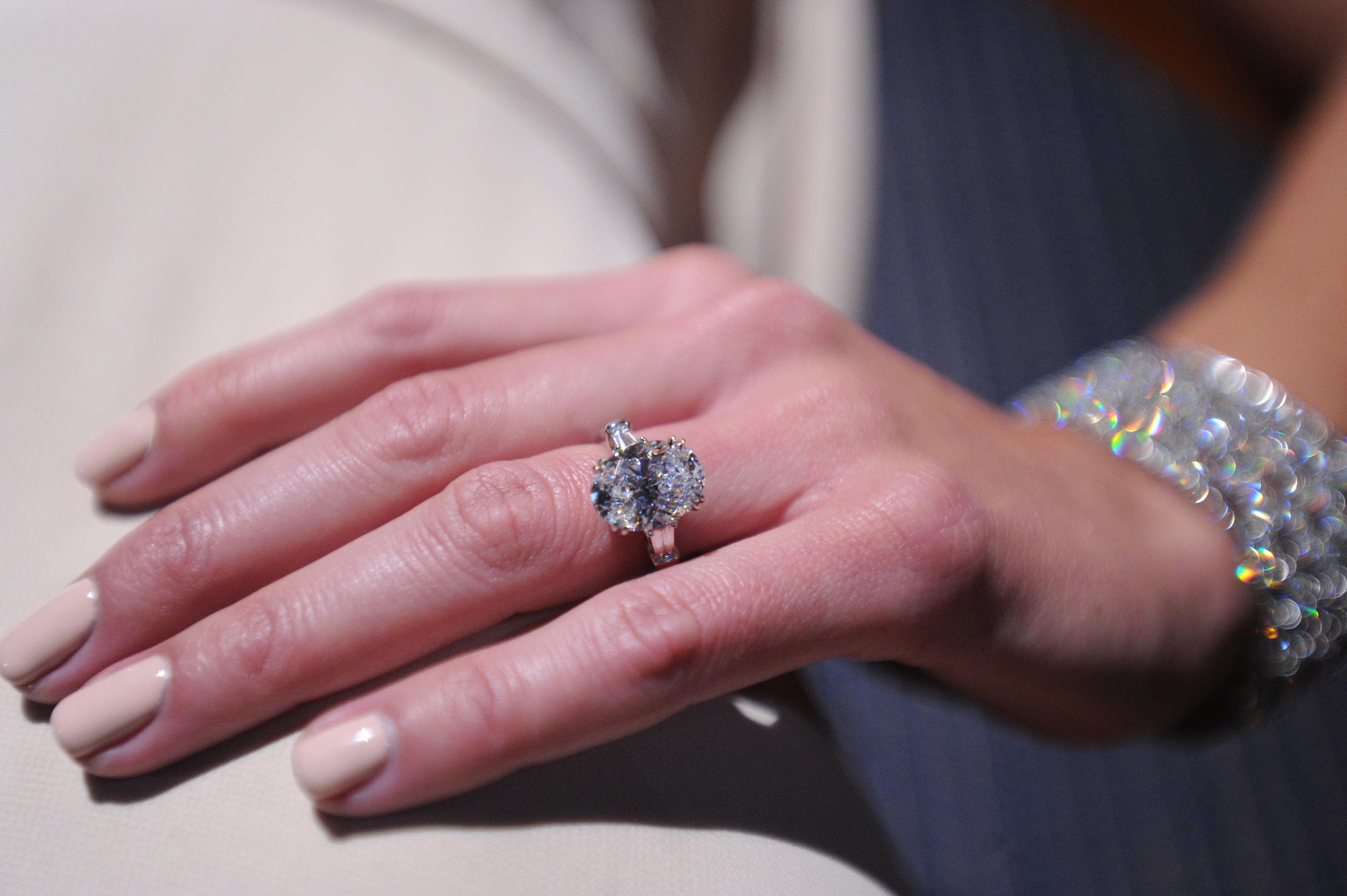 Harry Winston — the iconic New York jewelry store with a boutique in the Bellagio and the Shops at Crystals in CityCenter in Las Vegas — is but one of the chichi joints where you can pick up garishly large stones at more — okay, way, way more — than 47th-street-in-New York prices. But hey, you get to say you bought it at Harry Winston, which has a certain élan.
While we don't know exactly what you'll shell out for a serious sparkler at Harry Winston, diamondregistry.com says that the average wholesale price for a GIA (Gemological Institute of America) certified 10-carat diamond will run the merchant from $167K up to a whopping $2.25 million. That's wholesale. And unset.
And you can't just set it in gold, you have to go for platinum, which according to website applesofgold.com, is 30 times rarer than mere gold. That's going to add a least a few grand to the price, and you haven't added in the mandatory diamond baguettes to go on that band yet, either.
Basically, if you're going to go shopping for a jaw-breaker-sized gem in Las Vegas, you'd best have a black Amex card. You've been warned.
9) Private jet: There are two ways to arrive in Sin City on a private jet: gamble big enough that a casino sends one for you, or charter your own. Either way, it's going to cost you an arm and a leg.
Casino qualifier:
While it's tough to nail down exactly how big a whale you need to be to get pickup service on a private jet from your hometown to Las Vegas, rough estimates seem to be in the minimum quarter-million dollar betting bankroll range. Given that, you might actually save money by just chartering your own — unless being able to brag to friends that Wynn Resorts has sent its private jet for you is worth the difference.
A good rule of thumb for casino comps is: whatever they give you for "free," they know they will make back at least 10x more at the slots or table games. Even if they throw in a shopping spree and all your meals and a butler-attended high-roller suite, they're planning on making a profit on your stay, and a healthy one at that. But if you're in this league, you already know how the game is played, so to speak.
Self-chartering:

When it comes to the cost of leasing a private jet — compared to the gambling qualifier anyway — chartering your own party in the sky is (relatively) affordable. A lot depends on where you're coming into Vegas from, of course: distance counts.
According to privatefly.com, a charter company, an estimated roundtrip price for Los Angeles to Las Vegas is in the $10,000 range, seats seven, and has a large baggage hold on the Embraer Phenom 100 (which boasts a "private lavatory," according to the site, in case you're just out of the joint and have forgotten that's how most bathrooms are in polite society).
Just for comparison, if you decided, once back in L.A., to hop on over to Hawaii, the price skyrockets to $200K on a Bombardier Global Express, which can seat up to 19 passengers and has a shower option (in its presumably also private on-board restroom).
10) Black eye Mix booze, sex, and the feeling that anything goes, and it's no surprise that street brawls are a regular occurrence in Sin City. Add tourists who don't like security telling them what to do – and who have been known to enjoy an adult beverage or 15, along with the occasional illicit substance – and you have a perfect storm for fist fights.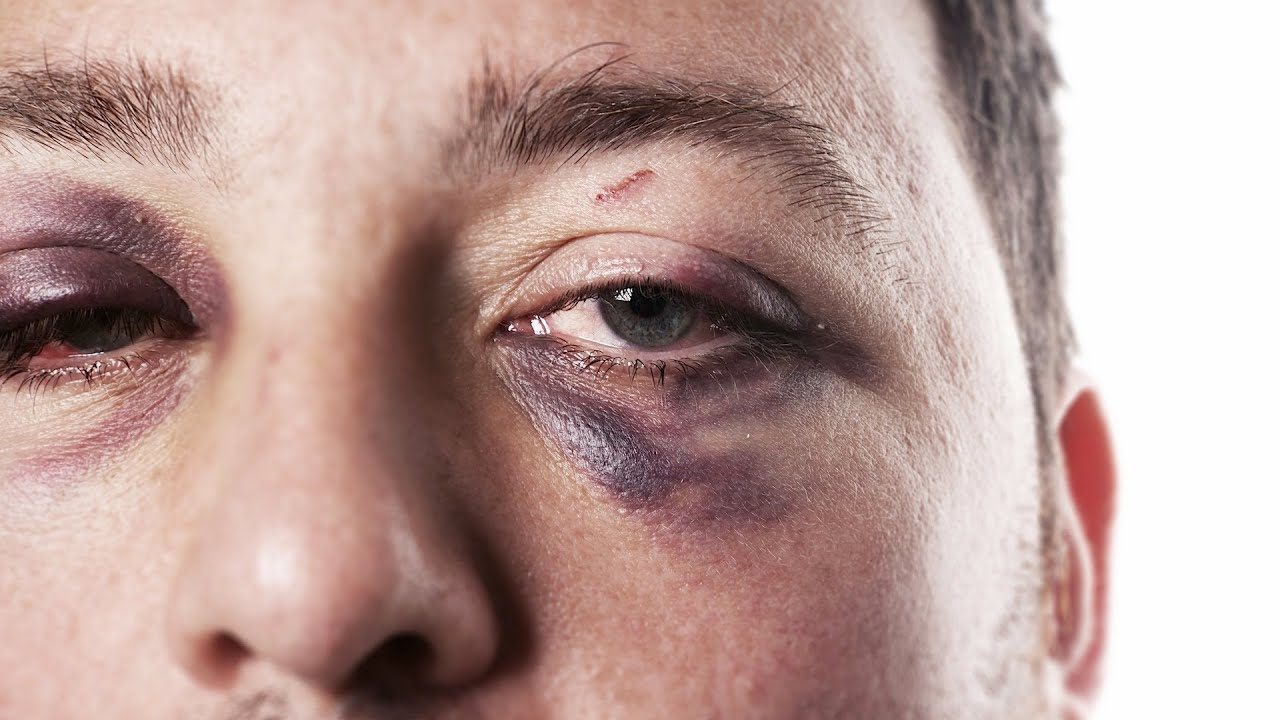 Major holidays — including MLK Day in January and July 4th and New Year's Eve — can also see an uptick in street fights, according to statistics. Massive crowds, heavy police presence, and the always common denominator of too much booze make the odds of an incident go up exponentially at these times.
If you decide to wander the Strip or head to downtown Las Vegas, stay aware of your surroundings and figure out where to duck if a fight springs up out of nowhere. You don't want to spend your precious vacation time at the city's (and Nevada's) only Level 1 trauma center UMC, after all.
Look, we realize that leaving with a hefty jackpot or blackjack winnings is what every Las Vegas tourist ultimately dreams of. But forewarned is forearmed, and now you have a better understanding of what else you might be taking home from your next trip to Sin City, on purpose or not.
You're welcome.