The Hollywood Walk Of Shame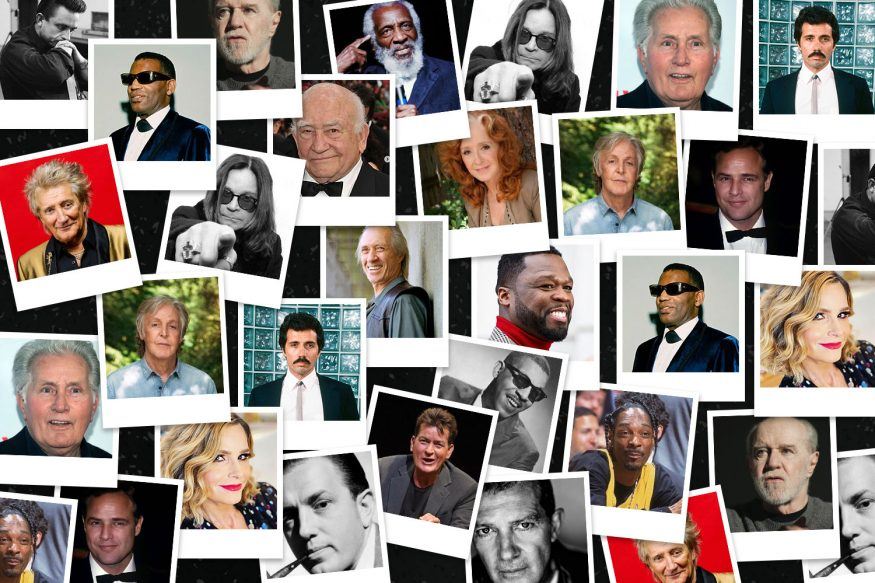 Fallen Stars And Criminal Performances
The Hollywood Walk of Fame is widely seen as the pinnacle of stardom. The celebrities who receive a star become a part of the history of Hollywood, immortalized in a slab of terrazzo and brass.
Induction into this glamorous club is one of the highest honors in show-business and entertainment, but are the stars really worth looking up to?
We have carried out research to uncover which of our beloved Walk of Fame stars have found themselves on the wrong side of the law and have compiled a list of over 150 stars who fit the bill.
So, from parking offences to violent crime, tax evasion to public indecency, here are our nominations for the Hollywood Walk of Shame.
The Usual Suspects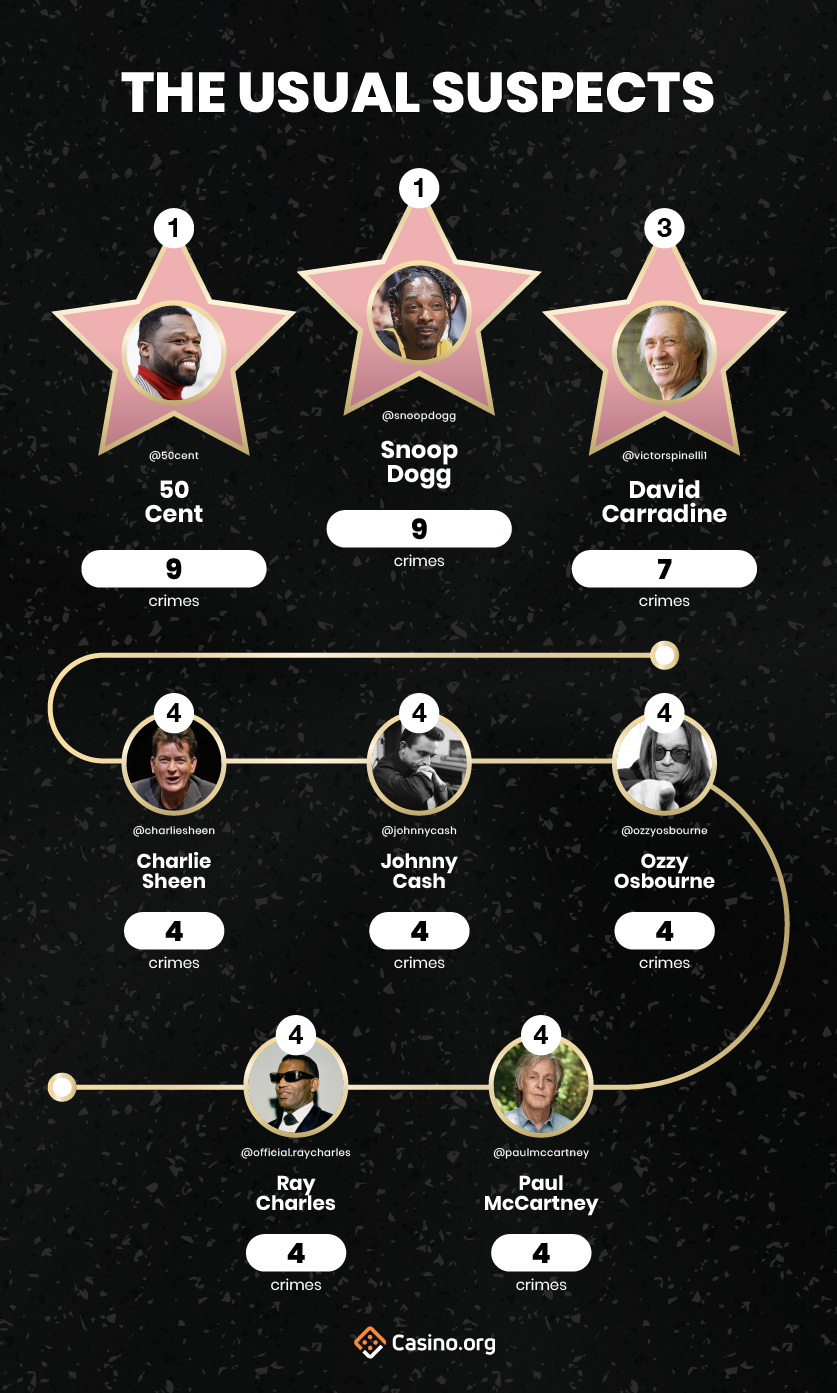 Entries for this category go to those responsible for the most instances of law-breaking.
50 Cent comes top of the list with the largest number of illegal activities.
These incidents span three decades, beginning in 1991, and mostly include possession of various drugs, as well the unlawful possession of a firearm and domestic violence amongst other offences.
Snoop Dogg also comes joint-first on the line-up of usual suspects with multiple counts of possession of marijuana and the unlawful possession of a firearm.
In 1993 he was also charged with murder, but was later acquitted in 1996, an event that prompted him to get out of the "gangster lifestyle".
In third place is David Carradine with seven arrests over several decades. Offences range from DUIs and marijuana possession to attempted burglary and assaulting a police officer.
He also managed to pick up an arrest for kicking in a door to avoid being recognized at the main entrance of a theatre.
Topping the list with by far the most arrests is Martin Sheen. However, as all of his arrests were related to protests, on issues ranging from stopping nuclear tests to protecting the environment, he has committed no felonies. Therefore, we feel it's only fair to eliminate him from the line-up.
Common Criminality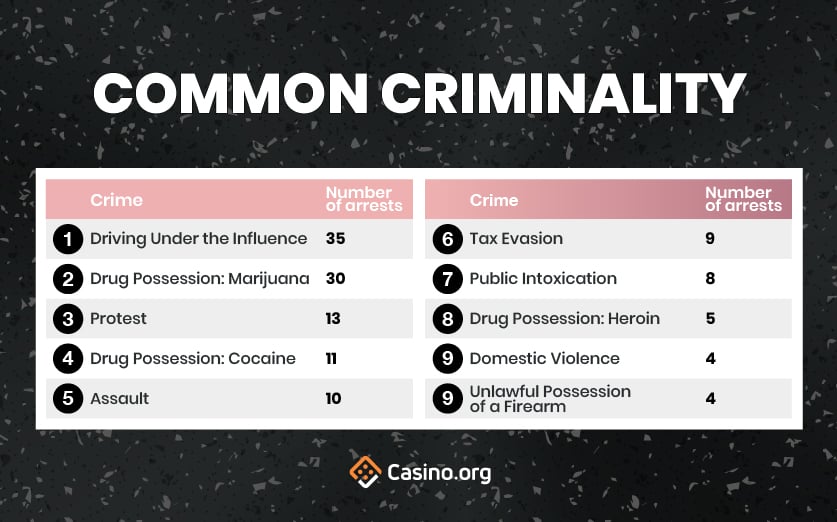 But what are the crimes most frequently committed by Hollywood Stars?
The most common crime committed by Hollywood Stars is driving under the influence (DUI), with 34 different celebrities being found intoxicated while behind the wheel.
Famous DUIs include Diana Ross, Kiefer Sutherland and Dean Martin.
The next most common crime is the possession of marijuana, with 20 of our stars being found with the drug. Musicians seem to fill most of these arrests, with stars such as Etta James, David Bowie and Carlos Santana all making an appearance.
In third place comes assault, with 10 celebrities letting their short tempers result in varying degrees of violence. Amongst these offenders, you'll find several familiar actors such as Bruce Willis, Johnny Depp and Russell Crowe.
However, taking into account repeat offenders puts assault down to fifth place, with protest and cocaine possession taking third and fourth respectively.
Legacy Of Lawbreaking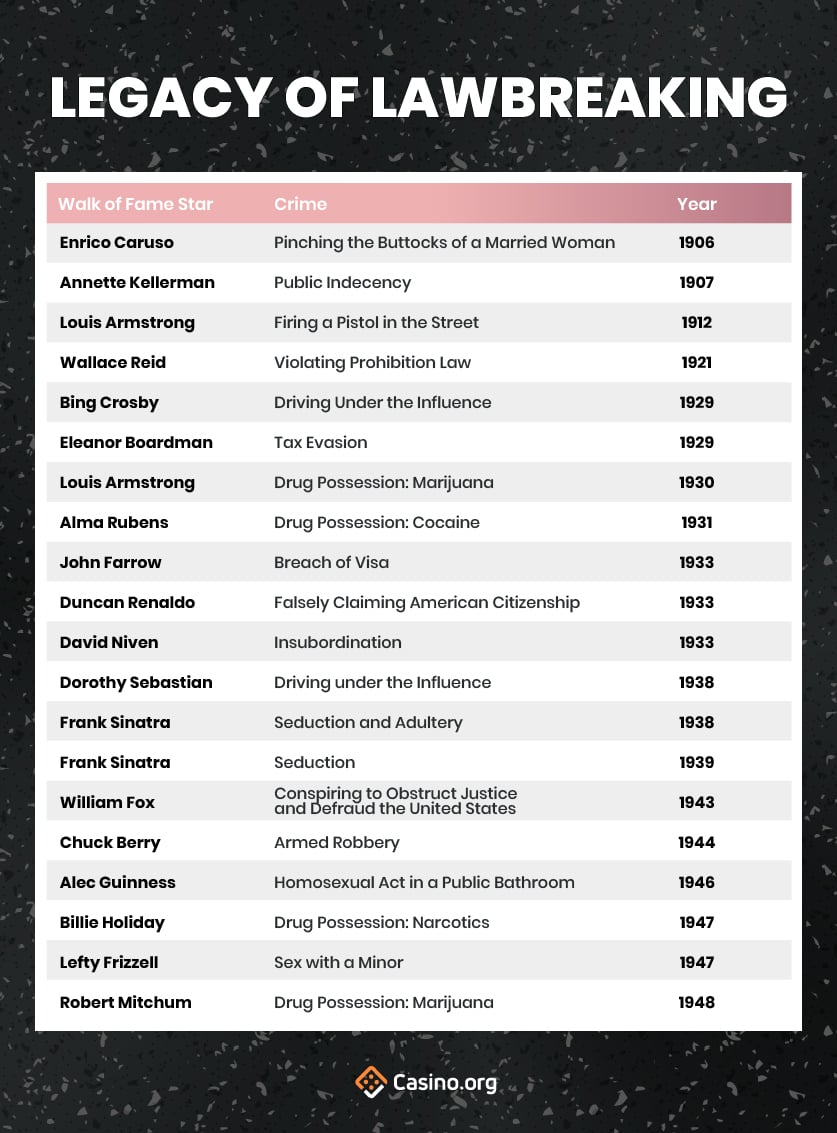 The criminal activities of Hollywood stars are a long tradition dating back to the beginning of the 20th century. Here's a look at some of their earliest recorded transgressions.
The earliest instance of a crime we found was committed in 1906 by operatic tenor Enrico Caruso.
He was found guilty of "pinching the buttocks of a married woman" in Central Park Zoo and fined $10 despite his insistence that the bottom-pinching was carried out by a resident monkey.
Our second earliest crime was committed by Annette Kellerman, a professional swimmer turned actress. She was found guilty of public indecency for wearing a one-piece swimsuit in public.
Louis Armstrong takes third place as he was arrested for firing a pistol in the street in 1912 during New Year's Eve celebrations, although he only fired a blank into the air.
Other early adopters of this criminal tradition include Wallace Reid (violating prohibition law, 1921), Bing Crosby (driving under the influence, 1929), and Eleanor Boardman (Tax Evasion, 1929).
Rebels With A Cause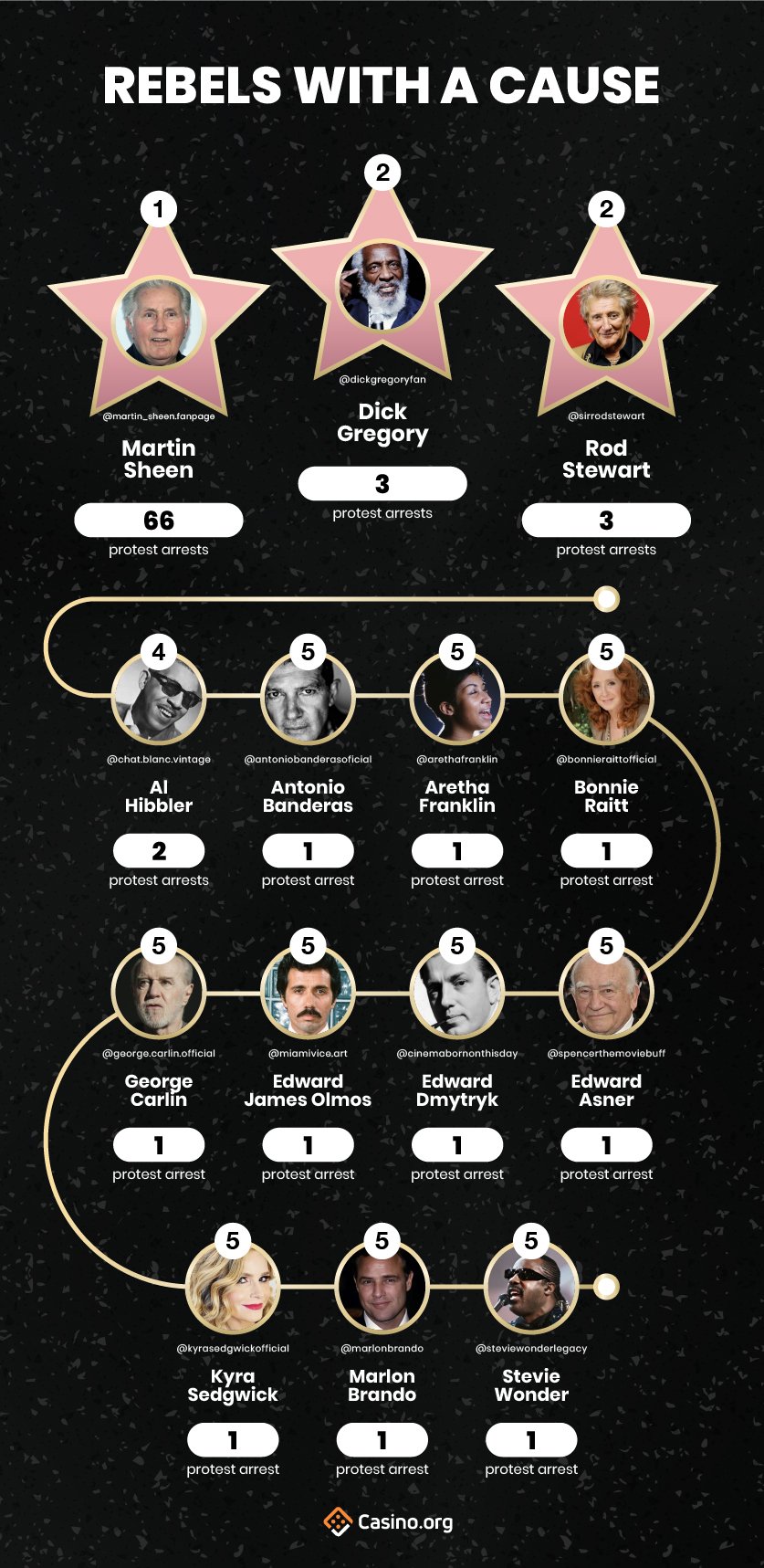 As with Martin Sheen, not all those on this list were arrested for dark deeds. Here are some of those who were arrested for protesting and taking a political stand.
Comedian Dick Gregory was arrested three times in the 1960s for protesting against segregation and for equal rights, including one arrest for attempting to eat in a segregated restaurant in Arkansas, 1964.
Rod Stewart was also arrested three times in the '60s for protests supporting the Campaign for Nuclear Disarmament, while Al Hibbler was arrested twice during protests for civil rights in 1959 and 1963.
Other examples include Stevie Wonder, arrested in 1985 for protesting against apartheid outside the South African embassy, and Marlon Brando's 1964 arrest at a "fish-in" in support of Native American fishing rights.
Strangest Things And Slight Infractions
Not all of the crimes we uncovered were particularly nefarious and as attitudes change over the years, some might not even be considered crimes today.
One of the most innocent-sounding crimes was committed by Johnny Cash, who was arrested for "picking someone else's flowers". Frank Sinatra, on the other hand, was arrested twice on seduction charges.
Hollywood actress Jean Arthur was arrested in 1972 for trespassing on her neighbor's property in order to console a dog that she thought was being mistreated. Despite these best intentions, she received a $75 fine and three years' probation.
LL Cool J was arrested in Georgia for dry humping a couch on stage, although he insists he was simulating making love to a woman on the couch. Whether this would have made any difference is unclear.
Methodology
For this study, we took the list of recipients of stars on the Hollywood Walk of Fame and removed fictional characters, animals, and any recipient which was not a named person.
We then scoured the internet for information on each person on the list and attempted to find every instance of crime being committed by one of these names. We noted down the crime and the year, for each instance.
We did not include allegations of crimes.
We then analyzed the crimes against different criteria, such as date, type, seriousness, number etc. to create the categories above.
A full list of sources is available on request.