5 of Football's Most Successful Journeymen (and their crazy total transfer fees)
Football (soccer) is a game that possesses an identity built on loyalty, hard work, and passion. Players are worshipped by fans when they show commitment to their club for years with a spirit that encapsulates what the supporters want in their team.
Despite the importance of these attributes, the game still breeds individuals that favor greed, self-preservation, and apathy towards the club ethos. These players, referred to as journeymen, drift from club to club, never settling in one place.
But does it detract from their achievements in the game? We compare five of the most successful journeymen in football by taking a look at the number of teams they've played for, how much they've cost in transfer fees, records achieved, plus a ton more.
Let's start with a map of where these journeymen have traveled:

1. Zlatan Ibrahimović
Former Sweden international striker Ibrahimović has earned a reputation over the years for being one of the most arrogant footballers ever. The LA Galaxy icon started his career with Swedish club Malmo in 1999.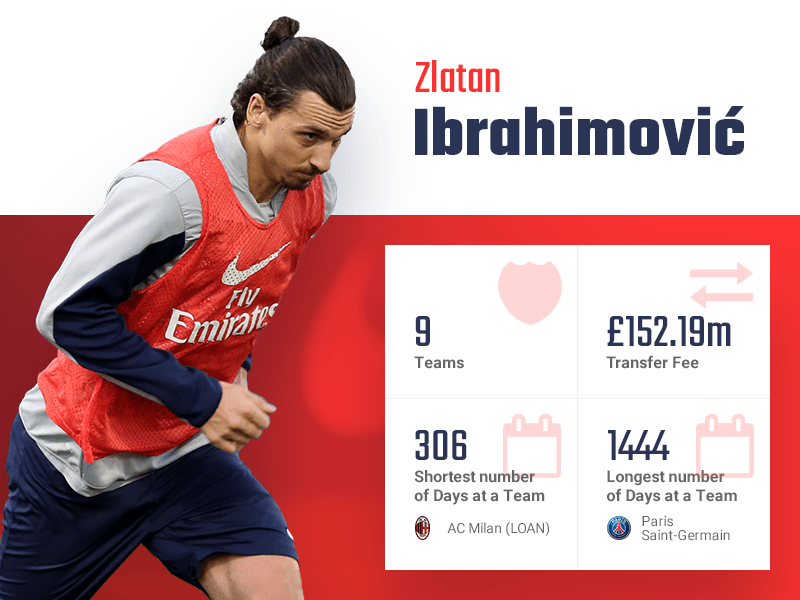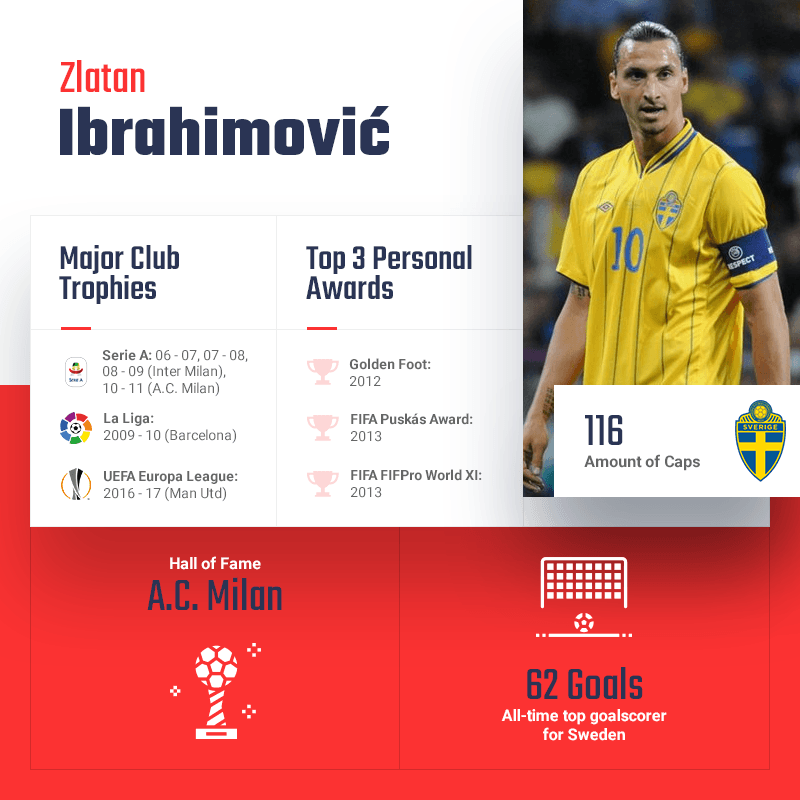 In 2001, he officially joined Dutch Eredivisie side Ajax for a fee of €8.7 million. Sadly, he was sold by the club to Serie A side Juventus for €16 million just nine days after, following an alleged bust-up with teammate Rafael van der Vaart.
Ibrahimović was only with the Old Lady for two seasons before a €24.8 million move to Serie A rivals Inter Milan. In 2009, the Swedish front man was on the move again for a reported €69.5 million to La Liga club Barcelona. A bust-up with head coach Pep Guardiola saw Ibrahimović switch clubs in 2010 to Italian giants AC Milan.
A record-breaking stint at Ligue 1 club PSG saw him spend four years with the club before a free transfer move to Premier League side Manchester United heralded two disappointing seasons. Ibrahimović made the most recent move of his career when he signed for MLS franchise LA Galaxy in 2018.
2. Robbie Keane
Former Republic of Ireland international striker Keane is an anomaly. He plays with all the heart and gusto of a one club man. He is the archetypal working class hero. It seems strange then that the Dublin-born footballer has had 11 clubs during his professional career.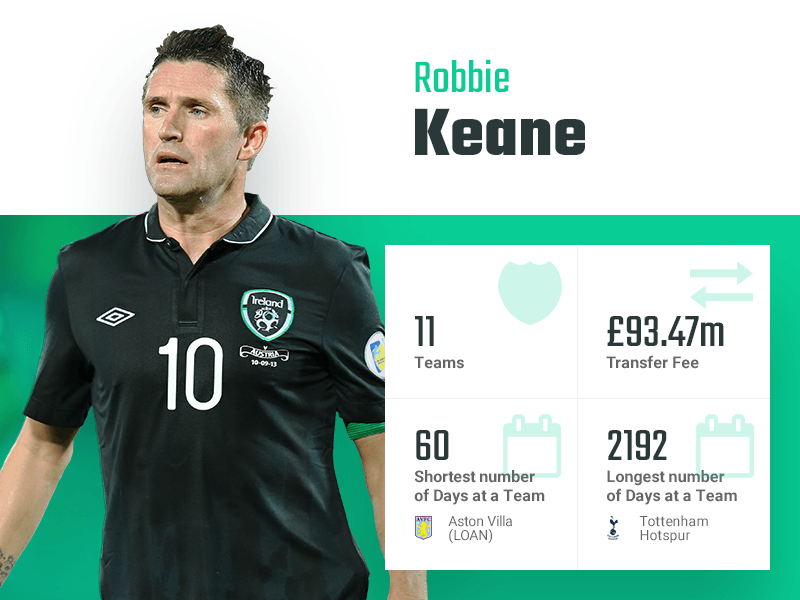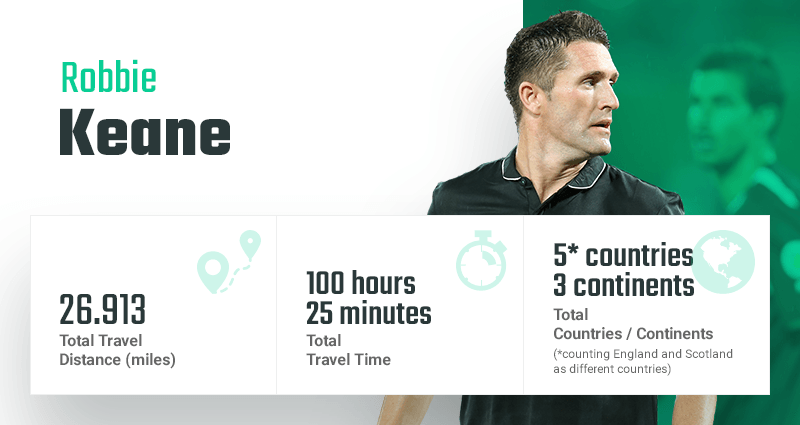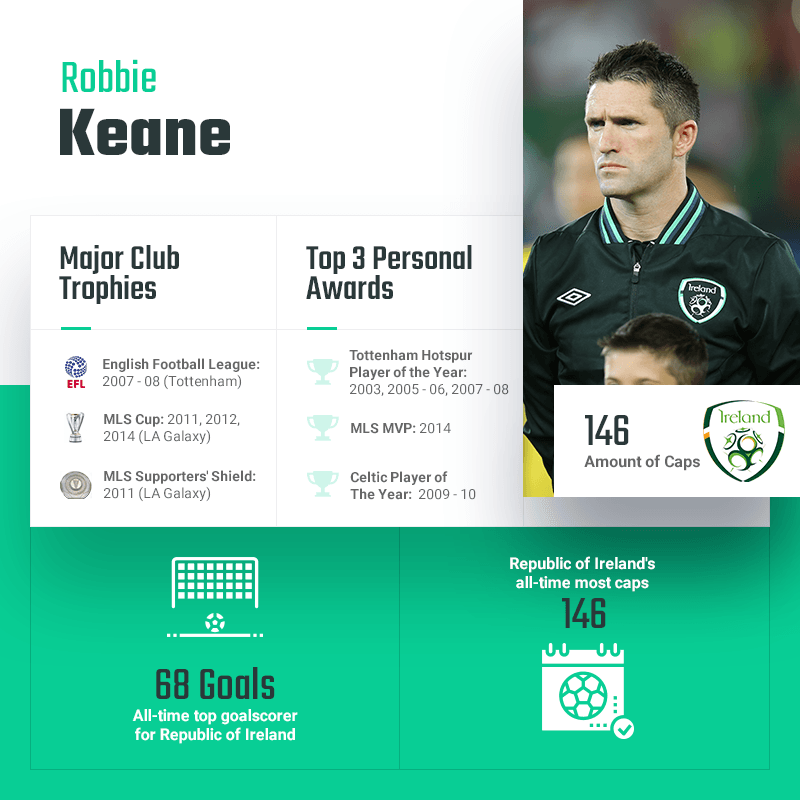 Looking at his career, Keane has always moved clubs without trouble forcing the transfer. In 1999, he was head hunted by Coventry and signed for £6 million from Wolves. His stint with the Sky Blues was short and sweet with Serie A giants Inter Milan snapping him up for £13 million in July 2000.
Incredibly, Inter head coach Marcello Lippi was sacked just a few months into the season. His successor, Marco Tardelli, didn't rate Keane so he was loaned and then sold to Leeds for £12 million.
Despite impressing at Leeds, he was sold to Tottenham in 2002 due to the financial issues at Leeds. Keane stayed with Tottenham for six seasons minus a solitary unsuccessful season with Liverpool. Loan spells with Celtic and West Ham failed to deliver before a move to MLS side LA Galaxy in 2011 rejuvenated his career. Keane ended his career with Indian Super League team ATK.
3. Nicolas Anelka
If the term "journeyman" was personified by any player then it has to be French striker Anelka. The player was even nicknamed "Le Sulk" due to his tantrums and arguments with coaching staff and teammates during his early playing days.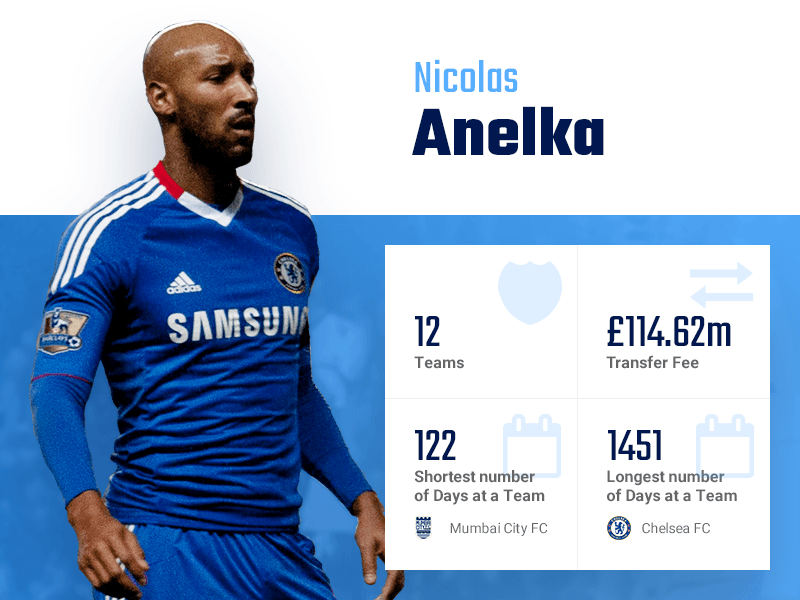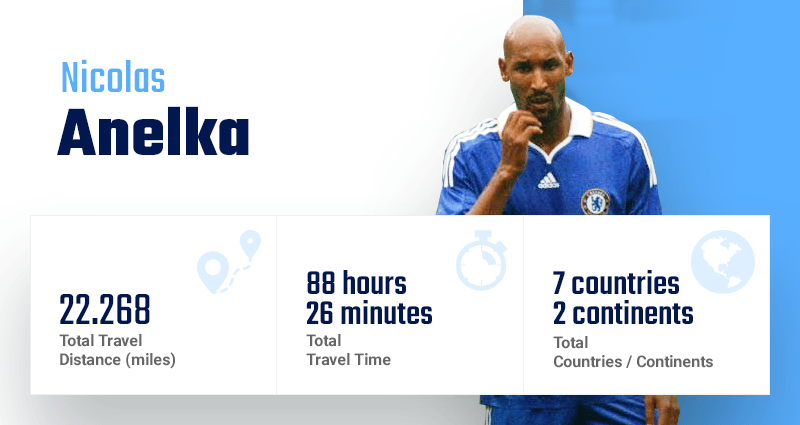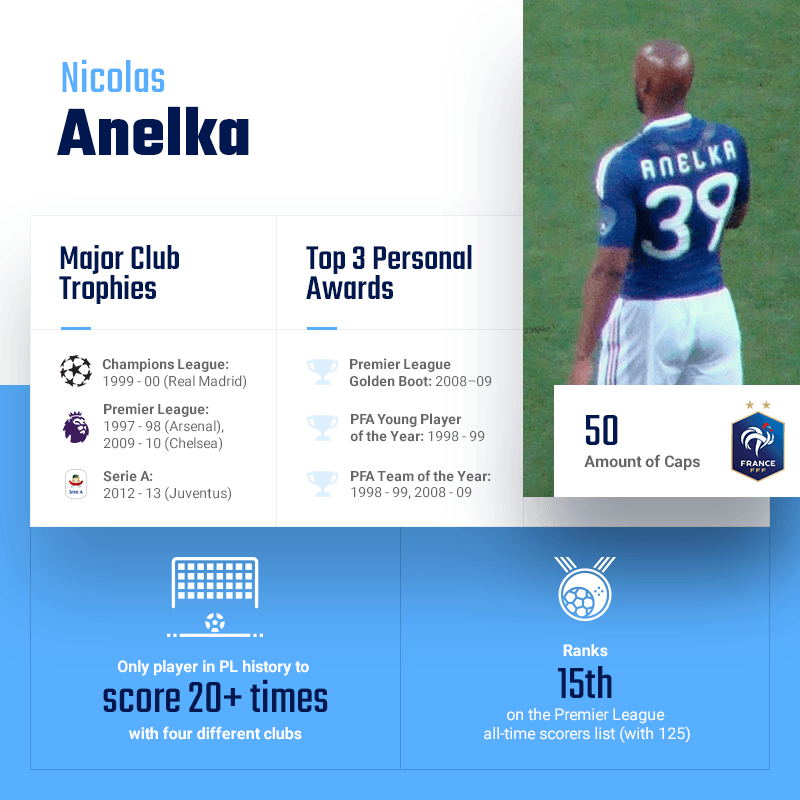 The PSG youth graduate rose to fame with Arsenal under Arsene Wenger's tutelage. He scored 17 goals in 35 league appearances earning him a £22.3 million move to Real Madrid in 1999 after he demanded a move.
A poor spell at the La Liga side saw him move back to PSG in 2000 before he was sent on loan to Liverpool in 2001 after falling out with his manager Luis Fernandez. He was then sold permanently to Manchester City. The move reinvigorated his career with a move to Fenerbahce in 2005 and then Bolton in 2006.
This attracted the attention of Chelsea who paid Bolton £8 million for his services in 2008 after he requested a move. Anelka struggled to impress at Stamford Bridge. Anelka's career came to a stuttering end with low key spells with Chinese side Shanghai Shenhua in 2012, Juventus on loan in 2012/13, West Brom in 2013/14, and Indian club Mumbai City between 2014 and 2015.
4. Christian Vieri
Vieri's unsettled career can be traced back to his childhood when his family emigrated from Italy to Australia. Brief spells in the youth sides at Marconi Stallions, Santa Lucia, and Prato were followed by a move to Torino. It was with the Turin-based club that Vieri made his professional debut. Between 1991 and 1997, Vieri didn't spend more than one season at a team as he added Pisa, Ravenna, Venezia, Atalanta, and Juventus to his football C.V.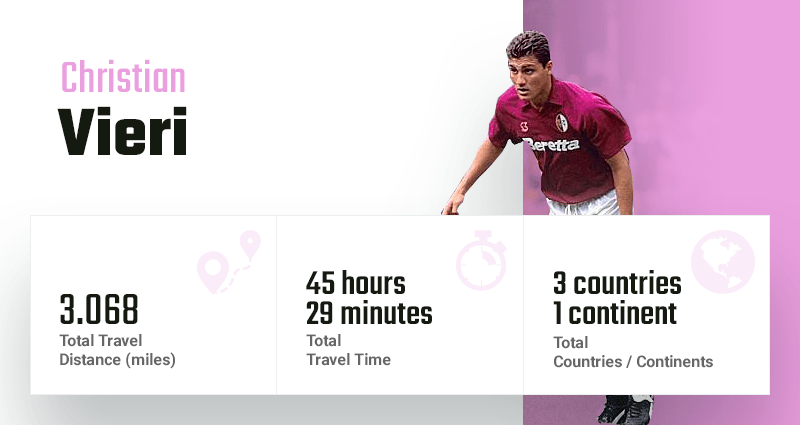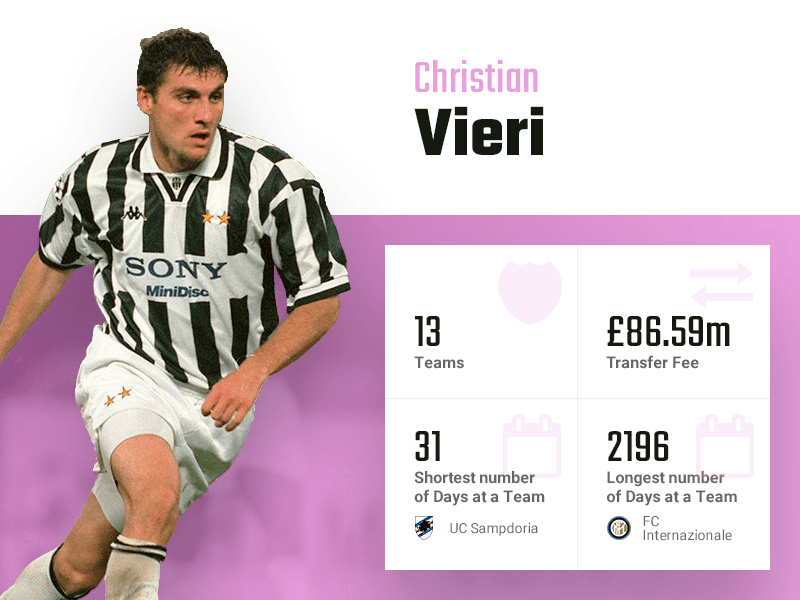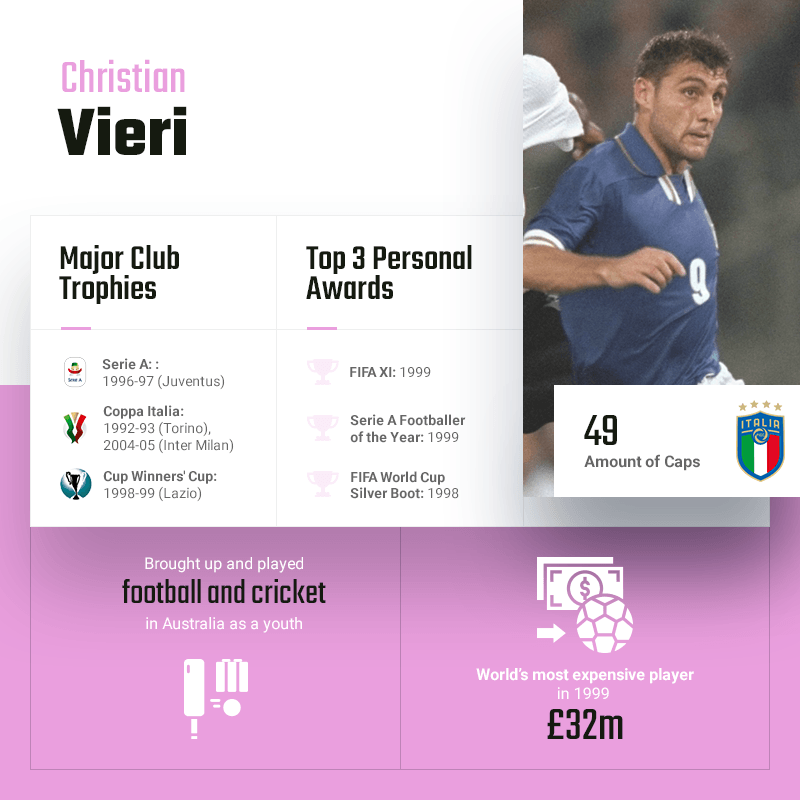 Atletico Madrid pounced on his signature in 1997 for £12.5 million. He scored 24 goals in 24 games for the Spanish side. After just one season, he was on the move again to Serie A to Lazio for €25 million after an impressive 1998 World Cup.
A world record transfer to Inter Milan for €49 million came in the summer of 1999. He broke the trend of his career by staying at Inter for six seasons. Vieri was released by Inter in 2005 and signed for their bitter rivals AC Milan. Forgettable single season spells with Monaco, Sampdoria, Atalanta, Fiorentina, and Atalanta again between 2006 and 2009 then saw out the final days of Vieri's interesting playing career.
5. Rivaldo
A low profile start to his career saw Rivaldo play for Brazilian sides Paulistano, Santa Cruz, Mogi Mirim, Corinthians, and Palmeiras between 1991 and 1996. It was at Palmeiras that his creativity drew the interest of major European clubs. He signed for Deportivo just before the 1996 Olympic Games despite Parma confirming they had already agreed a deal with the Brazilian.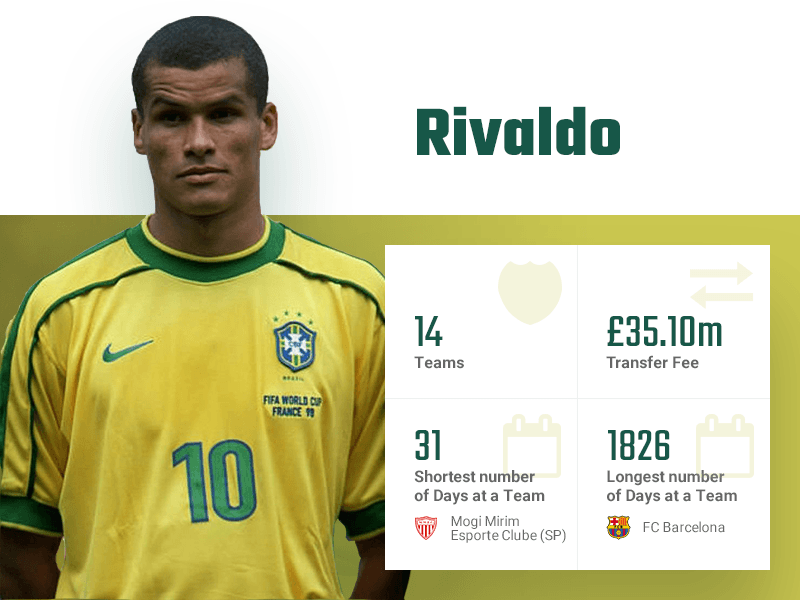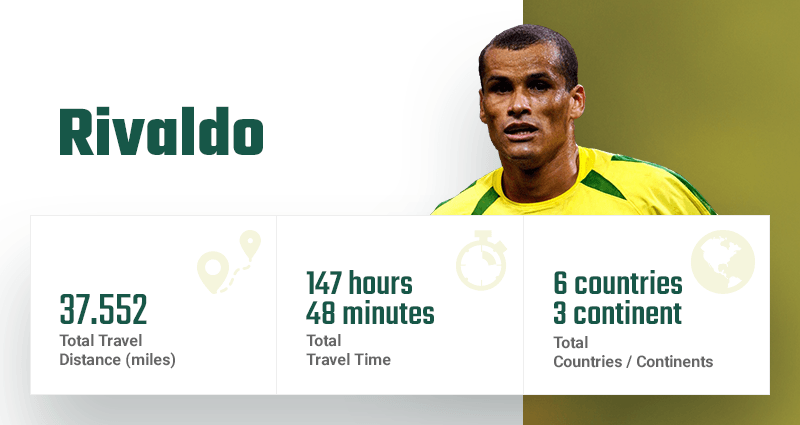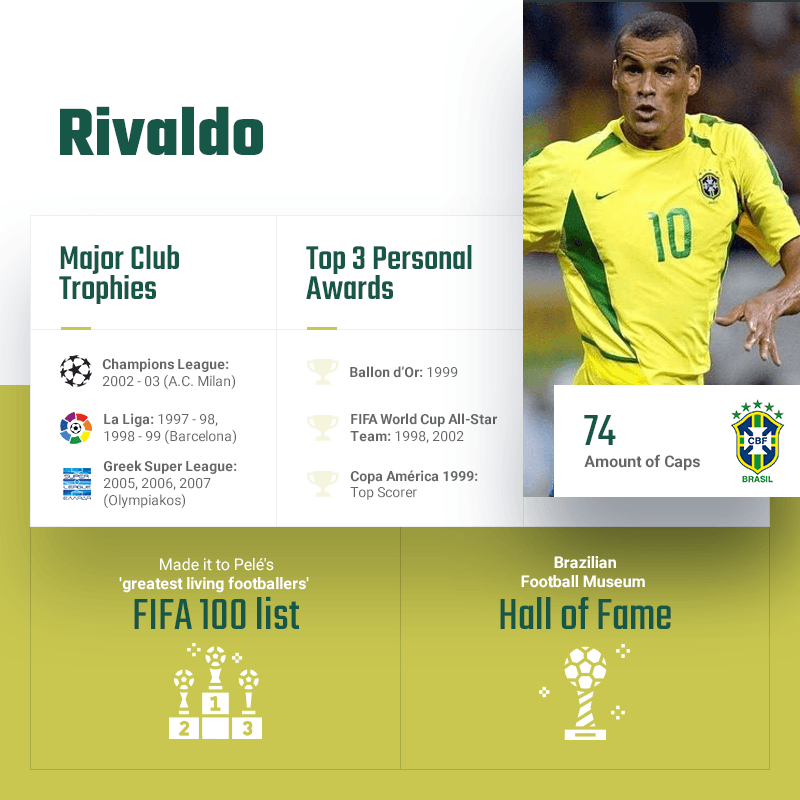 It only took one season in La Liga for Rivaldo to court the interest of Barcelona. Head coach Sir Bobby Robson made the decision to sign Rivaldo over Liverpool winger Steve McManaman and completed the £26 million transfer ahead of the 1997/98 season.
Barcelona was where Rivaldo spent his longest time at a club. He remained at the club until 2002. Mysteriously, after winning the 2002 World Cup, Rivaldo was released from his contract with Barcelona by new head coach Louis Van Gaal. He signed up with Italian giants AC Milan, but was clearly not the player he once was.
His career tailed off with one to two season spells at a number of clubs such as Cruzeiro, Olympiakos, AEK Athens, Bunyodkor, Sao Paulo, Kabuscorp, and Sao Caetano before eventually returning to his former club Mogi Mirim.
Data collected until 28 August 2018.
Sources:
www.transfermarkt.co.uk
www.transfermarkt.co.uk
Image Sources:
https://www.flickr.com/photos/dohastadiumplusqatar/11669637836 
https://commons.wikimedia.org/wiki/File:Zlatan_Ibrahimovi%C4%87_2017-03-09.jpg 
https://en.wikipedia.org/wiki/List_of_international_goals_scored_by_Zlatan_Ibrahimovi%C4%87#/media/File:Zlatan_Ibrahimovi%C4%87_Euro_2012_vs_England.JPG 
https://commons.wikimedia.org/wiki/File:FIFA_WC-qualification_2014_-_Austria_vs_Ireland_2013-09-10_-_Robbie_Keane_02.jpg 
https://commons.wikimedia.org/wiki/File:FIFA_WC-qualification_2014_-_Austria_vs_Ireland_2013-09-10_-_Robbie_Keane_10.JPG 
https://commons.wikimedia.org/wiki/File:FIFA_WC-qualification_2014_-_Austria_vs_Ireland_2013-09-10_-_Robbie_Keane_12.JPG 
https://commons.wikimedia.org/wiki/File:Nicolas_Anelka_Stuart_Holden_-_Chelsea_vs_Bolton_Wanderers_2.jpg 
https://commons.wikimedia.org/wiki/File:Nicolas_Anelka_2008.jpg 
https://fr.wikipedia.org/wiki/Fichier:Yoann_Gourcuff_%26_Nicolas_Anelka_(France_2010).jpg 
https://it.wikipedia.org/wiki/File:Champions_League_1996-97_-_Juventus_vs_Manchester_Utd_-_Christian_Vieri.jpg 
https://commons.wikimedia.org/wiki/File:Christian_Vieri_-_Torino.jpg 
https://it.wikipedia.org/wiki/File:Italia_vs_Inghilterra_(Roma,_1997)_-_Sol_Campbell_e_Christian_Vieri.jpg 
https://alchetron.com/Rivaldo#-