Canada's Favourite Board Games by Province and Territory
Board games have been a beloved pastime in Canada for generations, with many households having amassed a collection of games over the years. But which board games are the most popular in each province, and which provinces still enjoy the trusty board game the most? We conducted a survey to find out the answer to both of these questions.
Monopoly still a fan-favourite
Our research showed that Monopoly is still the most-loved board game despite being almost 100 years old. It was the clear winner in several provinces, including Alberta, British Columbia, Newfoundland and Labrador, Quebec, and Ontario. Monopoly was created in in 1935, and it continues to be a favourite among players of all ages. Its popularity is likely due to its simple rules, competitive nature, and being suitable for all ages.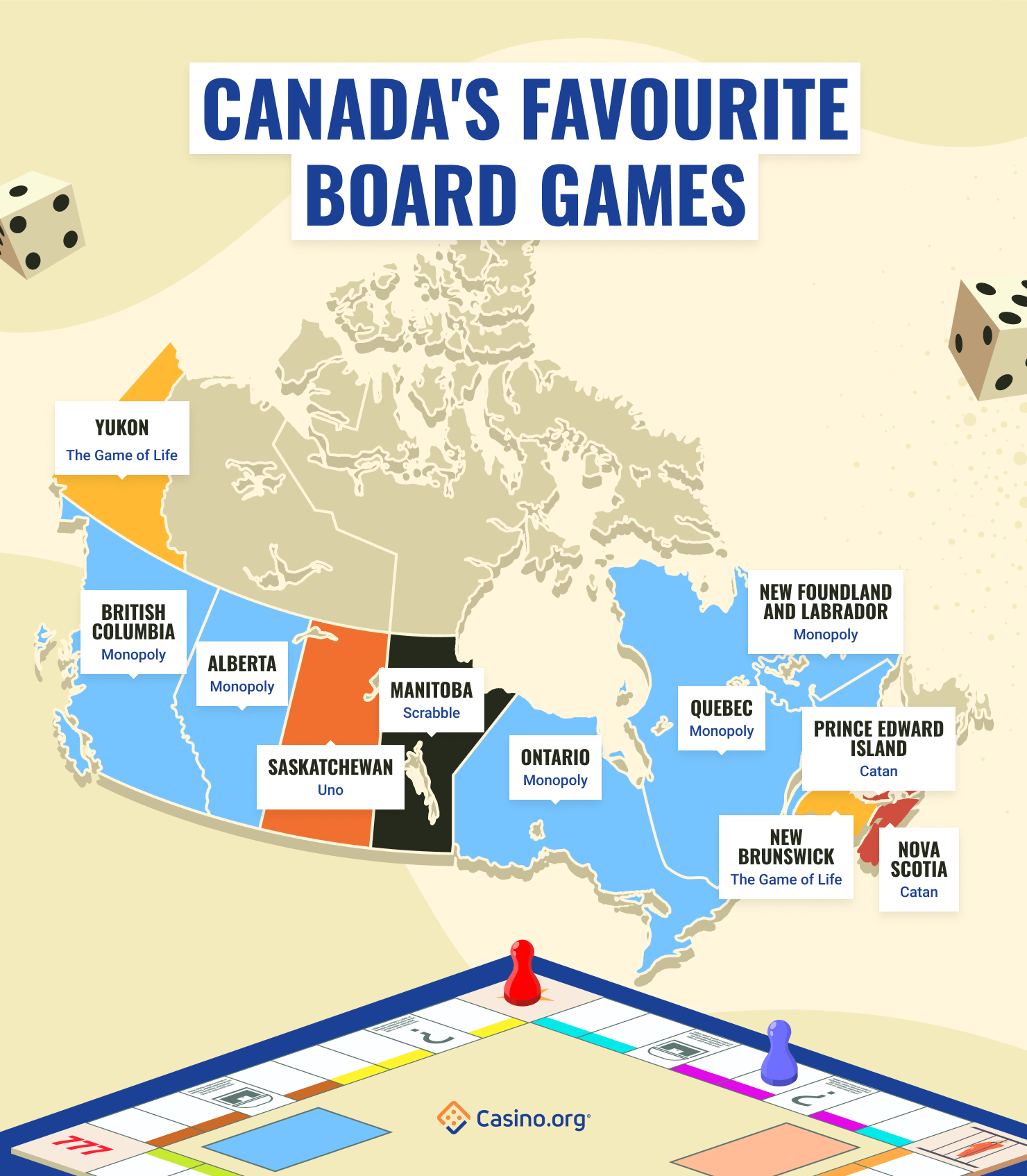 In Manitoba, Scrabble took the top spot as the favourite board game. Scrabble has been a favourite since 1938, and with the rise of word games on smartphones and tablets, Scrabble has remained a popular choice.
In New Brunswick, The Game of Life is the most popular board game. This classic game has been around since 1960, and it allows players to experience the ups and downs of life as they move through the board. The Game of Life was also the top pick in Yukon.
The Game of Life has been a favourite for families and groups of friends, and its popularity is likely due to its ability to bring people together.
Nova Scotia's favourite board game is Catan, a strategic game that has gained a cult following since its release in 1995. Catan is a game of resource management and strategy, and its popularity in Nova Scotia may be due to the province's love of outdoor activities and exploration. Catan is also the favourite board game of residents on Prince Edward Island.
Saskatchewan's favourite board game was Uno, a fast-paced card game that has been a favourite for families and friends since its creation in 1971.
Which provinces play the most?
It's no secret that the increase in popularity of smart phones, streaming, and other technological advancements has reduced the popularity of traditional board games. In addition to determining the favourite game by province, we also surveyed residents to find out how often they play board games. Using this information, we were able to outline which parts of Canada still frequently enjoys the humble board game, and which doesn't.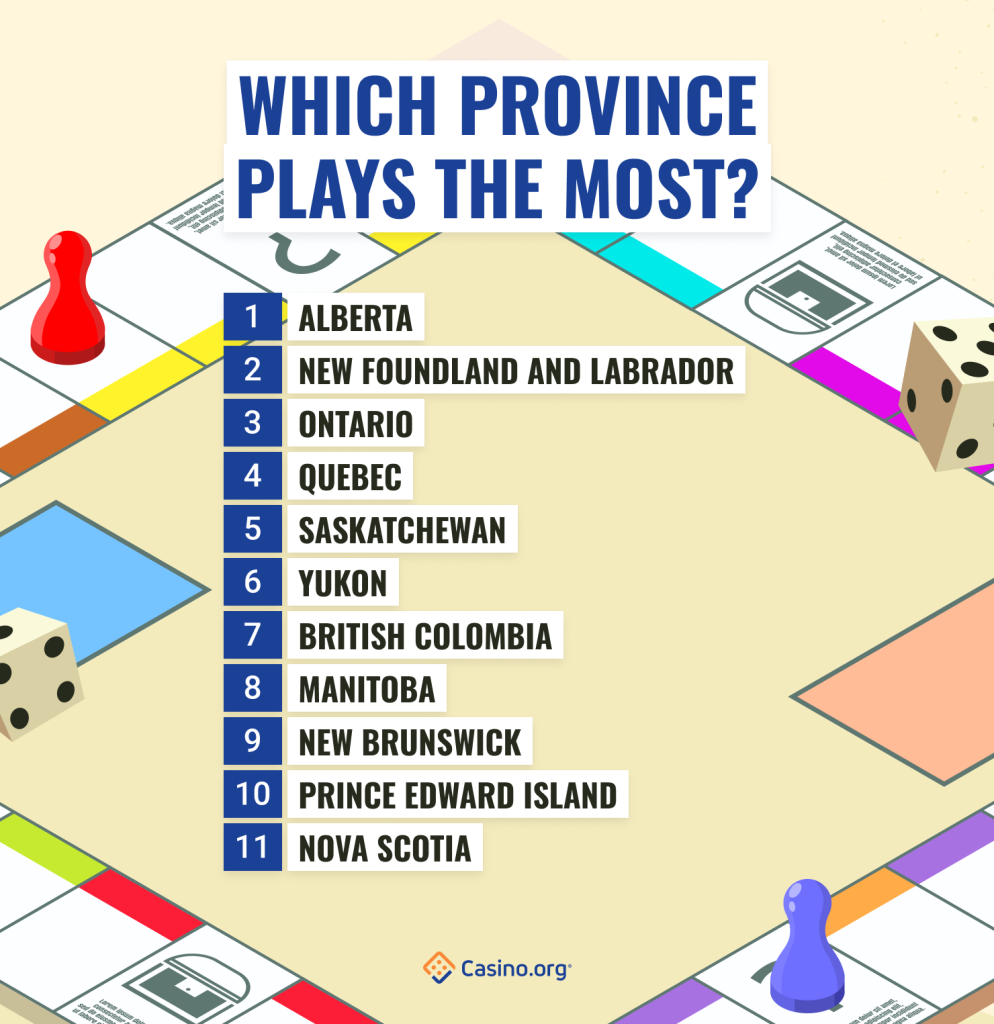 The province with the most active board game players was Alberta, where a large percentage of respondents reported playing board games on a regular basis. Newfoundland and Labrador was in second, and Ontario in third, with a significant portion of residents reporting that they played board games every couple of months.
Quebec, Saskatchewan, and the Yukon were further down the list in mid-table, admittedly only enjoying a board game a couple of times per year. On the other end of the spectrum, Nova Scotia, Prince Edward Island, and New Brunswick were the provinces with the lowest percentage of active board game players. These regions said they only play board games once per year, usually during the Christmas holidays.
Canada's favorite casino games
Board games aren't the only type of game Canadians enjoy. The popularity of online casino games in Canada has boomed ever since online gambling became legal in Ontario in 2022.
Table games like Blackjack and Roulette are favorites with Canadian gamblers, but slots are becoming increasingly popular. Some of the hottest titles in Ontario and beyond include Buffalo from Aristocrat and Cleopatra from IGT. These games (and more) can be played at online casinos in Canada for real money or just for fun.
Methodology
In March 2023, we surveyed 3,000 Canadian residents and asked their location, their favourite board game, and how often they play. We compiled this report using the data from that survey.
You are free to use any of the information in this report, including the supporting imagery. When doing so, please link back to this article as your source. For media enquiries, please contact michaela.shaw@casino.org.
Note: There are some Canadian provinces and territories that we did not collect enough data from, and so have been excluded from this report.
Main image photo credit: Unsplash.com