Wynn Las Vegas Opens Satiating Caffe Al Teatro
Wynn Las Vegas has opened its "reimagined" cafe, now dubbed Caffe Al Teatro. Possibly with an accent mark over one of the vowels.
Caffe Al Teatro is, of course, Italian for "cafe located a vegan biscuit sandwich's throw from the theater." In this case, two theaters, the "Awakening" Theater (formerly "Le Reve" Theater) and Encore Theater.
Caffe Al Teatro is a revamp of the former Cafe at Wynn Las Vegas, which was the Drugstore Cafe before that.
Let's get a taste.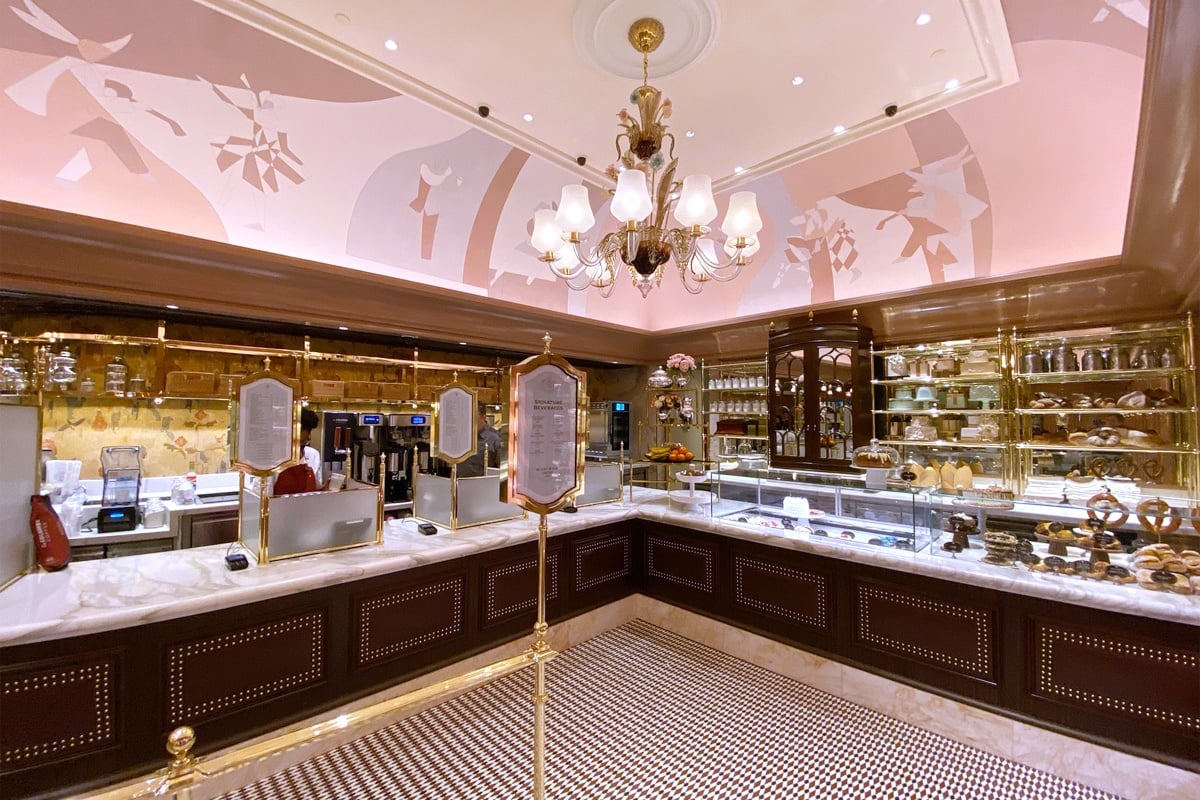 We'll jump ahead a little and start with our favorite part of our visit to the new Caffe Al Teatro: The pretzels.
We like what we like, and the pretzels are glorious. They're like eating a warm, succulent cloud, but with a little salt.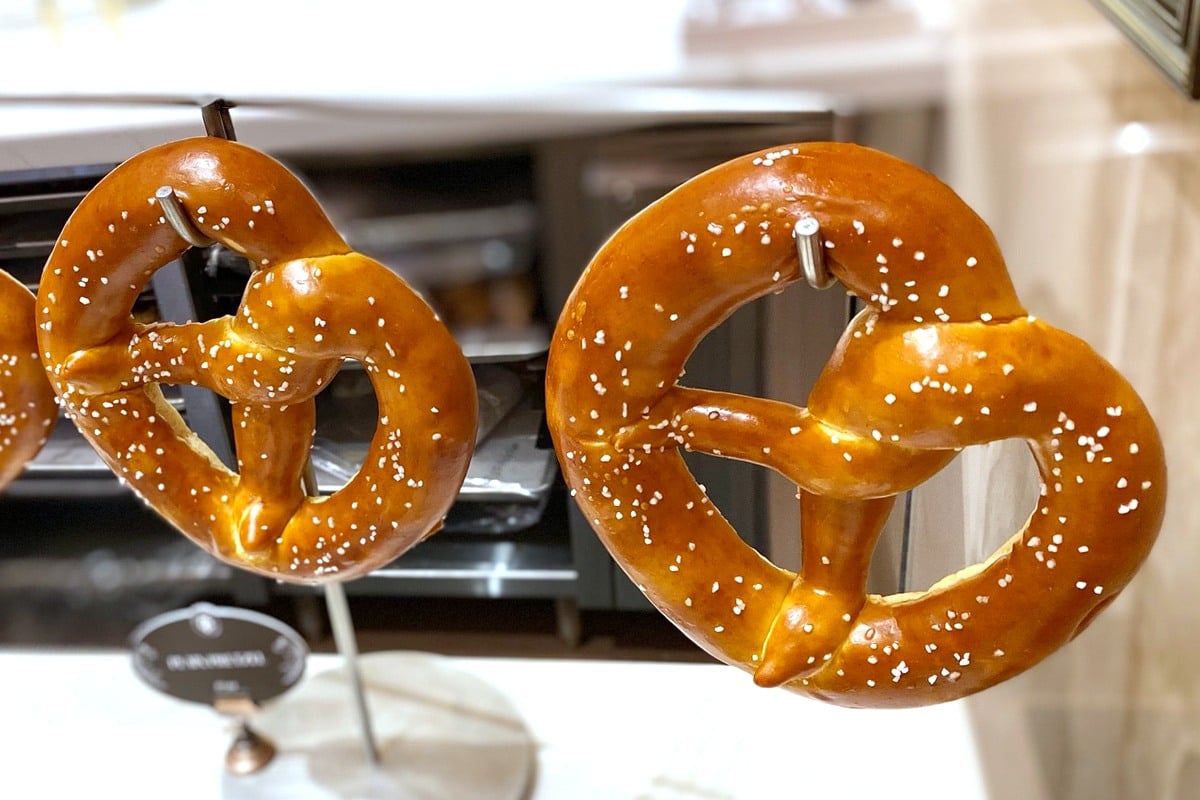 There are other offerings at the new cafe, of course. We have never had coffee, but there's quite a bit of that. There's also a pretty robust selection of grab-and-go items.
The Wynn Web site says, "With an all-star cast of irresistible pastries, artisanal sandwiches, healthy salads and seasonal soups, the newly reimagined Caffe Al Teatro is gourmet express dining at its finest."
See, it's all theater-themed. Just go with it. Here's how the desserts are described: "When the curtain calls, Caffe Al Teatro answers with the sweetest encore."
It's a cafe, they had to think of something to sexy it up a little.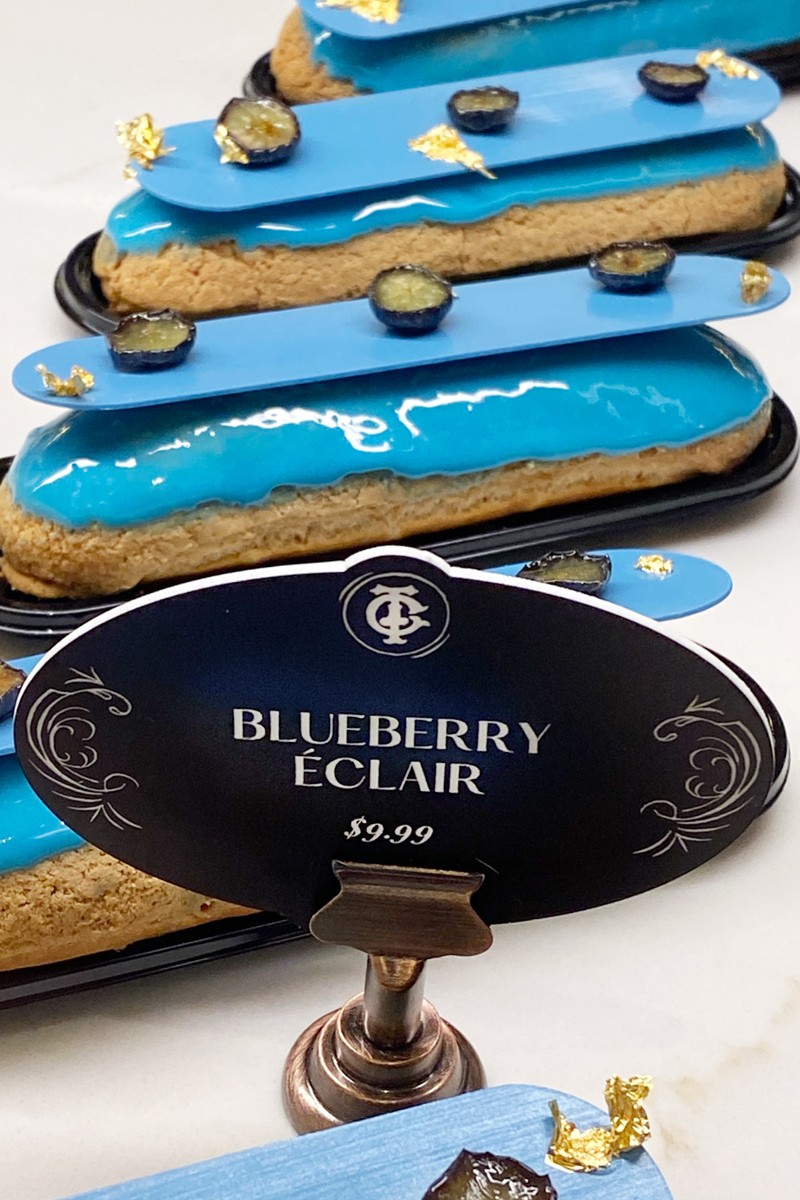 The Wynn Web site features the inspiration for the cafe.
Sharing it here will save us some work, so here you go: "Inspired by the Italian tradition of Commedia dell'arte, Caffe Al Teatro features design motifs that capture the jovial quality of this historic genre of theatre. Shimmering Venetian chandeliers offer a delicate contrast against the cubist-inspired ceiling mural overhead. Lacquered interior moldings reminiscent of the color of melted chocolate ice cream (with a bit of maraschino) frame a beautifully composed interior that feels both historic yet new. On the walls, exquisite reverse painted mirror panels, known as Verre eglomise—depict charming scenes of Commedia imagery for a fanciful, period inspired touch. The diamond patterned stone mosaic floor draws inspiration from traditional Harlequin costuming. Furnishings reference the cafe style seating found in grand establishments in Milan and Venice. The rich layering of finishes encompass a space that feels both sweet, yet savory—a delectable backdrop to the artisanal delights created by our master chefs."
That's about as Wynn Las Vegas as it gets.
Let's just say it would be difficult for us to love Wynn's Chief Whimsy Officer Todd-Avery Lenahan (technically, President & Chief Creative Officer of Wynn Design & Development) more. There's approximately a zero-point-zero chance any cafe customer will appreciate all that backstory, ever, but that's one of the things that makes Wynn resort so special. You don't have to know, but if you know, you know.

The cafe's menu changes throughout the day.
Pastries and "Morning Artisanal Specialties" are served from 6:00 a.m. to 11:00 a.m.
We've always found the word "artisanal" a little awkward, especially the more you look at the spelling. "Artisanal." Come to think of it, Bacchanal Buffet is awkward, too. Speaking of backstory. Rimshot. Hello. Anybody?
Reminder: If you don't like infantile humor, you should start your own blog. Fair warning, the more popular you become, the more haters you'll have. Keep this thought handy: The brighter you shine, the more shadows you cast. You're welcome.
There are "Afternoon Artisanal Specialties" and "Afternoon Pastries" served from 11:30 a.m. to 5:00 a.m. That, friends, is a long-ass afternoon.

Caffe Al Teatro is open 24/7.
Here's the Caffe Al Theatro menu. Some of it, anyway.
Caffe Al Teatro has a main dining area, as well as an express counter outside with coffee, cookies and gourmet gelato.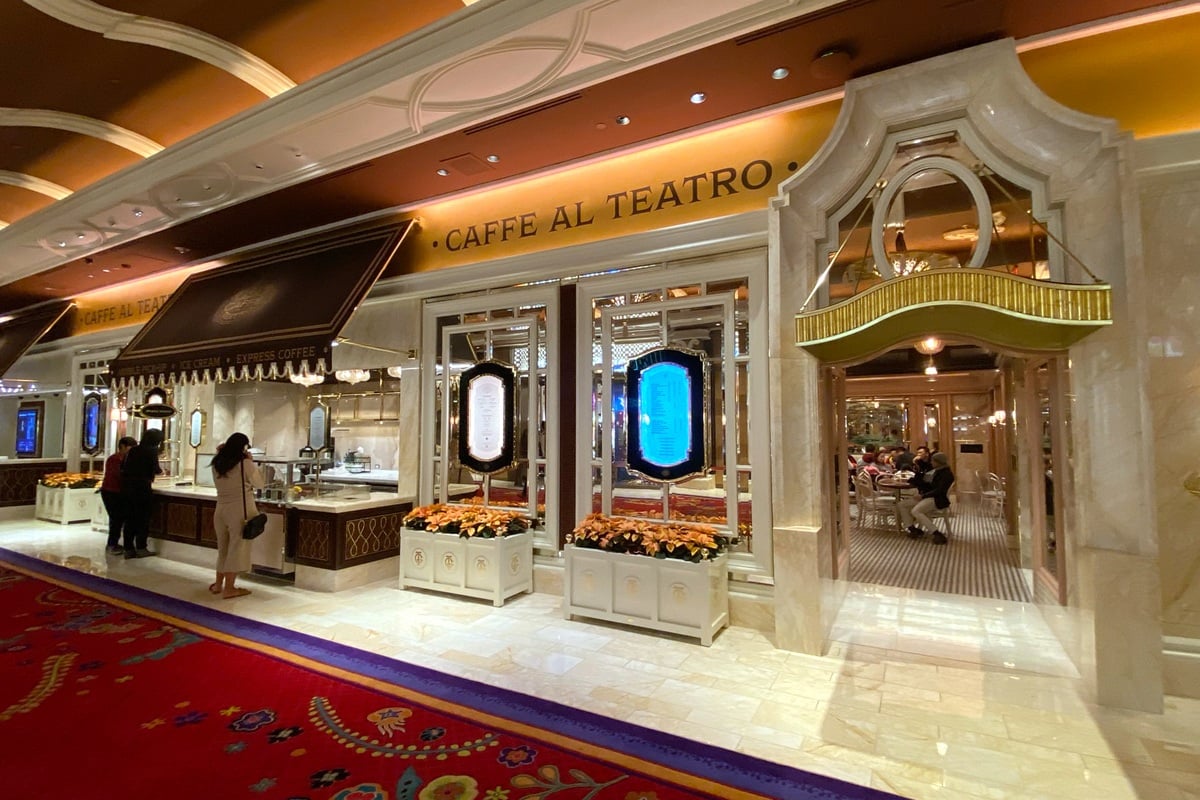 Wynn didn't just refresh its cafe, it retooled the entire walkway leading to the "Awakening" theater. There are lots of new butterflies, and the carpeting has been replaced, too.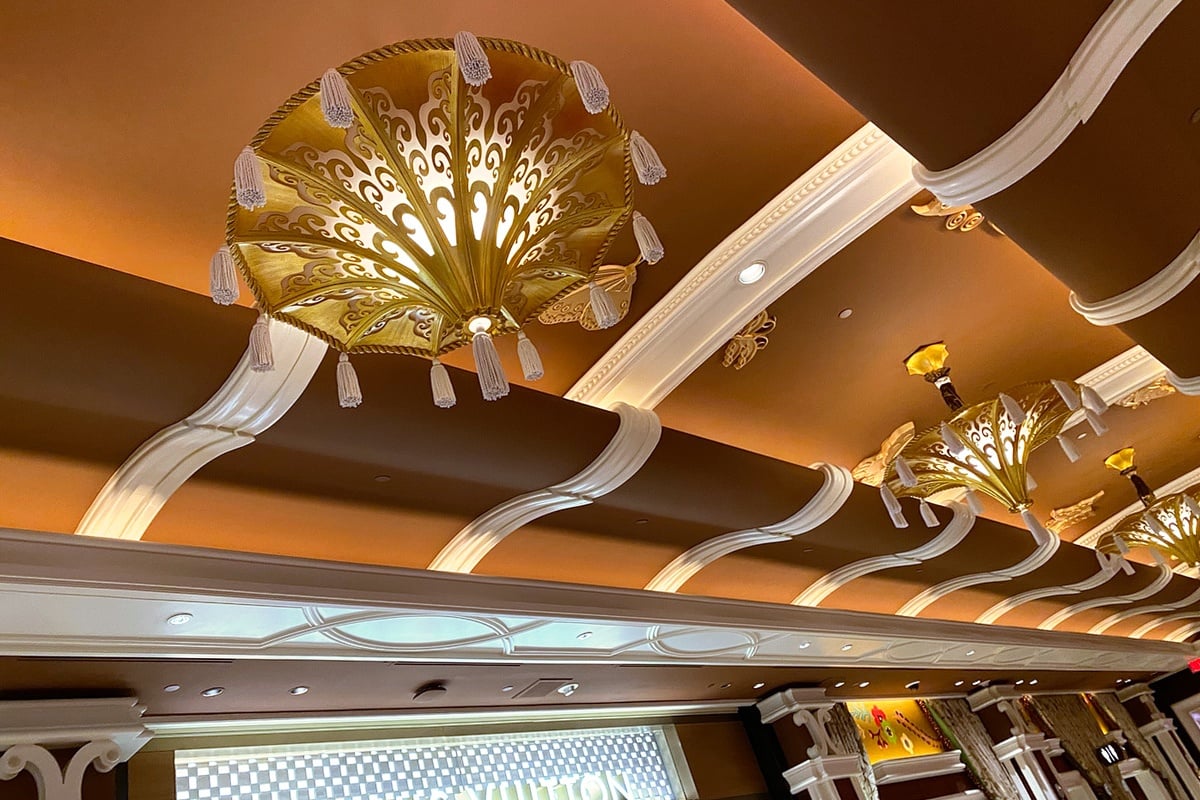 If we didn't share the carpeting, we'd never hear the end of it.

Unlike many food outlets in Las Vegas casinos, all the items in Caffe Al Teatro are baked from scratch, in-house at Wynn by its talented team of pastry chefs and master bakers.
If you thought we'd call out the thing about our immature sense of humor and not include the phrase "master baker," you were sadly mistaken.
If you follow our blog or podcast at all, and why would you, you know we're a big fan of Wynn mixologist Mariena Mercer Boarini. She gained immortality with her Verbena cocktail at Cosmo, and created many of the seasonal drinks at Wynn's cafe, including spiced hot chocolate, winter sangria and an iced Viennese coffee, whatever that might be.
The cafe also sells make-your-own Mimosa kits, which sound fun. These also make great gifts, assuming you have a team of lawyers at your disposal.
We didn't delve too deeply into the menu at Caffe Al Teatro, but everything looked fresh and delicious as we ogled the orders of other patrons. The "Artisanal Specialties" menu included a chicken parm sandwich, so you know we'll be back to check it out.
Caffe Al Teatro is "intimate," so grab a table and order online to skirt the line.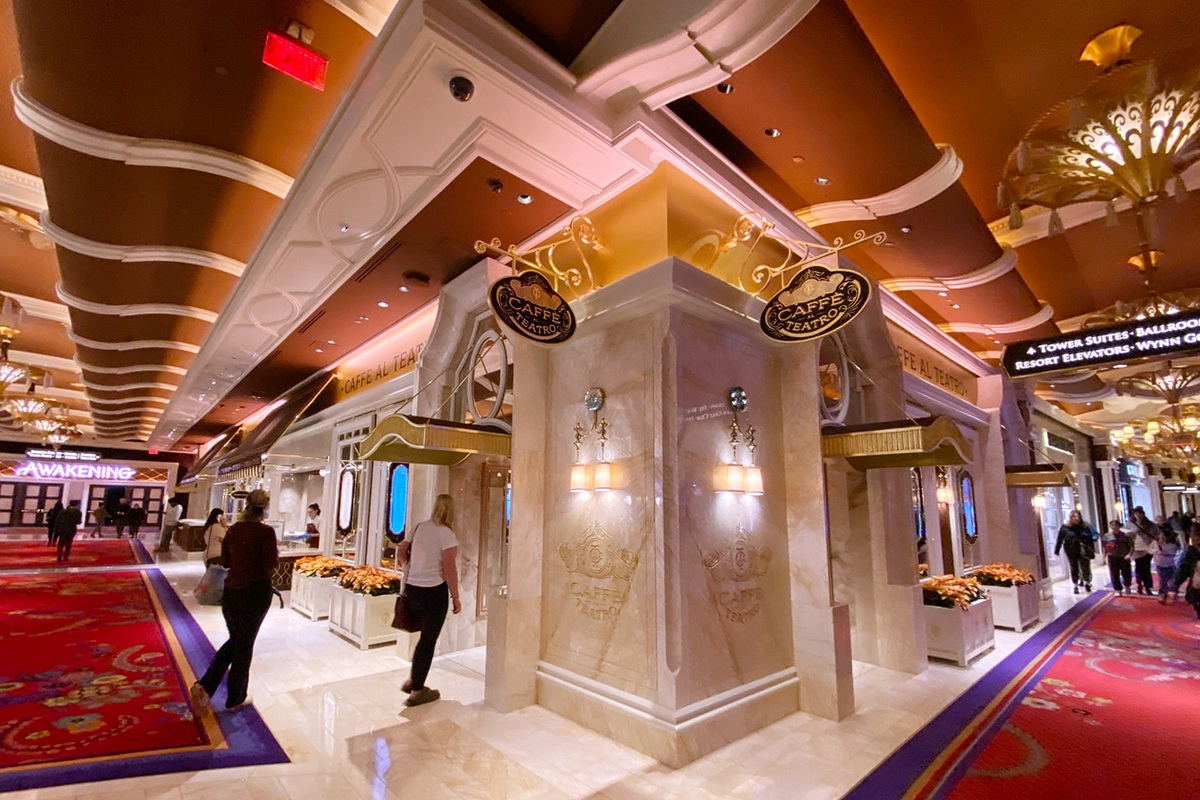 The new cafe sits in one of the busiest spots at Wynn, so we trust it will do well. The price points aren't terrible for The Strip, and Caffe Al Teatro will print money based purely upon the convenience and visibility of the venue. Drunchies fare can sometimes be hard to find in the wee hours.
As with everything at Wynn, Caffe Al Teatro feels elevated.
The staff is friendly and helpful, despite a good number of them being hidden behind a translucent wall. This seems an elegant way to allow staff to gossip about the Karens while still maintaining an air of class in the fast-casual eatery.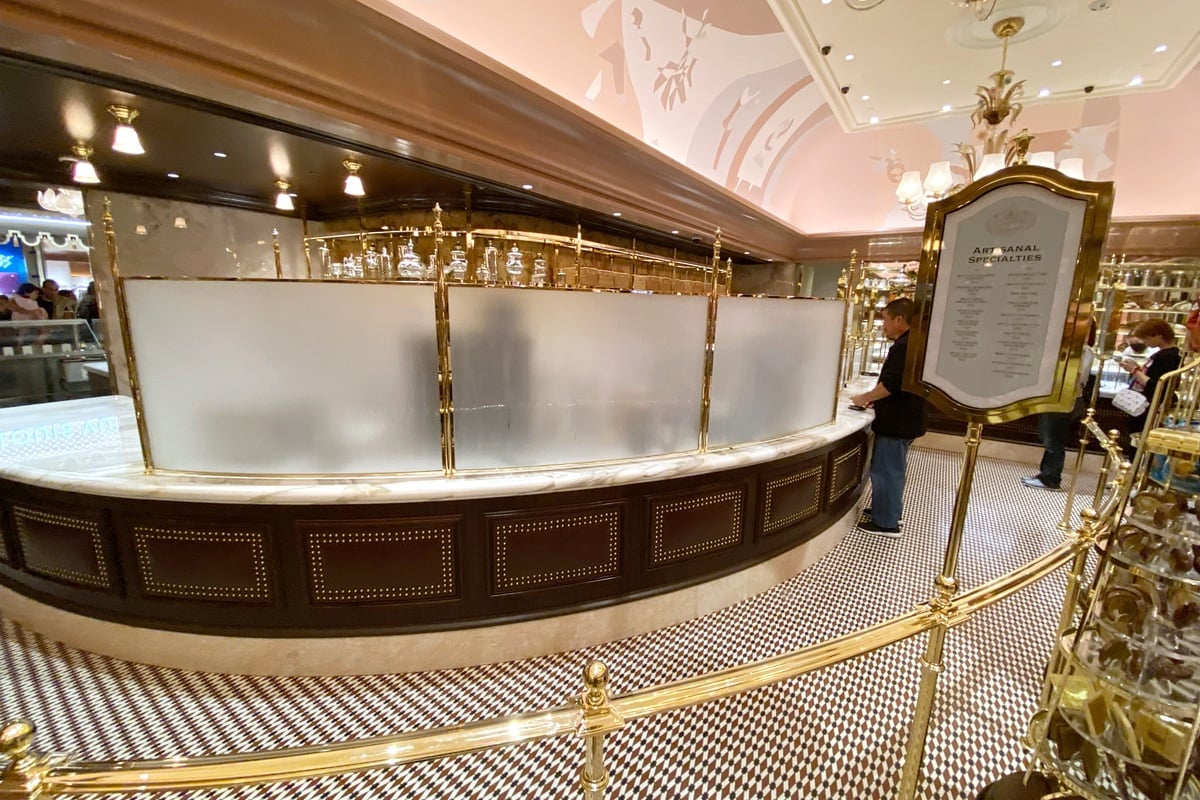 We look forward to many visits to Caffe Al Teatro in the future, and it marks another worthy entry in the annals of Las Vegas history.
We don't have to grow up, you grow up.
Update (12/3/22): The aforementioned Todd-Avery Lenahan dropped a line to share some thoughts (and scoop). He said, "Thanks for your complements about our new Caffe, it's a great little venue within a busy area of the resort that's undergoing ongoing 'polishing of the diamond' as I like to say about the transformation we have underway that honors our signature Wynn visual vitality and remains true to our design DNA and landmark status. What we do at Wynn endures! As always, you were astute in your observations of the differences in the promenade outside of the caffe. We're in the final stages of a transformation that's been underway for about a year now. First, we unveiled the new theater rotunda and theater lobby, and then we revealed the caffe. We'll soon reveal two new venues in this same promenade that I refer to internally as our Theater District. To the left of the recently opened ice cream and express coffee window, we'll be opening a chic new Wynn gift and sundry shop, and then directly opposite the ice cream and express coffee window we'll be opening a new 'Awakening' show shop. Tying all of these new elements together in an elegant, seamless and rigorously designed manner has involved a major, albeit delicate, re-scheming of the former details and finishes. We've transitioned the finishes from their former Encore scheme of red, white and butterfly, to the rich and textural Wynn scheme of chocolate and cherry. The ceiling was previously all white with white butterflies, red walls, red ceiling borders, butterfly carpet, and multi-colored glass chandeliers like in the Encore Promenade. Now, it's all in the iconic Wynn scheme but the existing white butterflies on the ceiling were gilded and the ceiling was changed to chocolate (this is what likely makes them appear to be new additions even though they've always been there) and the walls were all re-upholstered in dark chocolate 'Kyoto Pleat' silk. The signature Encore butterfly carpet was replaced with what will be our new Wynn standard: an intricately woven and hand-carved dimensional 100% wool. It's in a pattern that originates from our iconic Wynn casino carpet but has several new layers of rich detailing, contouring, and hand carving. This exquisite new carpet has just finished being woven for the entire Wynn casino and public areas and will soon be installed when we complete a top-to-bottom restoration and 'polishing' of the beautiful Wynn casino in which everything is being replaced one-for-one to its opening day glory. In a market of constant change, we embrace what's iconic about our property and instead 'polish the diamond' year-after-year. The new theater promenade is a great example of how what looks new is actually just the best version of its prior self. When done this summer, the already pristine casino will continue to glow, smile beautifully, and truly honor its design legacy as we head towards our 20th anniversary in 2025. The 'Grand Dame of Las Vegas' is aging exquisitely, and I'll be excited for you to see how 'enduring elegance' and embracing our artistic history at Wynn is always in fashion for us."
What he said.