Tuscany Gets a New Sports Book, Circa Sports
Tuscany Suites & Casino has a new sports book, and it has a familiar name: Circa Sports.
Circa Sports comes from the folks at Circa Las Vegas, the new resort in downtown Las Vegas.
So, now, guests can place sports bets at Circa Sports at Tuscany.

Yes, it's a little confusing, even to self-proclaimed sportsball authorities such as ourself, so we asked Circa owner Derek Stevens to provide the lowdown, or possibly the 4-1-1.
Why would Tuscany want a sports book with the name of a competing casino (sort of) in their casino? What's in it for Tuscany?
"I'll make this simple," says Stevens. "There are two things that are in it for Tuscany. A) Rent. B) The fact we believe our product is a bit differentiated from other sports books. What we conveyed to the owners was we believe people will go out of their way to go to a Circa Sports sportsbook. They believe by bringing in our sportsbook, it's going to draw more customers into their property."
One of the things we like about Derek Stevens is he can explain things so even we can understand it.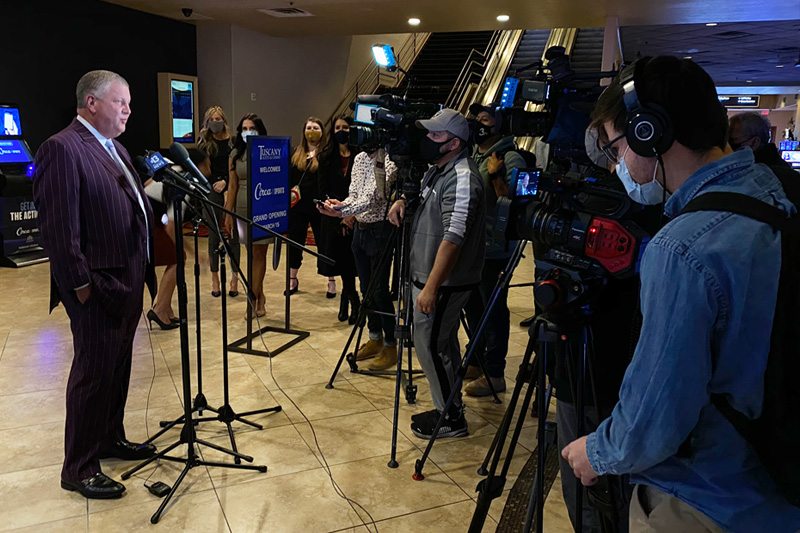 This is the first satellite location of Circa Sports in Las Vegas (although the Circa Sports mobile app is available in Colorado).
Why Tuscany?
Derek Stevens says, "For a lot of people that may not know, that might not have Tuscany on their list to visit when they come to Vegas, this is a pretty hot spot. It's got a huge amount of volume from a sports betting perspective. A lot of it has to do with its location within the property and the ease of access."
Another thing we like about Derek Stevens is he's adorable. While we always enjoy visiting Tuscany, we probably wouldn't describe it as a "hot spot."
Still, Stevens always seems to make wise business decisions, so we'll just play along this time.
Circa Sports at Tuscany sits in the same space as the former sportsbook, but now the seating and TVs have been removed. Sports fans will have to watch games at the nearby Pub 365 restaurant and bar.
Stevens is not over-stating the "ease of access" element of Tuscany. Surface parking is convenient and free, making a visit for a quick bet a breeze.

Tuscany remains a solid value, and this feels like a good location for Circa Sports to test the waters with a satellite location.
Tuscany is located off The Strip, just east of 255 E. Flamingo Road, between Ellis Island casino and Silver Sevens.
The Circa Sports sportsbook at Tuscany seems an odd partnership, but when it opened, it only took about a minute before bettors began lining up, so we trust that's a positive sign for the new offering.
Our past forays into the world of sports betting, both of them, haven't turned out particularly well. This, despite the fact we did several minutes of research involving asking a dude in the men's restroom at The D (another Circa Sports location, along with Golden Gate) which teams we should wager on.
Seeing sports fans so giddy about a new sportsbook has inspired us to try again, so let us know which teams we're betting on for March Madness, whatever that might actually be.