Triple George Brings Back World's Best Sliders, But Not On the Menu
When downtown's Triple George restaurant stopped serving its life-altering chicken parm sliders, a great wailing and gnashing of teeth resonated throughout Las Vegas. The decision to discontinue these delicious diversions was easily one of the greatest travesties in Sin City history, casting a pall over what was once a renowned dining mecca.
So, yeah, we loved those sliders. And, no, we have no idea what a "pall" is.
Months passed, with little more than our fond, marinara-drenched memories to sustain us.
Recently, though, following the almost daily badgering by a certain Las Vegas blog, ears perked up at Triple George, and we are ecstatic to announce the famed Triple George chicken parm sliders are back, although you won't find them on the menu.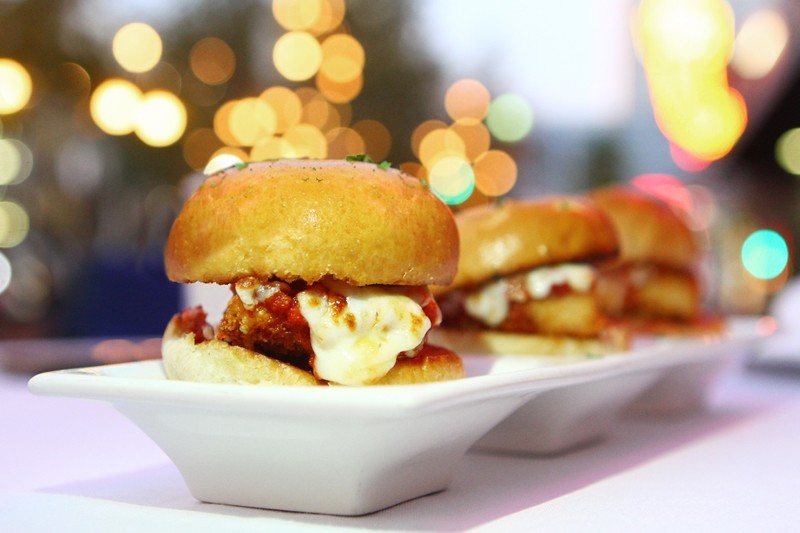 For whatever reason, Triple George has decided not to make these sexy little vixens an official menu item. They are, however, available upon request. It's actually more fun that they're on the "secret" menu, or as the staff lovingly refers to it, the "speakeasy menu."
So, here's the deal. Sidle up to the bar and ask about the chicken parm sliders. Depending upon whom you ask, you'll either get a smile or a look of utter confusion. That's because this item is super, super secret. So secret, in fact, not all the servers know it's available. (Find a manager, but be nice about it, or no sliders for you.)
They're $9 for three sliders. If you think the price is too high, you have issues. Try them once and you'll quickly realize you'd be willing to pay triple.
Of course, while the sliders are tremendous, the same chicken parm is served as an entree for $15 (complete with spaghetti and veggies). The chicken parm entree is, not surprisingly, also the best of its ilk in Las Vegas, or possibly the world.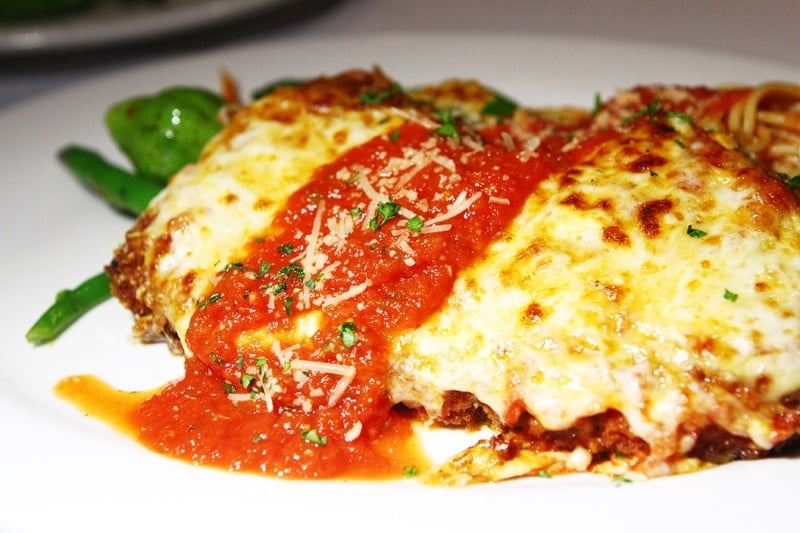 Our heartfelt appreciation goes out to Downtown Grand's Assistant Executive Chef Todd Harrington for engineering the return of our favorite Las Vegas dish, despite what a pain it is to prepare when the joint gets busy. And it's busy a lot, because there are so many things to love about Triple George.
If the way to a blog's heart is through its stomach, Triple George has our heart. And possibly our liver. But definitely our heart. Let us know how your Triple George speakeasy menu adventure goes. And tell them we sent you. Although they'll already know, trust us.
Update: Almost simultaneously with our posting this resounding endorsement of the chicken parm and chicken parm sliders at Triple George, we were informed the restaurant's Executive Chef, Joe Leininger, is no longer with the restaurant. Yikes, we thought.
Since his departure, some changes have been made to the menu, including to our beloved chicken parm. We tried the new version, and it's different all right, and pretty darned good.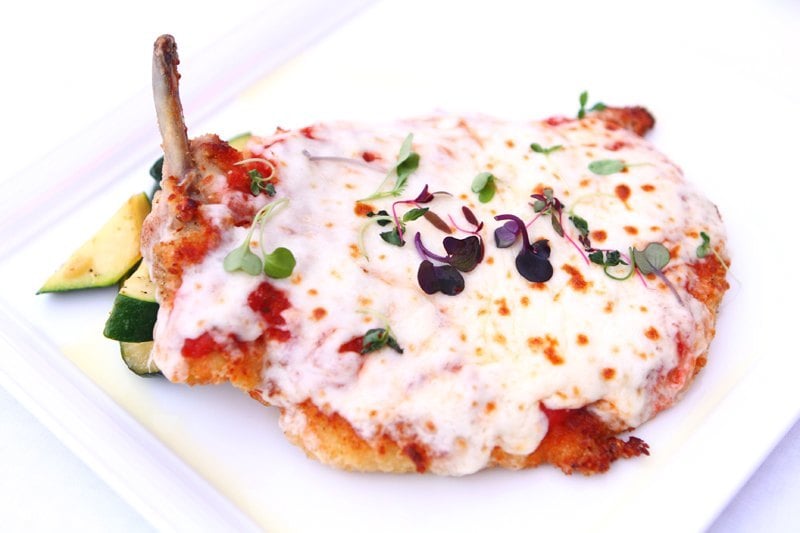 It appears the restaurant is shaking things up a bit, so we're putting our raves on hold to see how things shake out. The ingredients are certainly fresh (the previous chicken was apparently frozen, this is not), the chicken parm is no longer deep fried (we have mixed feelings about this, but we're assured deep frying doesn't change the flavors), and while not pictured, the dish still comes with spaghetti. The jury's still out about the bone-in aspect, too. We trust the sliders don't have that feature, and look forward to giving them a chance. One. Chance.
If you try the new chicken parm at Triple George, we'd love to get your feedback, as would the restaurant.