Sneak Preview: A.Y.C.E. Buffet at Palms
The new A.Y.C.E. ("All You Can Eat") buffet at Palms doesn't officially open until Dec. 22, 2017, but who the hell can wait? Did we mention it's an all-you-can-eat buffet?
We popped in for a security breach on an employee "play DAY," and A.Y.C.E. looks great.

Palms, part of Red Rock Casinos (a/k/a Station Casinos) has undertaken a massive $485 million renovation, including new restaurant offerings, and A.Y.C.E. is part of that plan.
Check out our epic overview of 22 new things coming to Palms resort.
As is the law in Las Vegas, Palms says of the new buffet: "Worldly cuisine presented in an innovative, technique-focused fashion will be the signature of A.Y.C.E., which will host guests in an open food hall setting."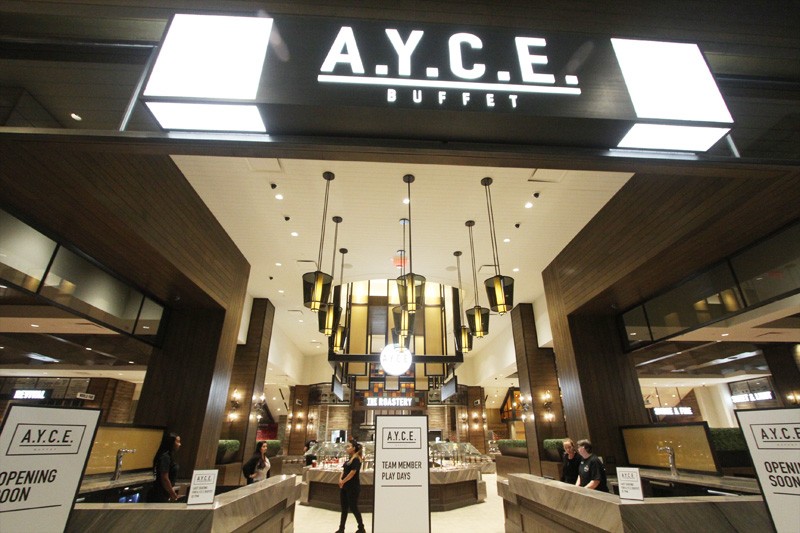 Seriously, Vegas can't help itself. Here's more: "A.Y.C.E. will define the Vegas buffet not only with elevated and eclectic food displays but also in its modernized presentation, where we focus on the method of preparation."
So, yeah, it's a Las Vegas buffet.
Thankfully, Las Vegas tends to get buffets right. Judging by the interior design, A.Y.C.E. is hitting a lot of the right notes.

A.Y.C.E. features seven food stations, all of which sound like varieties of weed.
1. The Greenery features seasonal salads and fruits. This station is right up front, but don't fall for that old trick! Buffet pros skip salads and head for all things meat.
2. The Hearth features a brick oven for casseroles, pizzas, whole fish and English pasties. English pasties, of course, are very popular with pole dancers in London.

3. The Roastery has a rotisserie and wood-burning grill to make a variety of international fare like braised oxtail poutine, French onion beef sliders, calamari steaks, chicken teriyaki and quesadillas.
4. World Pan has more international fare like vegetable paella, Moroccan lamb, dim sum and other Asian favorites.

5. Smoke & Fire is for meat-lovers, with glazed ham, ribs, hot links, smoked brisket and others.
6. Revival will focus on healthy dishes, with vegan, vegetarian and anti-inflammatory cuisine. Personally, we prefer our buffets inflammatory, but we're open to trying it!
7. Sweet & Light is the dessert station, also known as "Where this blog begins and ends every all-you-can-eat buffet."

A.Y.C.E. will be open seven days a week from 8:00 a.m. to 9:00 p.m.
We can't wait to put on our expandable-waistband pants and try the new A.Y.C.E. buffet at Palms. The resort's former Bistro Buffet was in need of a serious do-over, and this appears to be one of those.
Before you visit A.Y.C.E., don't forget to check out our 10 Ways to Make the Most of a Las Vegas Buffet.