SlotZilla Zip Line Flies Past 500,000 Riders
With little fanfare, downtown's SlotZilla zipline recently surpassed half-a-million riders.
The number of riders is actually more than 540,000, but when has this blog ever been bogged down by "facts" or "accurate information"?
During the build-up to the long-awaited and much-delayed opening of SlotZilla, we covered the
progress of the project closely on this blog. Then, we got a day job marketing Fremont Street
Experience and SlotZilla, so we thought it was weird writing about it. Now that SlotZilla has blown by 500,000 riders, you bet your ass we're doing a story.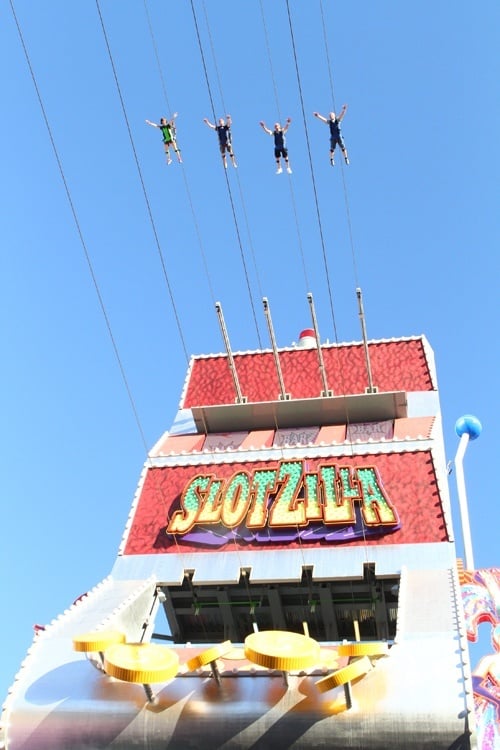 In case you haven't heard of it, in which case we suck and should probably be fired immediately, the SlotZilla zipline is a downtown attraction that looks like a giant slot machine.
Riders have the option of two lines, a lower "Zipline" and an upper "Zoomline."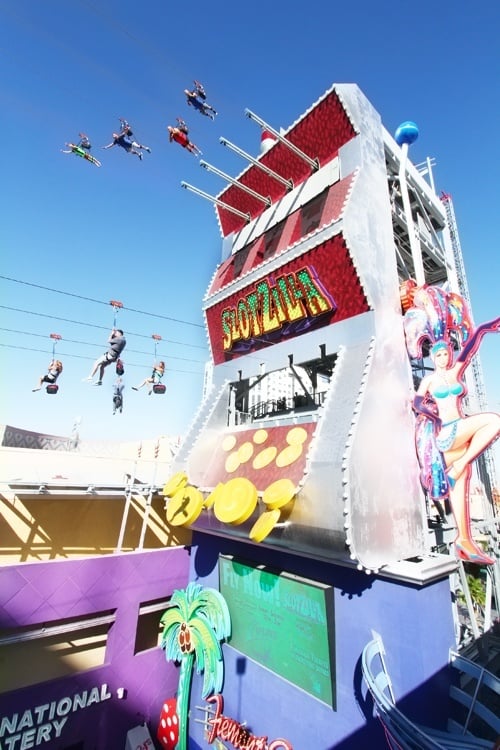 On the Zipline (77 feet up), riders go in the seated position, while on the Zoomline (114 feet
up) they take flight like a superhero, prone.
The Zipline ($20) goes halfway down the Fremont Street Experience pedestrian plaza to a landing platform between Four Queens and the Fremont casino.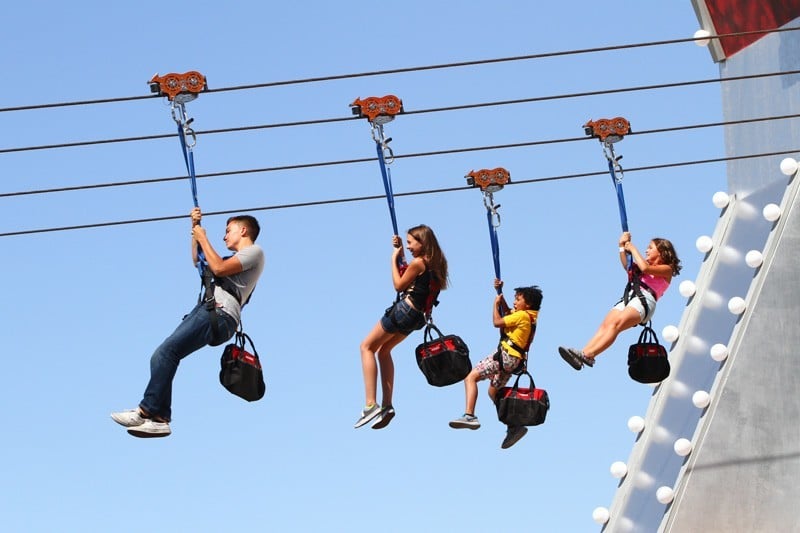 The Zoomline ($40, pictured below) goes all the way to the west end of Fremont Street Experience, between Golden Gate and the now-closed Las Vegas Club.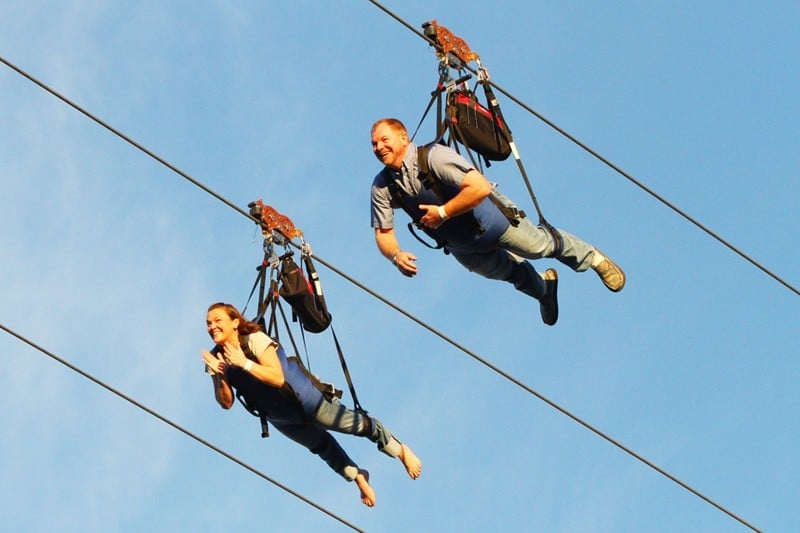 SlotZilla sort of has two opening dates, one for each line level.
The lower Zipline opened at noon on April 27, 2014.
The upper Zoomline opened at noon on Aug. 31, 2014.
SlotZilla cost about $17 million to build. Construction began in November 2012.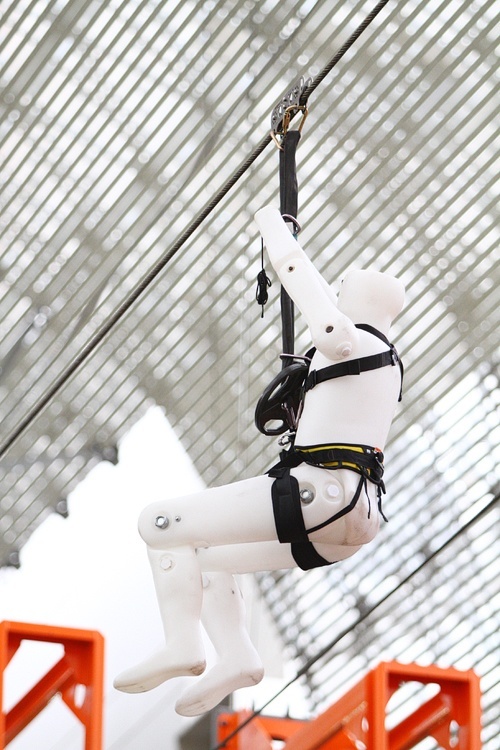 It's been fascinating to watch the completion, opening and growing success of the SlotZilla zipline from inside the company. The more we learn about the engineering and technology involved, the more we're astonished it ever got built in the first place.
Here's a look at the view from the SlotZilla Zoomline.
Reactions to the SlotZilla structure itself remain mixed. Some say it's cheesy (mainly because
they mistakenly believe cheesy is a bad thing) and creates a physical separation between Fremont East and Fremont Street Experience. Others think it makes a larger-than-life photo op, one befitting the spirit of Las Vegas.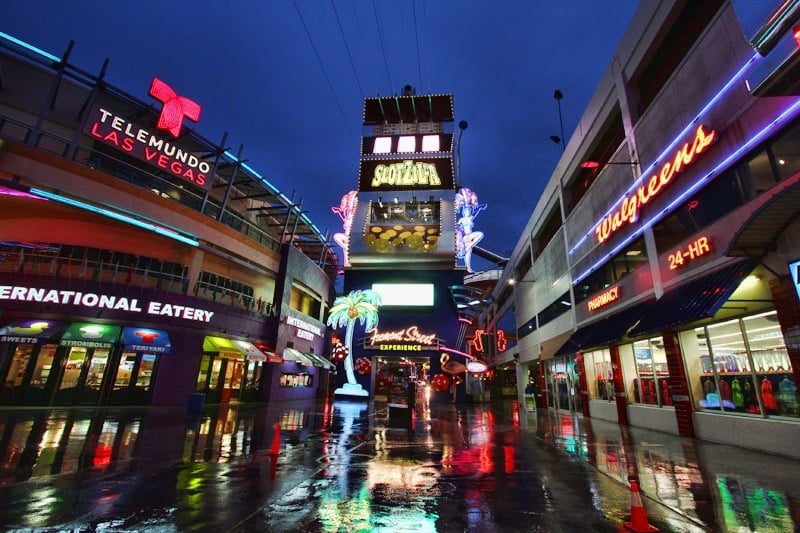 Most seem to acknowledge SlotZilla has brought a new energy downtown, not to mention a wave of younger visitors, which has had a positive ripple effect for downtown businesses and the casinos.
Learn more on the official SlotZilla Web site.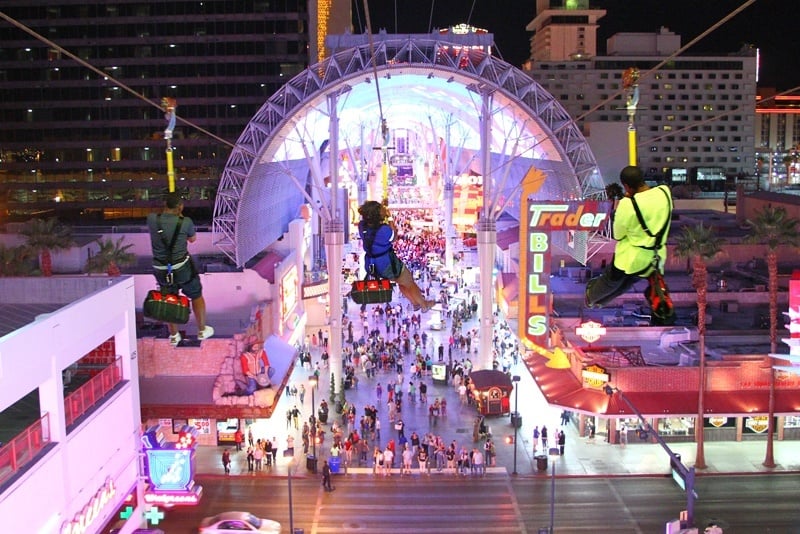 For those who work at Fremont Street Experience, it's a source of pride that through the
company's SlotZilla Charity Challenge series, more than $125,000 has been given to Las Vegas
nonprofits. More fundraising events are planned for 2016.
We would typically congratulate SlotZilla on its 500,000 rider milestone, but given that we take
all the credit for its success, that would be slightly awkward.
Instead, we'll just say thanks to everyone who's helped make SlotZilla a reality. They've given
hundreds of thousands of downtown visitors a one-of-a-kind rush and an experience they're guaranteed to never forget.