Showgirls to Double in Size at Downtown Gateway Display
It seems like only yesterday when we shared slot machine chairs in Las Vegas are getting bigger.
Now, our showgirls are growing in size, too.
The two 26-foot showgirls featured in the "Showgirls Gateway" photo op, welcoming visitors to downtown Las Vegas, have been removed and will be replaced by a pair of 50-foot versions.
We are not a math person, but that's nearly double the original size.
Here's what the new showgirls will look like. Bonus: The renderings also include some sort of aliens who apparently represent America's two major political parties.

The showgirl welcome display is just north of the much more visible gateway arches outside The Strat.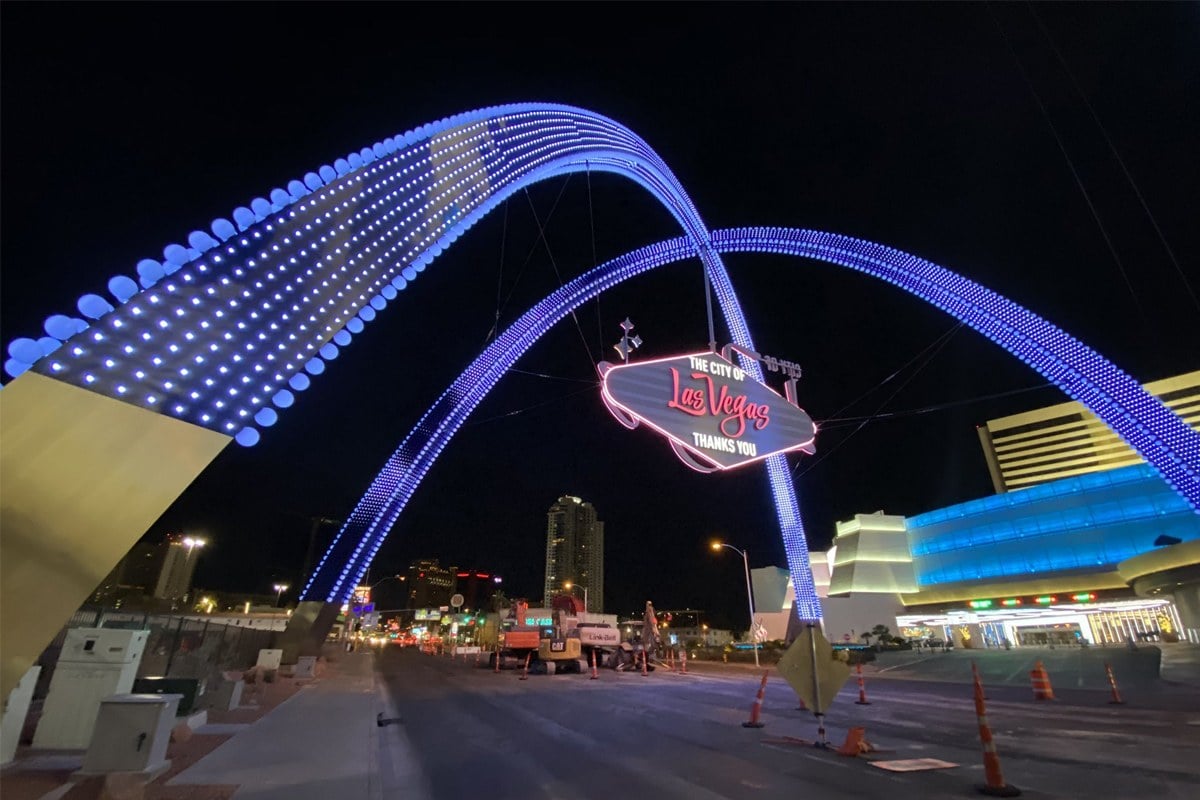 The showgirl display is located at Main Street and Las Vegas Blvd. (Specifically, 1810 Las Vegas Blvd. South.)
Visibility, it seems, is the primary reason the showgirls are getting some enhancements.
Reminder: This is no time for sexist jokes despite the fact we threw you a softball right there.
Mayor of Las Vegas Carolyn Goodman says she felt the showgirls were too small to reflect all the amazing changes happening downtown. Politicians gonna politician.
Translation: The display wasn't getting the desired visitation, so time to up the ante. The display, after all, is intended to compete with the iconic "Welcome to Fabulous Las Vegas" sign on the south end of The Strip. Good luck with that.
As a practical matter, the showgirls were due for for a "rehab," not uncommon for performers in Las Vegas.
What? Somebody had to say it. We are that somebody.
The original showgirls have been in place since 2018.
Here's a look at the display before the showgirls were removed.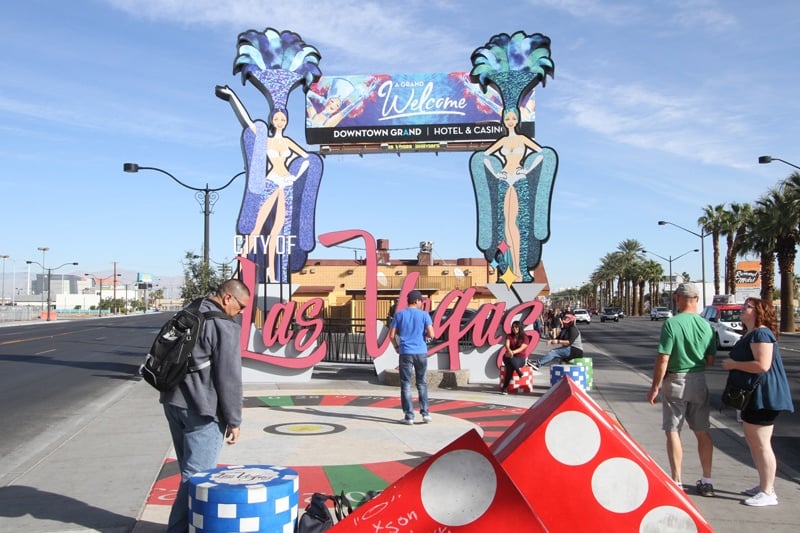 The refreshed 26-foot showgirls will be relocated to the "entrance" of downtown's Arts District, at 4th Street and Las Vegas Blvd., where they will also not be appreciated enough.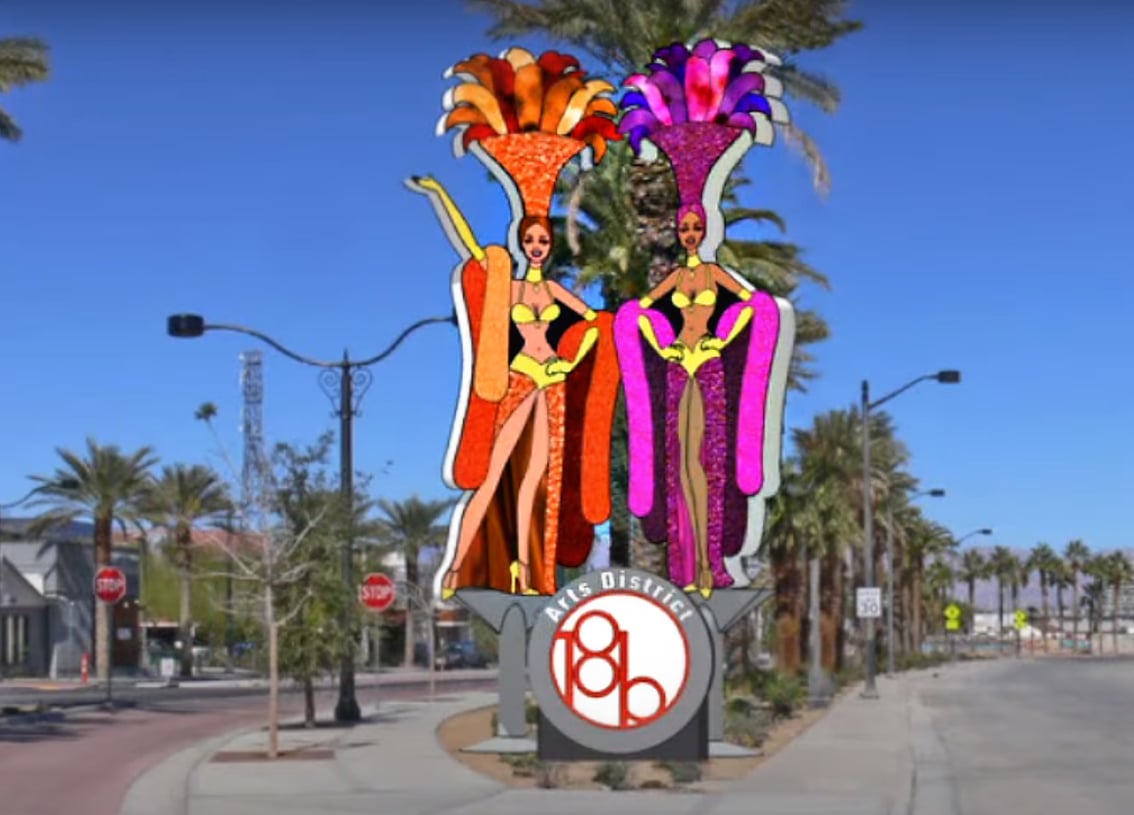 The showgirl display at Main and Las Vegas Blvd. was built after a "Welcome to Downtown Las Vegas" sign was fatally wounded by an unhinged truck.
As with any government body, the City of Las Vegas decided to throw some serious tax dollars at the showgirl display ($400,000) and nearby arch ($6.5 million). Both are in really awkward locations for photo ops, but never you mind, it gives people jobs or whatnot.
What's not to love about showgirls and gambling devices like dice and chips?
Yes, we have construction pics. Do you know this blog at all? You'll note the display's roulette table came into existence back when such tables only had zero and double zero. Weird, right?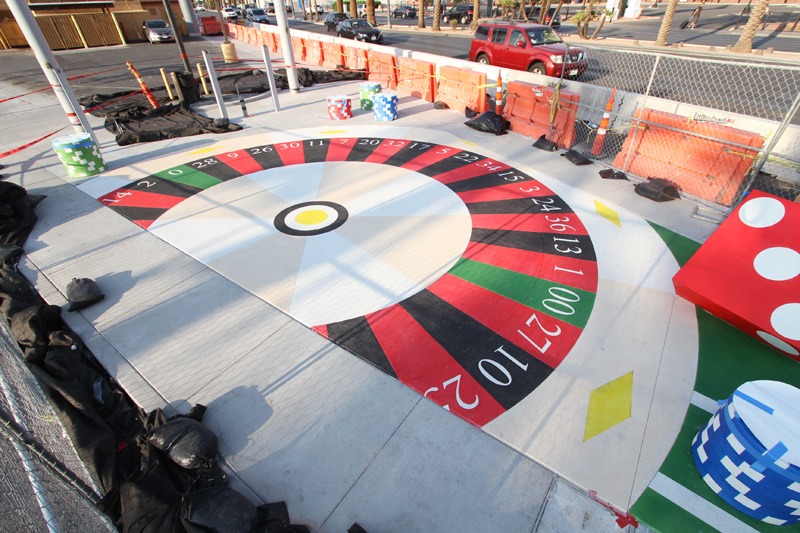 We love showgirls, but the stars of the show at the welcome display are literally stars. Specifically, Googie stars. We are a little disappointed they didn't double the size of those puny beauties.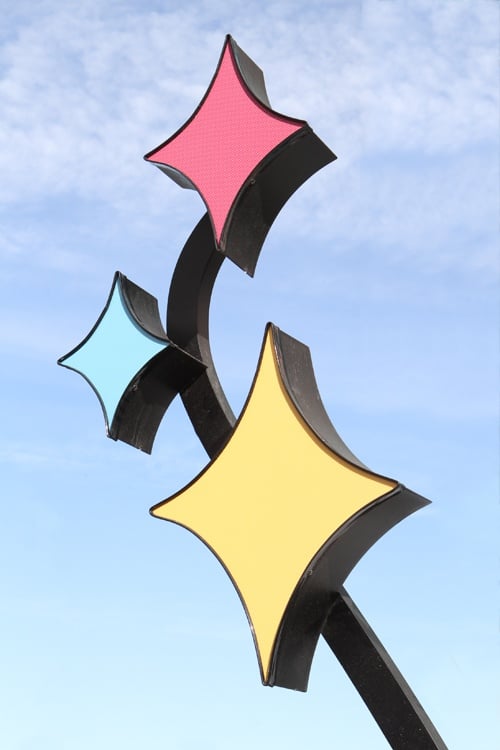 The showgirl display actually uses a variation of an abandoned version of the City of Las Vegas logo, featuring the aforementioned Googie stars. Another long, expensive (to the tune of $20,000) story.
If there seems to be a lot of twists and turns to things that happen downtown, that's because downtown sits within the City of Las Vegas. The Strip does not. (That's Clark County. Which is why there's no mayor of the Las Vegas Strip, and why Mayor Carolyn Goodman often isn't present at media events on The Strip. Bottom line: Glorious drama.)
The City of Las Vegas has more modest means and typically a different take on things like P.R. and marketing. Everything, really, but most noticeably those things.
The cartoonish showgirls don't exactly scream modern or sophisticated. Downtown's response to that observation? Let's make the showgirls that don't exactly scream modern or sophisticated and let's make them twice the size!
Still, it's Vegas, and there's value to bigger, especially if it's a nod to the glitzy past of Las Vegas.
You'd be hard-pressed to find a real, old-school showgirl in Las Vegas today. Your best bet is "Vegas, The Show" at Miracle Mile Shops or "Extravaganza" at Bally's. It's worth noting "Extravaganza" happens in the theater formerly the home of "Jubilee," which contained a bevy of old-school showgirls.
"Jubilee" closed in 2016 due to it being an expensive, head-scratching trainwreck, all due respect.
We spoke with a successful Las Vegas producer who was asked what he'd do to improve "Jubilee," he said, "Close it." Ouch.
Anyhoo, the welcome display downtown is getting two big-ass showgirls. Thanks for reading this far, and for clearly illustrating the fact you'd prefer anything over working or spending time with your family.