M Resort Confirms Hotel Tower Plans, Opens Rebranded Hockey Bar
M Resort has thoughtfully confirmed our scoop from June 2022, saying it's planning a $206 million expansion, including a new hotel tower.
M Resorts, operated by Penn Entertainment, is one of our favorite Las Vegas casinos, so we're excited to see confirmation there's going to be more of it.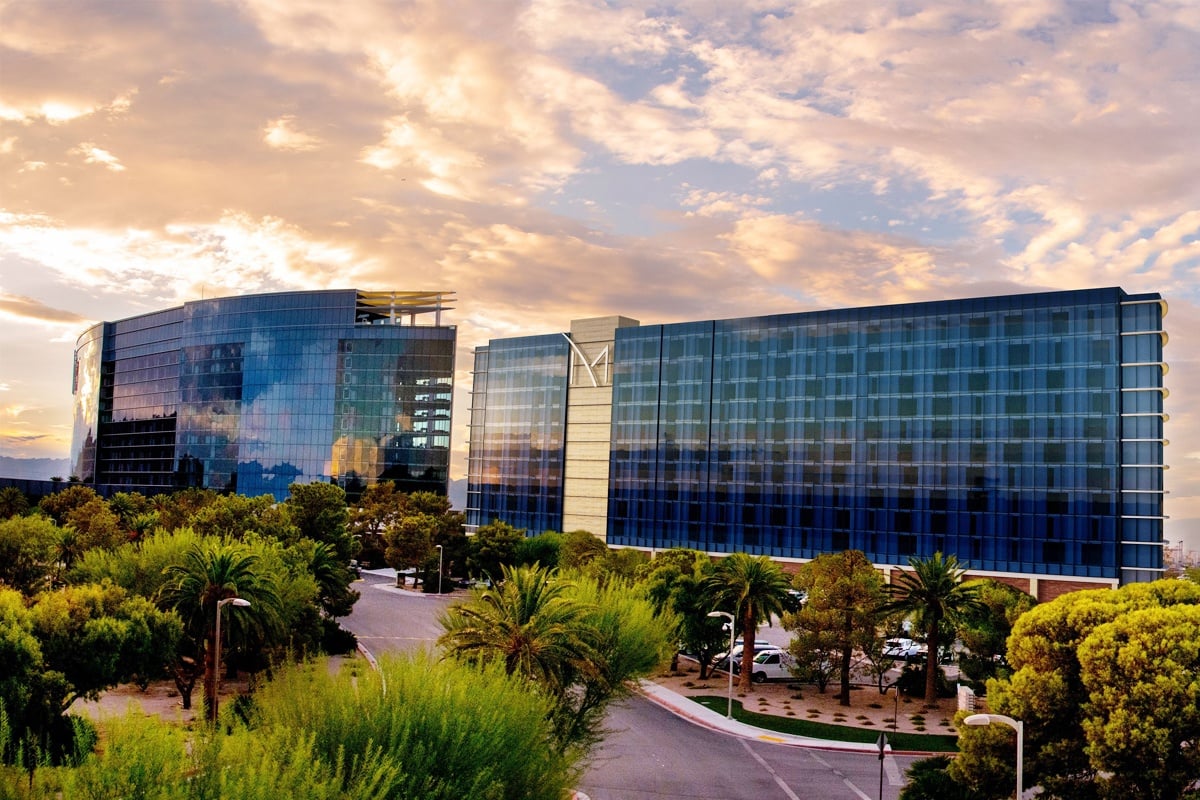 The expansion project will add 384 rooms to M Resort, bringing the total to 774.
We scooped everyone with first word of the new hotel tower at M Resort. If you're surprised by that, you need to get out more. Or at least check this blog more frequently.
Hussain Mahrous, Vice President and General Manager of M Resort, mentioned the new tower during a meeting of the Henderson Chamber of Commerce. He then joked, "These plans aren't public yet. I hope Vital Vegas isn't here." While we weren't there, we're everywhere. A source promptly shared the news with us. That's how Las Vegas works now, so get used to it.
Head honcho of @MResort says the resort is working on plans for a new hotel tower. (Thanks for the shout-outs at the Chamber meeting, btw.)

— Vital Vegas (@VitalVegas) June 29, 2022
We hope to have Hussain Mahrous on our podcast again soon, but in the meantime, we'll share what he included in the news release: "Everything we have been doing over the past few years has been to grow and evolve the property and further enhance the customer experience. This exciting resort expansion follows many large milestones in our recent timeline. We entered our 10-year partnership with the Las Vegas Raiders, opened the first-ever Raiders Tavern & Grill, added the Coors Light Chill Zone and announced partnerships with the Henderson Silver Knights and Vegas Knight Hawks. We also rebranded our live entertainment venues, Ravello Lounge to Amp'd and M Bar to M Bar Live, incorporating more than $100,000 in new lighting and sound, and just last week we opened the new Knight Time Hockey Bar. We are ready to welcome everyone to Henderson's only Las Vegas Strip Resort."
We can confirm all the stuff he said. We attended the opening of the Knight Time Hockey Bar, despite the fact there was some hockey involved.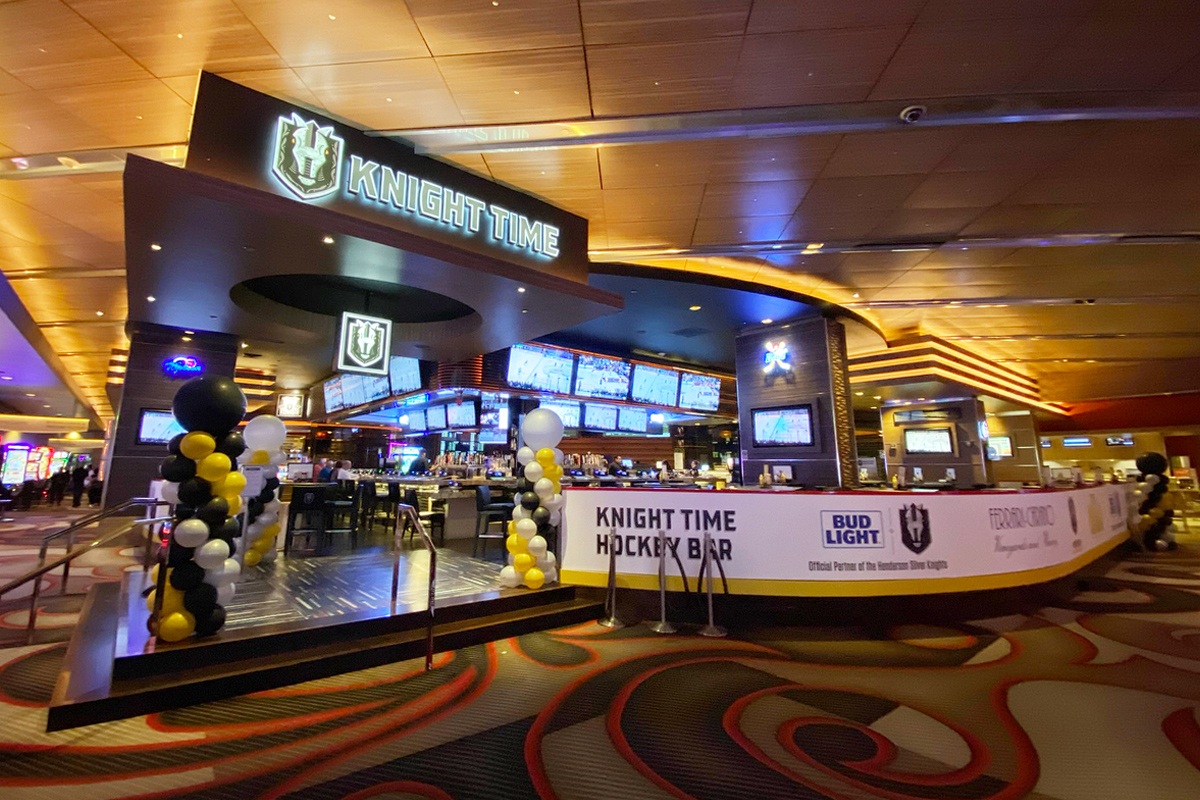 Not much has changed at the bar, as far as we could tell, but there's a quiet space between the bar and the sportsbook worth checking out, complete with a pool table.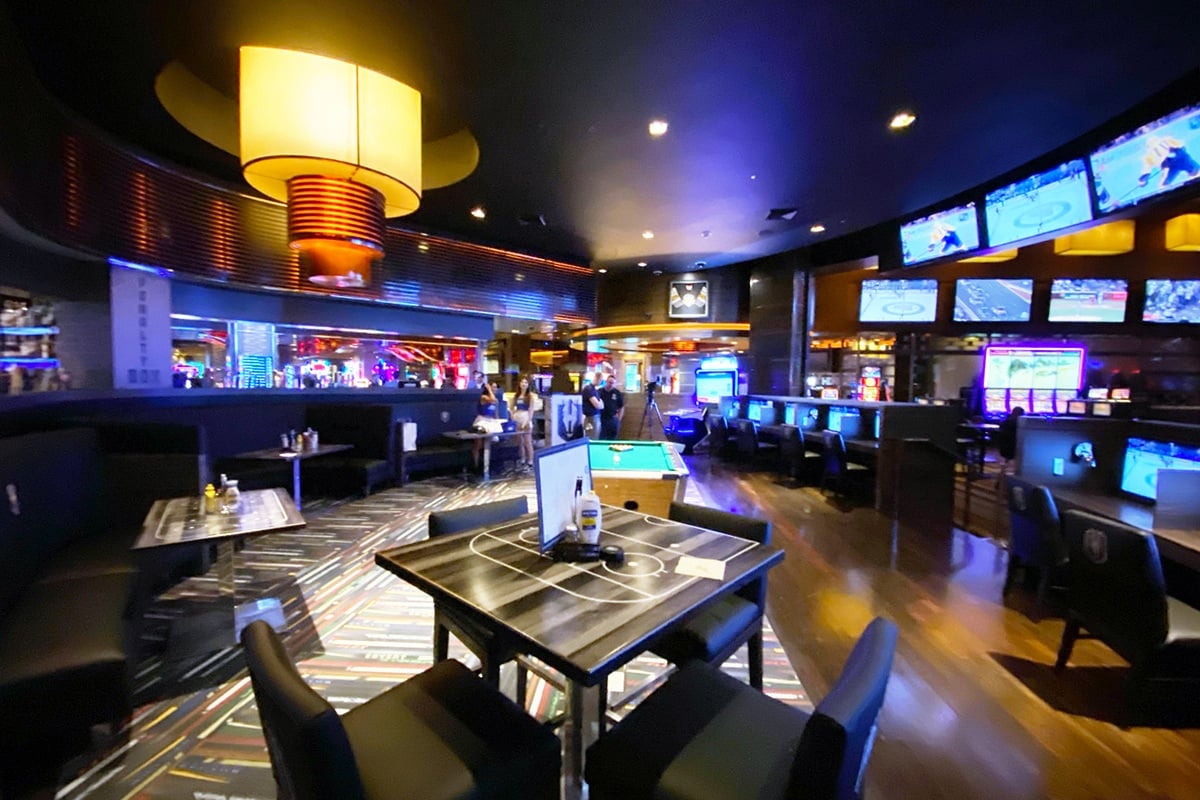 Here's the newly-dubbed Amp'd.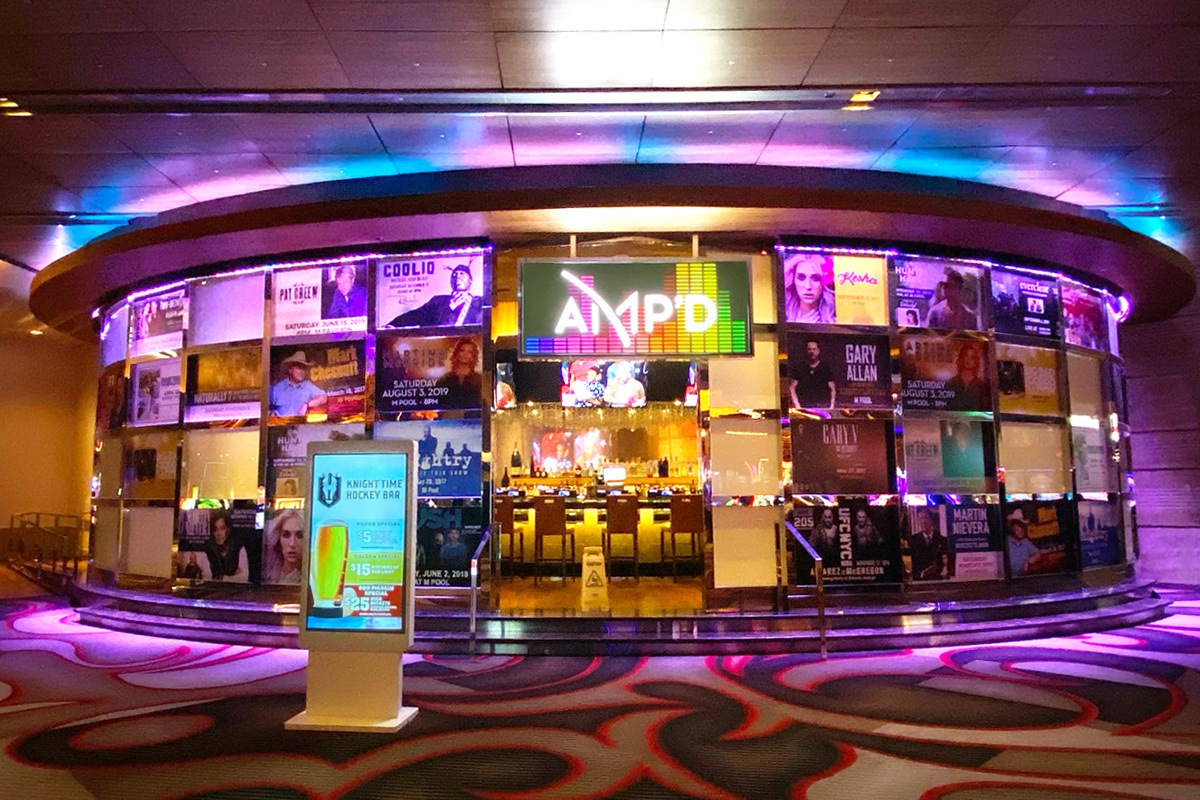 We're pretty sure we walked by the M Bar (we call it the casino's "Center Bar"), but since it became M Bar Live, there's live music and it wasn't very good so we just kept moving. We are not a live music person, even when it's good, in casinos. Just as with the resort's obsession with sports (it's the official hotel of the Las Vegas Raiders, which was assume wasn't a cheap deal to wrangle), different strokes.
Anyhoo, very exciting times at M Resort. This off-Strip casino is about 10 minutes south of Mandalay Bay, maybe three minutes farther south than South Point.
The restaurants are top notch, including the aforementioned Raiders Tavern & Grill. The Vig Deli is awesome, despite the fact employees constantly shout out order numbers at the top of their lungs. Typically, we'd avoid such annoyances, but damn, that French dip.
The gambling is great and M Resort, and the casino staff is universally wonderful. As are the cocktail waitresses, if you're into that kind of thing.
M Resort's pool is one of the most pleasant in Vegas (ask about the 21+ area), and the comfy, clean rooms make the resort one of our go-to staycation destinations. The proximity to the Lion Habitat Ranch is an additional perk.
Other elements of M Resort's $206 million improvement project include an increase in meeting space and updates of other amenities. Details will be released down the road, and we love that they aren't sharing everything all at once as it gives us more excuses to make the long-ass drive to M Resort.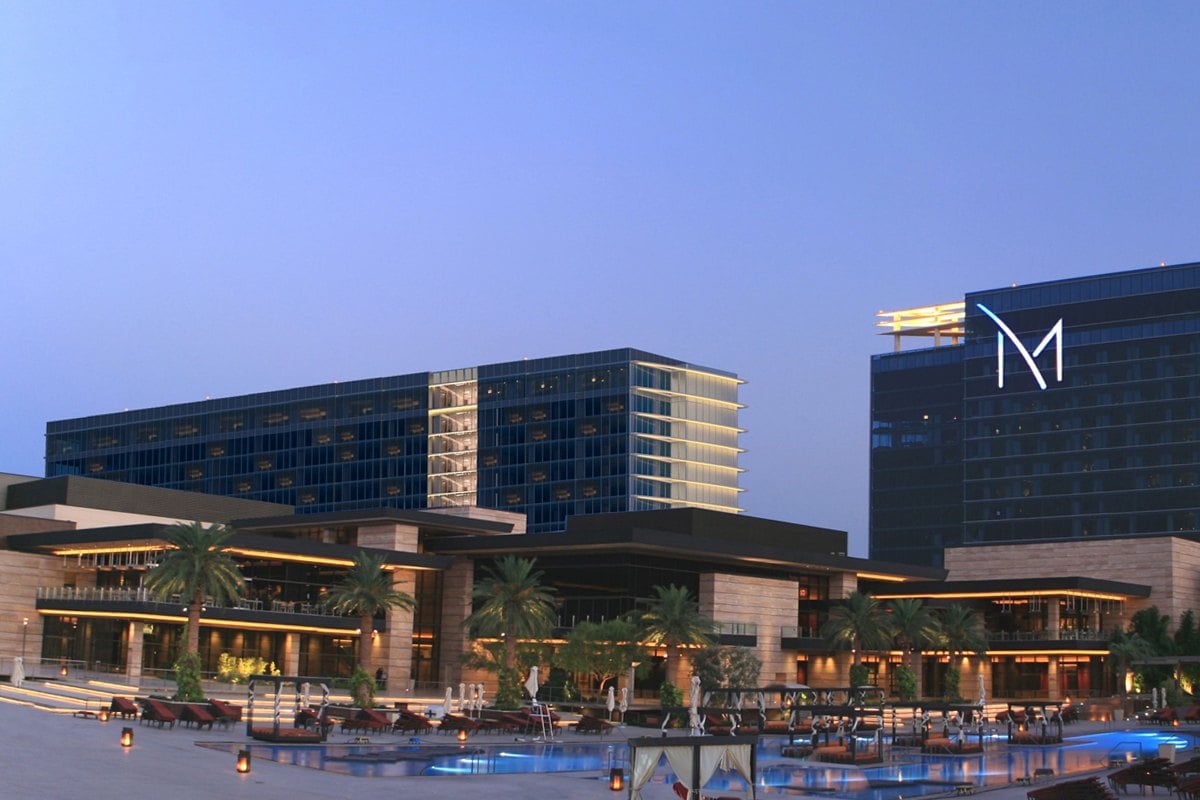 Our love for M Resort endures as the resort matures. M Resort opened in 2009.
It's a locals casino, but has all the goodies you'd expect from a fancy Strip hotel, just without the elevated prices, tight slots and sometimes snooty attitude. Oh, that's right, we said it, snooty. Get your act together, The Strip.
At M Resort, the staff is friendly and laid back, and they always seem to genuinely enjoy working there, which is weird but refreshing. During our most recent visit, we had a disorienting incident with members of the M's security staff. We're still thinking about it.
Strange interaction with two burly security guards @MResort. Minding our own business and they approached for no apparent reason, one said, "Good luck, win some money." Trying to find a manager for clarification. Twenty years playing in Vegas casinos and this has never happened.

— Vital Vegas (@VitalVegas) October 6, 2022
While the M Resort's buffet probably won't be back ("The humanity!"), we will be, and stay tuned for there's more news still to come.