Venetian's "Rock of Ages" Slots Provide Reversal of Fortune
Las Vegas slot machines now come reversible!
The "Rock of Ages" slots at The Venetian, inspired by the hotel's '80s-rock-inspired show of the same name, flip the script on traditional slots with an eye-catching display.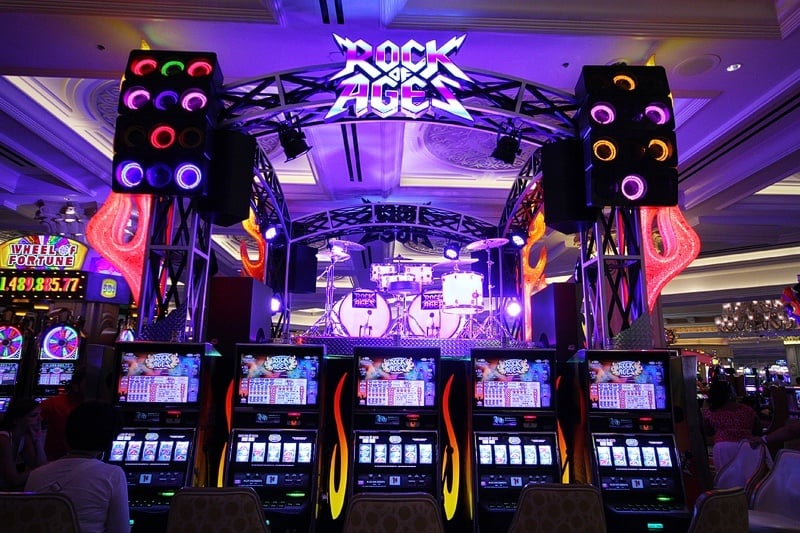 But there's more to these slots than first meets the eye.
As you play, the giant display flips over, changing from a drum set to a motorcycle.
Naturally, we have video. Do you know this Las Vegas blog at all?
Watching the display change back and forth adds a lot to the experience, including the corresponding drum and chopper sound effects.

Rock of Ages at The Venetian is a Broadway-style musical, telling the story of a boy from South Detroit and a girl named Sherrie who blah-blah-blah, something about making it big in L.A.
This show isn't about the story or characters, it's about singing along to immediately recognizable songs like "Every Rose Has Its Thorn," "I Wanna Know What Love Is," "Here I Go Again" and dozens of others.
Related, but not especially: If you have a minute to spare, check out this fun story behind one of the '80s-era billboards used to decorate the "Rock of Ages" set. Hint: This blog wrote it. Ah, the circularity of the universe.